Announced today, and joining veteran Scottish psych-rockers Primal Scream, folk-pop troubadour and Rock & Roll Hall of Fame member Donovan, and reggae legend Chronixx (alongside his Zincfence Redemption Band) on the main stage, are Berlin electronic duo Booka Shade, Swedish indie pop band Miike Snow, German electronic music duo Digitalism, Stockport's own Fairey Brass Band, and Essex folk artist Beans on Toast.
Joining guitarist and singer Louis Berry and electro-pop duo Cash and David at The Maison D'Etre, the stage known for hosting hotly tipped musical talent in an intimate setting, include enigmatic London band Haelos, BBC introducing favourite Zibra, singer and multi-instrumentalist Rationale, dance-pop outfit NIMMO, York electro six-piece Grinny Grandad, Liverpool rock band The Vyrll Society and Brighton's Yonaka – who recently signed to Phil Taggart's Hometown Records.
Joining headliner and LA-based dubstep superstar Jauz and living ragga legend General Levy at Beat-Herder's very own 60ft x 60ft rave Fortress – complete with its own lasers, ramparts and fire breathing turrets, are ground-breaking and Breakspoll award-winning DJ Lady Waks, breakbeat producer Krafty Kuts, DJ's Deekline, Jon Rundell and Mr C, Megadog veteran and techno stalwart DJ Templehead, producer duo Hybrid Theory and house and techno outfit Solardo.
Beat-Herder friend and regular Mr Scruff will be lighting up the woods at the Toil Trees stage, alongside DJ, producer and tastemaker Chris Coco. They join an already impressive line up of house and techno talent, including Riton, Dirtybird co-founder Justin Martin, Andhim, Defected stalwart Sonny Fodera and a special Doorly & Friends takeover, featuring fellow Dirtybird head honcho Claude VonStroke, Derrick Carter, Will Tramp and many more.
Head past the fairground and you'll find the intimate genre-bending lounge space Trash Manor, where funk meets punk, hip-hop hangs with house, and anything goes! Announced today, and bringing the disco on Friday night, is Chimpo, of BBC Radio 1Xtra's LEVELZ, whilst King of the 80's electro scene Greg Wilson will play out the encore on Sunday.
Live at sacred dance site The Ring will be UK DMC Champ JFB, electro-swing producer Jamie Berry, hip-hop group Credit to the Nation and house DJ Sacha Schwarz. Apexape will be mixing house & bass, and Scotland's Shaka Loves You are expected to pile on the funk.
Rounding up the new announcements, at The Working Men's Club the deliciously fun Lancashire Hotpots are back for 2016.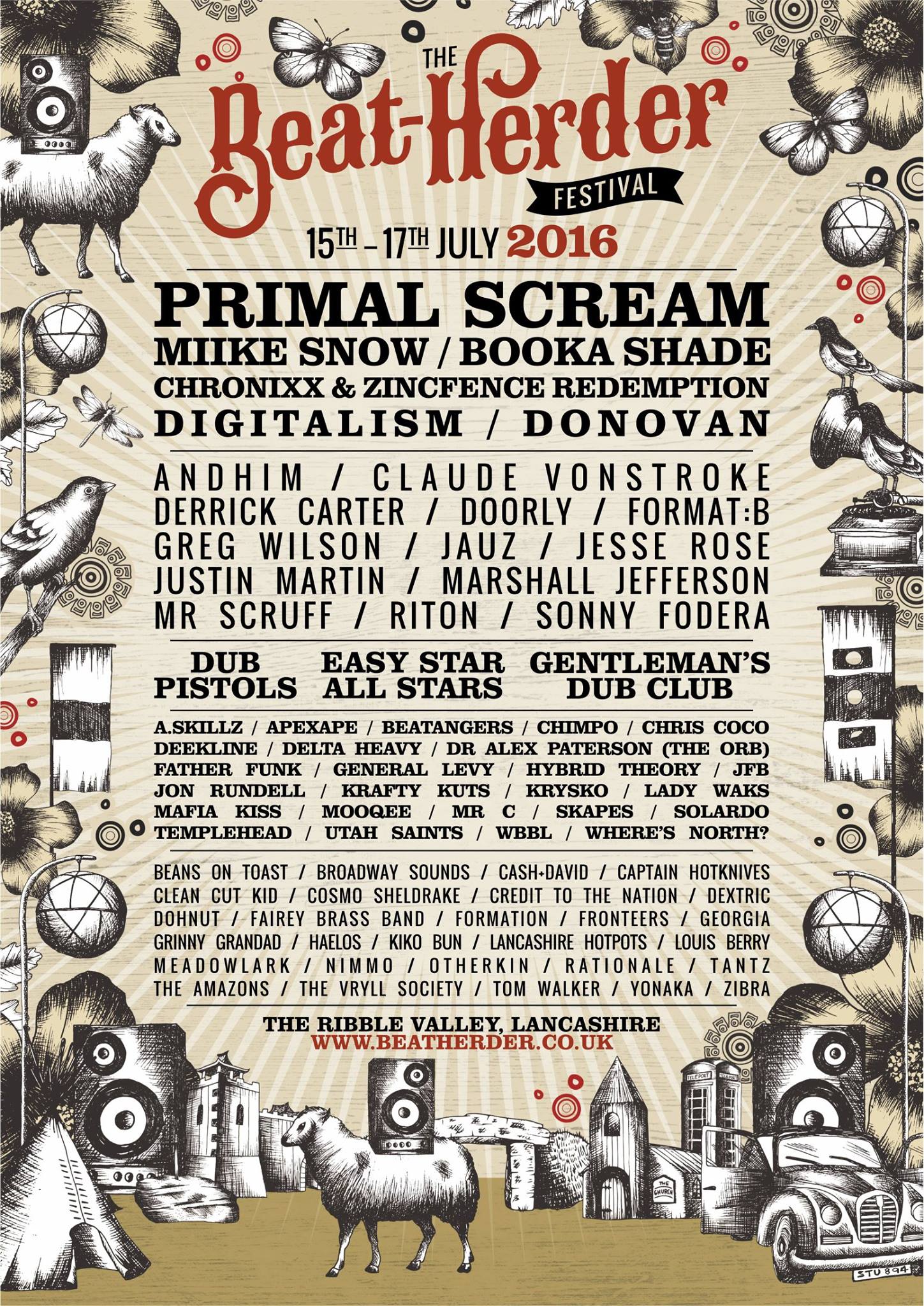 ANNOUNCED TODAY:
BOOKA SHADE
MIIKE SNOW
DIGITALISM
GREG WILSON
MR SCRUFF
LADY WAKS | KRAFTY KUTS | MR C | CHIMPO | CHRIS COCO DEEKLINE | JON RUNDELL | HYBRID THEORY | SOLARDO | JFB APEXAPE | HAELOS | LANCASHIRE HOTPOTS
FAIREY BRASS BAND | GEORGIA | ZIBRA | NIMMO | THE VYRLL SOCIETY
THE AMAZONS | YONAKA | FRONTEERS | TOM WALKER | RATIONALE
BEANS ON TOAST | MEADOWLARK | GRINNY GRANDAD
JAMIE BERRY | CREDIT TO THE NATION | WBBL | SACHA SCHWARZ
DEXTRIC | SHAKA LOVES YOU
JOINING:
PRIMAL SCREAM
CHRONIXX & ZINCFENCE REDEMPTION | DONOVAN ANDHIM | CLAUDE VONSTROKE | DERRICK CARTER CLEAN CUT KID | DUB PISTOLS
GENERAL LEVY | DOORLY
EASY STAR ALL STARS | GENTLEMAN'S DUB CLUB
FORMAT: B | KIKO BUN | A.SKILLZ | DELTA HEAVY | UTAH SAINTS JAUZ | JESS ROSE | JUSTIN MARTIN
MARSHALL JEFFERSON | RITON | SONNY FODERA
And many, many more
Full line up A-Z below.
List of artists A-Z:
A.Skillz
Andhim
Apexape
Beans on Toast
Beatangers
Booka Shade
Broadway Sounds
Captain Hotknives
Cash + David
Chimpo (from Levelz)
Chris Coco
Chronixx
Claude VonStroke
Clean Cut Kid
Cosmo Sheldrake
Credit To The Nation
Deekline
Delta Heavy
Derrick Carter
Dextric
Digitalism
Dohnut
Donovan
Doorly
Dr Alex Patterson (The Orb)
Dub Pistols
Easy Star All Stars
Ed Stones & The BD3
Eddie Earthquake & The Tremors
Fairey Brass Band
Fandjango
Father Funk
Format B
Formation
Foxes Faux
Fronteers
Gentleman's Dub Club
Georgia
Greg Wilson
Grinny Grandad
Haelos
Hybrid Theory
J-Bear and the Giants
Jamie Berry
Jauz
Jay Newman
Jesse Rose
JFB
Jon Rundell
Justin Martin
Kiko Bun
Krafty Kuts
Krysko
Lady Waks
Lancashire Hotpots
Louis Berry
Mafia Kiss
Marshall Jefferson
Meadowlark
Miike Snow
Mooqee
Mr C
Mr Scruff
Nicola Bear
Nimmo
Otherkin
Pete Foxton's Soul Train
Primal Scream
Rare Element
Rationale
Riton
Rubber Kazoo
Sacha Schwarz
Shaka Loves You
Skapes
Solardo
Sonny Fodera
Tantz
The Amazons
The Folkestra
The Vyrll Society
Tom Walker
Utah-Saints
WBBL
Will Tramp
Yonaka
Zibra