I live in Todmorden and I hate that it floods! I also love music and I'm one of the founders of LSF. So when I heard that my good friend Lynne Midwinter (one half of the duo Pickled – with partner, Richard Parkes) was organising a music benefit, I thought ' I must go to that'. Maybe in a slightly patronising sort of way because benefits aren't always everything you hope they will be… But this one more than deserved it's name of 'Floody Marvellous!'
The Unitarian Church in Tod, is a wonderful venue for getting large groups of people together. If it has a down side it's that you can't get up and dance without shuffling past the other people in the pew. And it can feel a bit empty if the audience is a little on the small side. But with a really impressive turn out, and lots of food and drink (supplied by Bridestones, Jacks House, Morrisons and Incredible Edible) the atmosphere was just perfect for a relaxed and entertaining evening.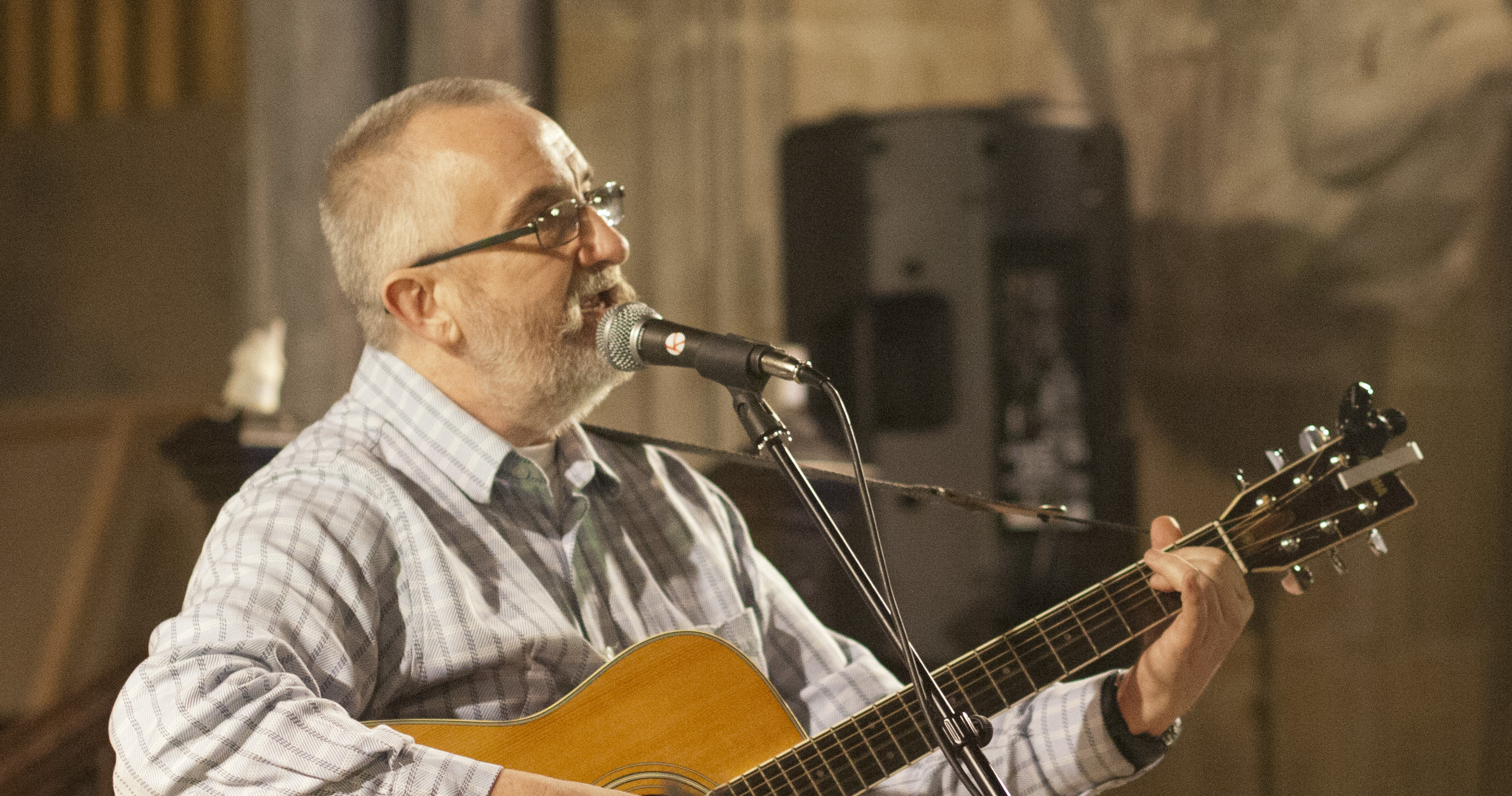 Richard Parkes welcomed us all to the evening by singing a song about the River Calder – written he said before it had recently disgraced itself. Nontheless, it didn't sound a particularly cheery kind of song (but how many Folk songs ever are?) but he has a pleasing voice and it made really good listening.
First act of the evening was the acclaimed folk and acoustic singer Edwina Hayes, who has performed with the likes of Jools Holland, Van Morrison and Fairport Convention. As you may have guessed I'm not a massive fan of Folk but I could see why Nanci Griffith named Ms Hayes 'the sweetest voice in England' and The Guardian called her a 'haunting honeyed solo songwriter'. Both speaking and singing Edwina has a voice that makes you want to snuggle up in the sound of it, but her friendly down-to-earth banter and her witty comments about growing up in her mum's chip shop in Preston, mean that this delightfully talented young woman is never syrupy.
Performing a range of ballads – including Barbara Dickson's moving ballad,'Caravan', her adapted version of From 'Galway to Graceland' by Richard Thompson, and a traditional song 'Lay down a pallet on your floor', as well as a number of her own tracks, Edwina sings with a clarity and beauty that is quite breathtaking. You could have heard a pin drop during her set.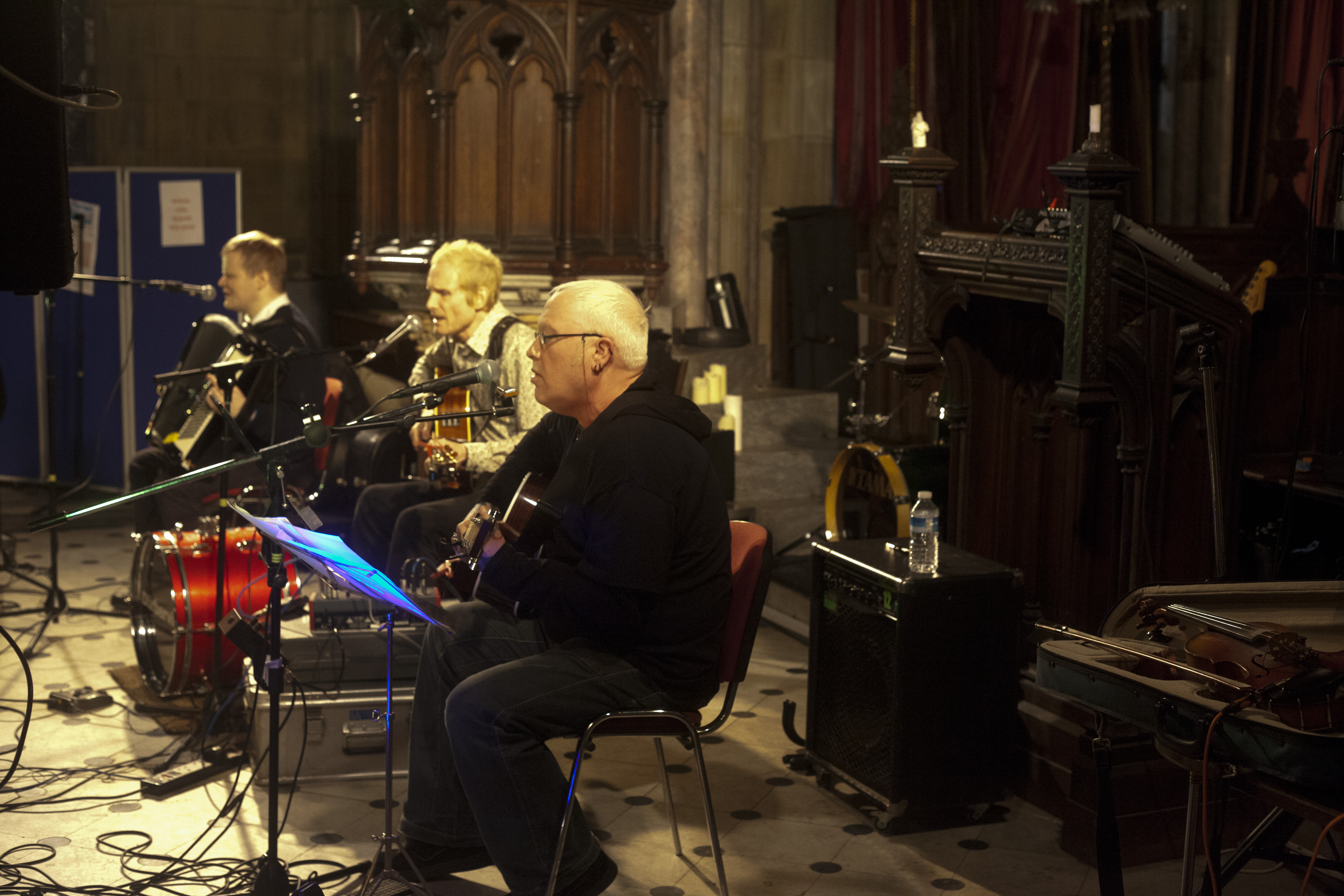 Next on were the Acoustic Durbevilles – who are apparently heard quite regularly on Radio Leeds. Tonight there were three of them but sometimes there are more. They too had their own flood-related song called 'Rainin' Down' which was surprisingly cheerful on the ears. I must say their own version of a traditional whaling song didn't go down quite so well in these vegetarian-influenced parts and some of us weren't altogether happy singing along to the chorus of 'fifty barrels blood and bone' but you still couldn't help jigging about a bit in your seat, because it had that traditional toe-tapping 'you ho, me hearties and we'll all be dead by morning' catchiness that is quite irresistible. Fortunately their other tracks – such as 'Randall Avenue' – a tribute to growing up in Leeds – were more palatable to our sensitive ears and it was one of those performances where you were really sorry when it ended, because you realise you've been grinning and foot-jiggling all the way through.
Dr Butler's Hatstand Medicine Band were a joy to the eye and the ear and it's no wonder they were forced to return for an encore, by a very enthusiastic crowd. Dressed in a mixture of tweeds and flat caps, or sharp suits and gangster hats, and with pristine moustaches, this stylish five-piece produced that upbeat, rinky-dink mix of ragtime, blues and jazz that reminds you of the score of 'Bugsy Malone'. They play a mix of harmonica, ukulele, kazoo, fiddle, double bass, accordion, guitar and banjo with a panache that gets you where you swing.
These guys also started their set with a reference to the weather – with a hugely uplifting (and almost reassuring) version of 'It aint' gonna rain no more'. This was followed by the promise of 'Red Hot' and led on to their own song about Jeeves and Wooster, which had a delightfully improbable chorus all about that 'bad bad butler'. Their last track was all about a woman 'who ain't no good' but from the sound of it you were petty sure she'd be the last one on the dancefloor, laughing and swigging from the whisky bottle… By this point a number of the audience were up and out of their pews and congo-ing their way round the aisles.
People stayed on their feet for the last act of the night – Pepperjam a lively ska' n soul band from Hebden Bridge – made up of two female vocalists and seven guys on vocals, guitar, keyboards, trombone and trumpet. A colleague of mine had seen them before in a smaller, less impressive location and though they were 'a little self indulgent' but even he admitted to being pretty much blown away by them in this wonderful location. They finished the evening with a riot of party music that was big bold and totally bloody brilliant!
You know you've experienced a truly entertaining evening when nobody wants to leave, and people stand around for ages afterwards saying what a great time they've had.
The event raised over £3000 for the CFFC flood fund. Huge congratulations to Lynne and Richard for putting this together, and the performers for giving their time.