In 1997, a meisterwerk of amazing beauty, complexity and daring scope was unleashed upon a world eagerly awaiting more from Spiritualized. It did not disappoint, winning NME's album of the year, not a mean feat in the same year that 'OK Computer' was released (which deservedly got the No. 2 spot). It truly is a masterful album that ought to be better known today.
Beautifully packaged as if it were released by a pharmaceutical company, rather than a record label, including a patient information leaflet advising you on its safe use, you knew this was no ordinary album as soon as you picked it up (aaah, how we oldsters pine for the days of physical objects rather than downloads). The CD itself was originally presented in a silver foil and plastic blister pack, as if it were a tablet (the kind you take, not the type you use to get those pesky downloads). This presentation alluded to its composer Jason Pierce's dominant song writing themes of drug-induced altered states and romantic love. The special edition releases even had 12 individual mini 3-inch CDs in their own individual blisters, pills of hedonistic love for the listener.
When I first popped open that blister, pondering the origin and meaning of the title, and listened eagerly to the title track with friends, I underwent a revelatory transcendence and knew I'd never heard anything like this before. Every track delivered something outstanding and amazement washed through us all as we replayed the album over and over amidst a haze of hash smoke.
It's a heady mix of gorgeous, daring songs, full of electric guitar energy, deepest ultrabasslines, orchestral arrangements, searing horn sections, heavenly gospel backing and chaotic modern psycho jazz. All blended with verve, gusto and amazing but justified hubris.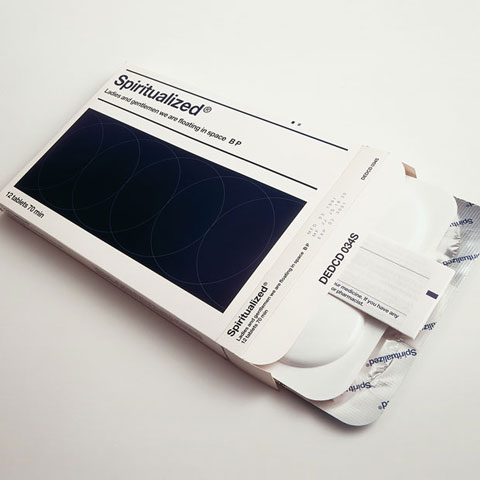 The album was reissued with black and grey artwork in 2009 – as opposed to the original blue and white – and this is the one to download or buy if this review tempts you. This is because the title track was remixed and presented as Pierce originally intended it, including some of Elvis's lyrics and melody, which his estate had originally refused permission for. The packaging alone makes it worth owning the physical object, if you ask me. On the back of the reissue Pierce led a triumphant ensemble with orchestra and choir on a world tour playing just this album at venues as auspicious as New York's Radio City Music Hall. I saw them at Manchester Apollo and it will remain the best live music experience I've ever had, until the day I die, I expect.
Please give it a listen if you've got exactly seventy minutes to spare and want to go to space. I promise you will not be disappointed. Below is a track-by-track breakdown of what this masterpiece means to me and I hope this will give you a hint of its sonic power, grace and danger.
'Ladies and gentlemen we are floating in space' Start quiet with a woman's voice declaring the title's great quote from Jostein Gaarder's seminal literary work, Sophie's World, and then interject with an Apollo Mission space bleep. Next head on from there by declaring – "All I want in life's a little bit of love to, take the pain away, getting strong today, a giant step each day uh ayy". And you're home and heading for the outer planets. Base the whole song structure on that wedding favourite, Pachelbel's Canon (played at my second failed attempt at marriage, along with this track, at the end, to process out with and get all the other dudes out of the church), and you're getting serious. Soon segue the whole thing into Elvis giving it, "Wise man say, only fools rush in, but I can't help, falling in love with you", finally allowed to be included by The King's estate on its reissue in 2009, and switch to high blend with genius on the mixing desk and kaboom, Houston We Have Lift Off. Feel the tears pricking as multiple G's kick in and we launch. Float in space and drift in time, just you and I.
'Come together' Simmer guitar and saxophone riffs steeped in a rusty syringe full of smack, telling us how little Johnny, sad and fucked, first he jumped and then he looked. And it's clear that Johnny needs to Come Together and Come On, to slip that ape off his nape. The little fucker bellyaches, squeals again. That fucked up boy who dulled the pain and killed the joy, needs gospel to help him again, and again, Whhhooooo. More gospel. Let it rip. A fucking mess but when he's offered just says yes. Come On. Come Together. Bass arpeggio me to death and drown me in great musicians playing hard and deep. Please. Help me to Come Together. Harmonica my ass to Mars and back.
'I think I'm in love' No need to quote the controversial lyrics in this one, but listen closely and you'll catch its druggy meanings. It sits alone as a celebration of and warning against the use of Morphia's embraces to try and cushion the pain of heartache. Take the last track's end and slide into the deepest ultrabass notes you've ever heard trip by in ripped up triplets and slide babe. And then hear the doubt creep in and you'll realise you probably just think you can. But you'll think you're in love, cos you are. Watch out mothers. Now comes heartache.
'All of my thoughts' You think you've felt melancholia rip into self pity? Of course you have, because anyone who ever shagged and fell in love and lost in the end whether it took eight hours or twenty years knows. But have you heard it? Now you will. 'I just don't know what to do on my own, all of my thoughts are of you'.
'Stay with me' Again we hit ultrabass with orchestral shimmer of percussion to back us up and give deep synth. Slide guitar stationary on the staves. And describe your love for a smile, and then you have to let them go, and if you have ever really loved, you're in bits crying and it's all over. But it isn't it, just goes on and on and on and defeats you, it's so well described, so many people played it and it tears your heart and … gets heavily done and scrunchy and you see there may be a path=out, arpeggioed in lead guitar, maybe, but DON'T GO, MAKE IT ALL SO FINE.
'Electricity' I can play guitar. I'm going to sleep with someone tonight and I have taken an heroic dose of amphetamine, maybe. And I need someone to help me turn it on … Electricity. Let it wash all over me. TURN IT ON !!!!!!!!!!!!!!!!!!!!!!!!!!!!!!!!!!!!!!!!!!!!!!!!!!!!!!
'Home of the brave' running into 'The individual' Indescribable. A threat to Western contemporary awareness. Likely to be banned. If any goon in power ever listens to it. Enough unsaid. Pure anarchic beauty in instrumental free rocking fuzzed up jazz.
'Broken Heart' Orchestras ought to be listened to, especially when backed up by great composers and conductors. That's a statement of fact, whether or not you feel it involves this song. But for me it could set it up for the uninitiated. Break your heart for this, you must.
'No God only religion' Church bells, orchestral marching procession, horns, noise, fawns and breakdowns in spacetimecontinuumconductedbydrummersandproducers, aaarrrgh, next Thursday I must see a psychiatrist, cymbals, cymbals, cymbals, cymbals, horns, I've got the horn. Derek and Clive, alive. Guten nacht.
'Cool waves' Ah, sir, you lika da violins and da melody, come in. I got these black women who sing and this stringy voiced git and a massive orchestra. I promise you. Lay your sweet hand on me. Cool waves will wash over you and some bits from the X Files theme tune. You will be relaxed, again and again, we have flutes and flugelhorns, come on, what are you waiting for?
'Cop shoot cop' Beneath percussion and with the masterful Dr John at the piano. Classical 'Nam vet quotes from John Strine's great 1971 release Sam Stone, you know. 'There's a hole in my arm where all the money goes'. Oh go, Oh go, take off and settle back down. Oh bend it. Give it twelve minutes. Only if you can hear this through and enjoy it are you fully paid up. Contains the worst song ever written within, national anthem of where? Certainly not here. But UK is as close as it can be identified (you'll only get this if you listen to the additional tracks on the special edition black and grey reissue of the album from the 21st century). Then sax cacophony leads to still waters and we're in again with those great gospel singers. Piano ripple ends with plaintive cry. Fade 70.00 of album. Now gone.
Every other album released by Jason Pierce and his Spiritualized collaborators is well worthy of listening to, namely
Lazer Guided Melodies
Pure Phase
Let it Come Down
Amazing Grace
Songs in A&E
Sweet Heart Sweet Light
Also check out his seminal work from his early days as a member of Spacemen 3. Thanks for taking the time to read an obsessive's outpourings and helping keep down the costs of my medication bill for the NHS.