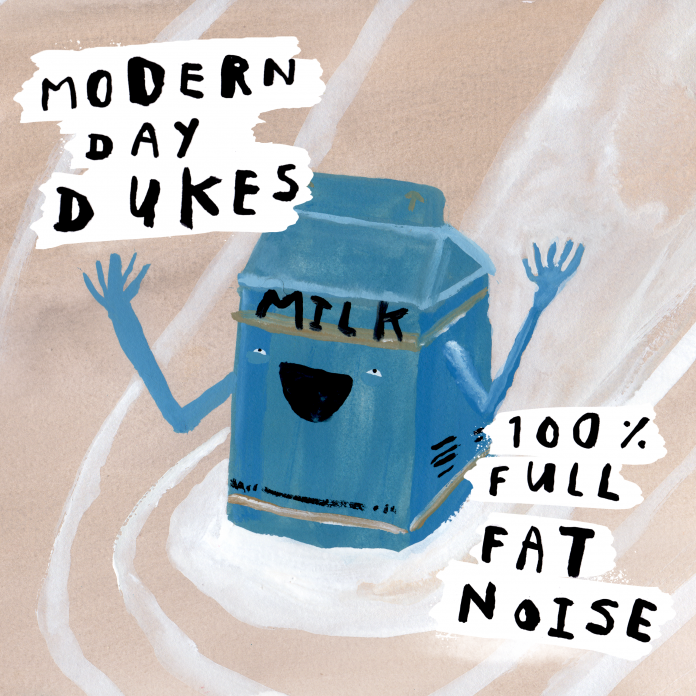 When Modern Day Dukes contacted us they said that felt it was 'the sort of style you cover on Local Sound Focus. It's kinda weird pop music played on two fuzzy basses and a keyboard'. This had me intrigued, one short listen to one track and I said yes immediately. It is indeed very much the sort of stuff we like to cover on LSF.
Album opener 'Company Anthem' kinda indicates what they meant by 'kinda weird pop music', it's actually bizarrely proggy (although to be honest the album release press release – if you see what I mean – does say that the band use 'proggy riffs and structures'). It's one part epic synth pop and then it explodes into something more raucous with these massed vocals.
'Liability Friend' sounds like one part punky noise, one part Hawkwind sonic attack and one part, bizarrely, big AOR hit. It is to be frank brilliant. The twin basses fuzz out, the keyboards swirl and the vocals are fab. At this point I am regretting having never heard anything by the band before big time.
'Go!' is fuzzy dance rock, it is weirdly danceable, and it appears that the LSF cat Maisie rather likes this track, when I play things she likes she gets really close to the speakers under my computer screen. It rips along at fucking breakneck speed.
And, oh my word, 'Film Noir' hit my speakers. It's just the hugest thing. The keyboards just bang out, the basses produce a tidal wave of sound. There are dropouts, there is that megaphone voice effect. The drums pound. But there is the sound of pop in there, it's struggling to get heard above the blast of sound but it's there.
Suddenly the band go all grunge for 'Tourist'. If you can imaging grunge played on two basses and no guitars. Although at one point it goes all slow and grinding like Samothrace, followed by something all light and poppy. Oh bloody hell, I love this band.
'Spent' sounds punky in places, it even sounds like Devo at points, and then it goes all psychedelic, and then… Look this thing just rocks, it has everything – the bizarrest fifties thing, something that's strangely rap-rock, something strangely metal. It just throws everything at you in the most wonderful mix of styles. 'Brand Loyalty' after two minutes of noise attack, goes all proggy. That's prog in a rock style by the way. Before it builds back into sometime more noisy in a rock style. 'Okhrana' sounds like the 70s' version of Here & Now as played on two basses fuzzed to the max – as my older helpful friend put it. Although it goes all shouty and metal at points.
'Low Calorie Groove' sounds weirdly like a hair metal track (I'm not entirely sure the band would thank me for that). It has these shouty sections, harmonies, a riff to die for. And the keyboards do the strangest things at points. It does also sound rather poppy at times. It's a blast, a fucking blast, people.
'Blum' – a song about Jeff Goldblum – throws pop, prog, punk and rather unexpectedly something of a New Romantic feel in places into the mix. Sounds like it wouldn't work but it does.
Look people this album is fantastically brilliant. It sounds like nothing I've ever heard and yet has sounds and styles of music in the mix that I have. Modern Day Dukes sound like they plunder all sorts of sorts of stuff for their songs – what their combined music collections must be like I can only imagine. And yet what they produce from that mix is something new. And this music does that thing I love, it rewards repeated listening, every time you listen to a track you hear something new.
I love this album, I love what the band do. I love a band who can take stuff – some of which sounds as though it shouldn't be there at all – and mix it up. I have fallen musically head over heels in love with Modern Day Dukes.
This album is for you if you like a band who just do their own thing, and do it brilliantly. Go fucking listen to this right now.
Order the album on CD: https://moderndaydukes.bigcartel.com/product/100-full-fat-noise-cd
The info
The album takes pop harmonies and gnarly punky tones, mixing them with proggy riffs and structures. The lyrics deal with subjects such as Russian history, the zen of trying to live heathily and Jeff Goldblum.
The band is based in Yorkshire – Sheffield/Huddersfield/Harrogate
Members:
Pais (vox/bass)
Rory Hebblethwaite (vox/bass)
Hannah Smith (vox/keys)
Jordan Swales (vox/drums)
Modern Day Dukes Debut Album Launch
Saturday 7th September from 19:00-23:30
Retro Bar Harrogate