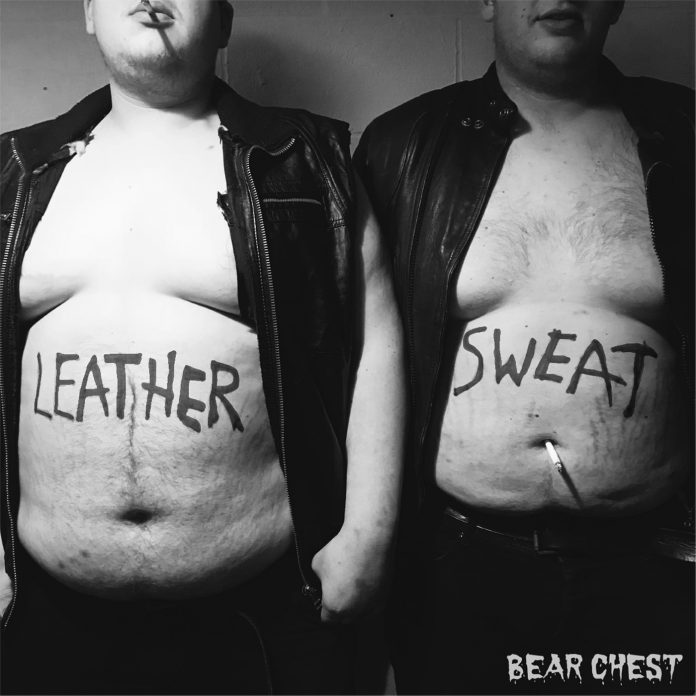 Bear Chest promise us 'beefy riffs' and 'unadulterated sounds of the 70's'. Well they ain't fucking kidding people. This thing holds the heaviest music I've heard in ages. It's just the unholiest mix of the more raucous side of alternative rock, sludge – think Samothrace, 70's heavy metal – think Judas Priest, think Black Sabbath, early 80's metal in places – think Metallicia, and that punky heavy rock – think Motorhead. This is music to demolish houses to, your neighbour's car will be in small small pieces after you've ripped it apart just to shake out the sound from your head. Listening to this loud is like beating your head against a brick wall but you love it, you just want it not to stop.
The EP opener 'Sphynx' starts with bass, bass so low you feel it in your stomach. There is this small section of vaguely Egyptian sound and then it just let's go. It's sludge-y slow. It's all low, way low, this thing is so bass heavy. The drums batter you into submission. And those vocals are frankly scary. The riffs on this track just batter into you.
'Hinge' starts out sounding like an early Motorhead track. And then, shit, it's this punky rock thing. The guitars squeal and roar in the most fantastic way. Yep there is this alternative rock thing going on but this just gives it an edge. It's raw, it's raucous, it fucking rocks. But this thing seeps into your head, you suddenly find yourself roaring along to the song.
With 'The Gout' we are back in sludge-y territory, this is slow, way slow, it really grinds. And this thing doesn't speed up, it slows down, it slows down to a point of almost stopping. And then it does stop. It's epic, huge. The absolute highlight of the EP for me.
'Reign' is almost refined, yep there's the bass heavy riffing, but there's harmonies on the vocals (they're way back but listen). it's almost 'Kashmir' like in feel, it has that hypnotic thing going on. And the break, boy is that nice. The guitar in this is incredible, it's sustained and 'meaty' (look I just had to put that in quotes, that's just too 70s for words).
I love the tracks on this EP, they take me back to my youth when heavy meant heavy, when rock meant raucous, and when neighbours complained to my parents as I turned up my sound system. But, and it's a big but, this ain't no pure retro fest. Yep, 70s/80s rock sounds run through these but it's filtered through alternative rock – there are hints of Muse, of The White Stripes even, going on – it has vague hints of post-hardcore. There's even hints of System of a Down in places. It's clever (not sure the band would thank me for that but it is), it's original, it's incredibly well put together and played. And listen these songs have tunes, listen hard enough and there are tunes, you can hum them, well I know I find myself doing that, perhaps I just have the strangest idea of what a tune is.
This is music that is meant to be played loud, way loud, loud enough to annoy the outskirts of the town you live in. So put it on, turn it way up, assume a suitable 70s/80s rock pose and bloody rock out people.
'Leather and Sweat' on Apple Music/iTunes: https://itunes.apple.com/gb/album/leather-and-sweat-ep/1356691333?app=music&ign-mpt=uo%3D4
The info
Hailing from the depths of Sheffield are Bear Chest. Leather clad, raining down sweaty riffs, stoner rock influences and unadulterated sounds of the 70's. Filthy noise for your aural pleasures. Supporting the likes of Slaves, The Wytches and God Damn in the past, buckle up for a ride! No need to do your hair …
Band members:
Miles-Vox and guitar
Cal- Bass
Sam- Drums
Soundcloud: https://soundcloud.com/bearchestuk – while you're there do check out 'Break You' a track I've developed a bit of a thing about
Facebook: https://www.facebook.com/ukbearchest
Twitter: https://twitter.com/bearchestuk
Instagram: https://www.instagram.com/bearchestuk/