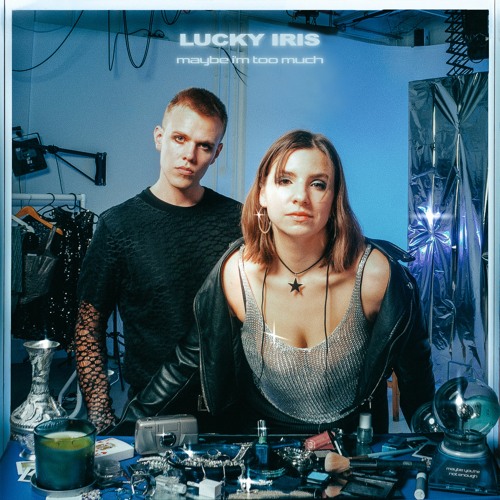 If you've not caught the release of the three teaser singles from this EP, now's the time to catch up.
But first, if you're on the Lucky Iris kick you can skip this paragraph If the duo are new to you; here's a brief intro. Lucky Iris are a duo from Leeds. Maeve and Jasper, who make carefully crafted thoughtful and sometimes thought provoking alt-pop songs sprinkled with wonderful hints of the 80s and 90s. Their songs are about life right now. Oh, and they come with attitude to spare.
The EP opens with '23' which refers to the year 2023, and reaching the age of 23. It talks about the hopes and dreams of becoming an adult and realising that all the things you dreamt of are still out of reach – owning a cat, a nice house, a good job. Essentially wanting to be what you wanted to be by then. I'm sadly way past that part of my life, but it still resonates with me, I get the feeling.
Musically the track does that quiet/louder alt-electropop thing in a very 80s and 90s kinda way. While the track is obviously very carefully constructed – with some frankly surprising sprinklings of sounds – it has more than a hint of bedroom pop about it. It makes the track sound like an internal dialogue, a series of thoughts and reflections and life.
Continuing their mission of delivering great pop with meaningful words 'oh no (i guess i did it again)' tackles the ugly reality of following the beautiful game for women and LGBTQIA+ supporters. Maeve explains "When you think football fan, you probably don't think of me… but that's the issue I think. Football has always been pushed as an inclusive sport, crossing so many barriers, an unspoken language to many, THE beautiful game. Except there are barriers… for women and queer people alike. I've done my hours of listening to every football podcast I could get my hands on but still when I opened my mouth people didn't want to hear it. Enter 'oh no (i guess i did it again)' referencing me giving my many seemingly unwanted opinions on all things football, to people who really didn't want to hear it. At all".
While you may not think this is the basis of a great dance-y alt-pop song, you'd be wrong. It comes with a fabulous driving beat that compels you to throw, some, frankly embarrassing in my case, shapes. An electro pop-punk sound that is addictive. Fantastic.
'blowing kisses' has ticked my Summer pop track checklist since it was released. This isn't, as you might have thought, an irresistible shake your stuff sort of track, but something that makes you sway in a happy way, want to hum or sing along. If I was reaching for a music reviewer cliche, the one to reach for is hook laden; one listen and it's there in your head. The tune is so earwormy.The delicate breathy vocals shimmer over a dreamy ethereal wash of sounds.
There is something wistful, something with an edge of longing in the sound that reflects the song's subject. I'll let the band explain 'I overheard someone say; 'a crush is just a lack of information', and I just couldn't get that out of my head – but I refuse to see a crush as just that because it just takes all the fun out of it, doesn't it?! 'blowing kisses' is about having a crush. It's about that point where it turns into something more, because unlike that stranger implied, the more information you learn about your crush, the more you end up falling for them. It's about hanging on every word they say, being out and only being able to see them. And when they say your name, that feeling you get each time, it's like the first time anyone has ever said your name… I guess it's an 'if you know you know' feeling… if you do you'll understand and if not, know it's a precious song about being desperate to know what that other person is thinking'.
'blowing kisses' is still my Summer song, gorgeous stuff.
'maybe i'm too much' is the track we haven't heard, and boy was it worth waiting for. Breathy vocals float over fantastic sounds that go from ethereal to beat-y. Surprising sounds thrill. Every listen, you hear something new – another pop of sound, another layer of sound.
Lyrically it does that Lucky Iris internal dialogue thing. It seems to be about self-doubt and relationships. And, I've said this before, I can relate, we all can relate.
I hope you've got the message, Luck Iris make great classic, made with care, alt-pop. They write songs that are rooted in the personal and yet at the same time are about things that we can all relate to, and that doesn't happen by accident; the duo are fantastic songwriters. And this is the beauty of their music, the thing that makes their music rise above.
This EP is so good, so fantastic; proving, if we need that proof, that Luck Iris are the real fantastic thing, and make beautiful music.