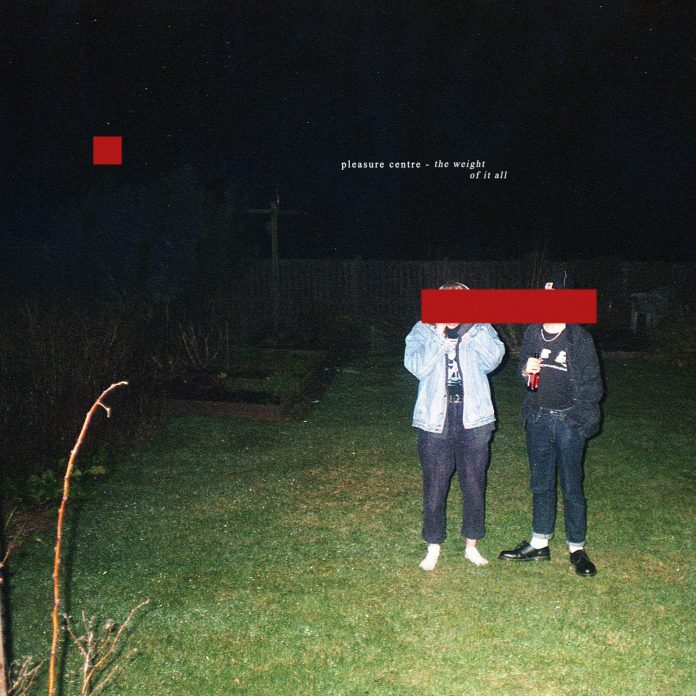 This is the debut EP from Pleasure Centre. It's sadly the first thing I've ever heard by the band, and all I can say is 'why in the name of all that is holy have I never even heard of this band before, this is amazing'.
Pleasure Centre play a kind of shoegaze/alternative rock/indie thing; although this is nowhere near enough descriptive of their sound. Yes, there's the heavily fx'ed guitars that wash over you like a wave of sound. Yes, there's the quiet loud thing. And yes, there are catchy tunes sometimes buried in there. But somehow it doesn't capture the glorious strangeness of the way the songs are put together, the hints of the Cocteau Twins' sound that lurks within. Nor does it describe the ethereal beauty of the sound they make. Nor does it encompass the way they drop in spoken word sections almost randomly but wonderfully.
Yes, from the strange clicking noises and then the big chord that introduces 'Intro' – an instrumental that feels almost psychedelic – to the organ like keys that close 'Tungsten' this enthrals, it mesmerises, it fascinates. This EP takes you into a world of sonic magic.
And yet, because this has overwhelmed me with beauty, I have been forced to start at the end of the review rather than the beginning.
The beginning that should have been
'Intro' creeps up on you; there are small sounds, and then the aforementioned 'big chord' which merely signals the arrival of waves of synth that swirl and build into drums, guitar. The sound comes at you in waves; sometimes gentle, sometimes less so.
And this takes you to the next track 'Blue (Bertha)'. This takes a more indie sound but there are sudden swerves to a disturbing dropped in voice, builds to a wave of guitar big enough to drown you. All the while maintaining a melody that is catchy but sometimes hidden under layers of other sound.
Confusingly the next song is called 'Opener' which, I guess I'm forced to describe, as shoegaze/alt-rock. Guitars on the edge of noise, vocals that are engaging. A sound that almost forces you to thrash yourself into a heap. Darkly joyous.
There is a change of mood with 'Talkboy'. A track that starts out sounding sweet, 60s' pop like; just with a guitar that almost falls over the cliff into feedback. And then melts into pure sound, pure wonderful noise.
'Tungsten' is fragile, ethereal. Yet at the same time huge. It's on the edge of reminding me of something but it's elusive. And then it comes to me; it sounds like a shoegaze version of a John's Children track, it's the mixed back spoken vocal. Yet this is just my old head working in weird ways because really it isn't at all. Stop thinking, just let yourself swim in the sonic sea.
The end
This is a simply astounding EP of songs that sound like nothing I've heard before. This enthralls, it mesmerises, it fascinates. This EP takes you into a world of sonic magic.
The info
This Debut EP see's Pleasure Centre finish their introduction as a band, from the bands conception to today the songs contained within this EP sum up the youthful and jagged nights, relationships and emotions from their seaside hometown Scarborough; although they are now based in Leeds. The five track EP showcases material from first studio sessions to crafting a sound that runs back to front as a progression of experimentation and complete noise.
"Our Debut EP is a bit of a progression from when we started the band, not really knowing what we wanted, if we wanted to be punk or more classic rock like. The songs contained in this project show how we've got to where we are now, the themes we based all of it on are extremely personal and come from experiences that were haunting and needed yet fun from when we had no clue what any of us wanted to do."
The band has inspirations such as Slowdive, Sonic Youth and My bloody Valentine to The Ninth Wave and BDRMM.
"We think this EP has formed us as a band to some extent, in no means are we close to finding our exact need and desired sound from our material but the noises we've created within this EP have helped us form our individual tastes and in a more personal sense helped us progress from being teens into adults moving away, knowing what we want to do with our lives owes a lot to this body of work…"
The EP was recorded at Young Thugs Studio, York and Leeds Conservatoire