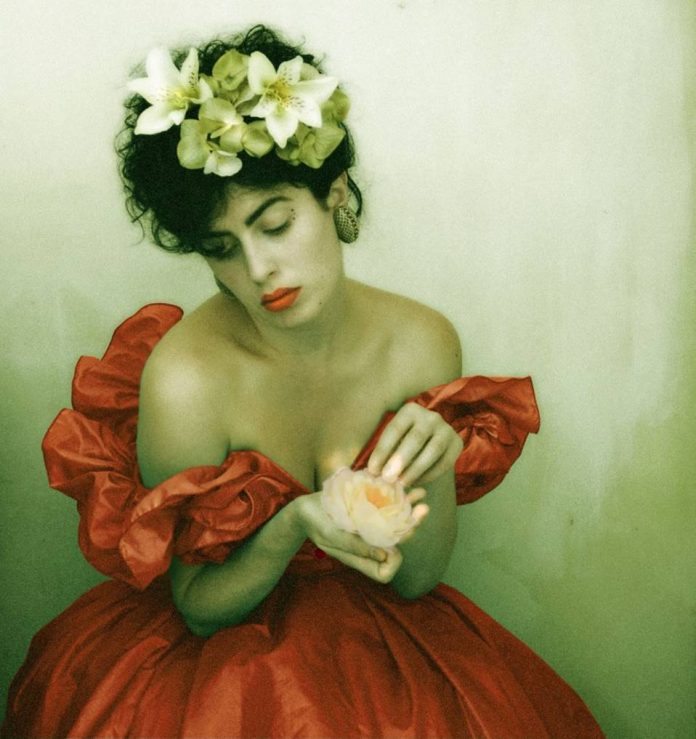 The music on this EP by audio visual artist and performer Ruby Tingle is inspired by Warrington Museum and Art Gallery's collection of amphibians and reptiles after 3 years of working closely with them on Lagoons the exhibition. The exhibition opens to the public on 7th April.
Opening track 'Flood' explores the romance of dancing alone at night in an imagined wetlands, whilst desiring connection with someone else. The sound is ethereal, intricate and complex. Layers of sounds and vocals that weave around each other. Yet at the same time, and fitting the topic of the song, it has a dance feel; a dance feel that's timeless, evoking both now and the past. It's compelling and loaded with emotions.
'Glasshouse' is dreamy. The sounds of frogs dart in and out of the mix. The vocals drift from whispers to strident in a seemingly, but hugely effective, way. It's totally mesmerising. It's a track to submerge yourself in.
The next song – 'Coil' – snakes sinuously and seductively. The sound is seemingly more straight forward but listen closer for the sound is deeper and more layered. 'Subkingdom' starts sounding spiky. But this is a track that keeps changing mood. The vocal has a theatrical feel. Indeed you can imagine this as the soundtrack to a performance piece.
Closing track 'Lagoons' starts with the most striking vocals, layered vocals. It's dark, moody and faintly sinister. Off-kilter sounds jar you while Ruby's vocals are disconcertingly smooth. It's unsettling.
Listening to the songs as a whole I get hints of later period Kate Bush both musically and vocally. But, and this is important, Ruby has both a musical approach and sound, and vocal sound that is very much her own. There is very much a 'performance feel' to her sound.
Summing up this music is hard. On the one hand you could describe this as electronica, complex electronica with carefully layered sounds; that's ethereal, dreamy, atmospheric and highly evocative. And on the other you could describe it as visual music; music that paints a picture. This wouldn't be surprising as it's music that is inspired by objects, and accompanies an exhibition. The fuller answer, to be honest, is that it's both. I suspect that you might get more from these tracks seeing the exhibition it accompanies. However it stands alone because it's so visual in nature – and obviously that's how I'm approaching my review.
This is beautifully complex music that takes you into each track's world. It draws you in, sets a mood and evokes an emotional response. It's electronica with soul. The songs on this EP have gently crept into my head and soul, and now I can't go without them.
The info
Ruby Tingle is an award-winning multidisciplinary artist working with progressive electronica in Manchester, represented by No Such Thing Records and PAPER Gallery Manchester. She exhibits and performs regularly across the UK and Europe, including Saatchi Gallery, Manchester Art Gallery, 48 Hours Neukolln, Axel Orbinger Berlin, Art Basel, HOME, sluice___ and Chethams Library. She is also one half of cinematic bass act Dirty Freud with whom she performed and headlined stages at Glastonbury 2019, and recently released EP 'Love in the Backwater' with Modern Sky.
Recent commissions include new compositional work for Lancashire Encounter and upcoming collaborative performances for British Art Show 2022. She has been awarded 2022's Manchester Jazz Festival Originals Commission and will also exhibit at the Whitaker Gallery in 2023.
Ruby's website: https://www.rubytingle.com
https://www.instagram.com/p/CaHFtXfMl6-/