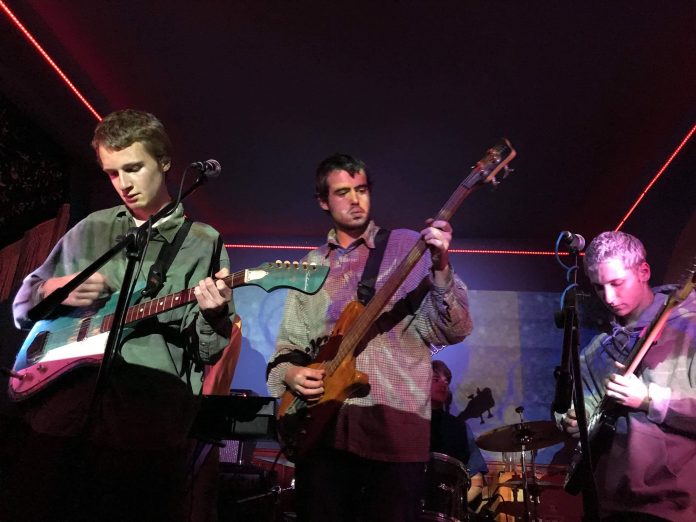 Unusually I'll be reviewing two EPs from Sheffield's Soapbox Marathon, this is because – as some of you who know more about the band than I do know already – this is probably better called a re-release because the EPs have both been available before but are being made available on streaming platforms rather than just the two ways you could access them before.
'When It Rains​.​.​'
Having chosen this EP just because it had the larger number of tracks and I thought it would be better to get the 'bigger job' done first, my first listen through rather threw me into some sort of confusion (coupled with a degree of sadness that I'd never actually heard of this band before). I mean what the fuck, quite what the fuck is going on here? This is completely insane, the band just do what they bloody feel like, the tracks just are way different to each other. I bloody love this.
So musically the tracks go from psych/psychedelic (there is a difference you know) influenced alternative rock to something that at times reminded me of Syd Barrett period Floyd and Syd's solo material to the most moving sweet ballad. In feel the whole EP rather reminded me of 'The Family That Plays Together' period Spirit, not the music as such but the mix of styles, you get me.
So the EP opens with '8 Count' a swirling off-kilter big – no bloody huge – alternative rock thing. It is a joy, from the grinding beat to layers of guitar, the backing vocals are brilliant. It is the most get up and whirl around thing I've heard in a long time. And that guitar break, yummy, so yummy you can taste it.
And then it happens, the band give us 'Big Sad Through the Window' a slow really quite sad song that musically is all sort of loose, oh so wonderfully loose, Indie slow song. The feel of this song is enough give you a major downer. I love music that does this. It is a wonderful thing
And then it all gets weird, really weird. I can't really even begin to describe quite what 'Carpool' sounds like. It's all way slow with lyrics drawled over something that sounds like mutant psychedelic jazz. It is quite quite compulsive.
For 'Fed-Ex Up' the band employ what sounds like a drum machine from the 80s. It all sounds a bit like a psych'ed up punk pathetique track. It sounds gloriously like some sort of garage jam. The guitar just sort of swirls, the vocals are covered in reverb, This makes it sound awful, it isn't, it isn't at all.
'Martian Inertia' is another one of those slow, oh so slow, drawly things, This time with acoustic guitar. It sounds wonderfully like they've taken one part Syd Barrett, one part Nick Drake, and one part something else entirely and mixed those together into something that is so much their own.
The EP closer 'Surprise View' is lovely, it's a lovely ballad type thing that starts off all semi-acoustic. It sounds super sweet and is a wonder. But it builds people, the guitars get louder – and oh boy is that guitar sweet, it gets louder and rawer still, the guitars start to positively roar, and it fades out in a psychedelic random noise thing. Yummy, double yummy.
Oliver Carney – Drums, Guitar, Bass, Vocals
Ethan Dale-Hughes – Guitar, Bass, Vocals
Owen Claxton – Production, Percussion, Extra Guitar, Backing Vocals
'.Delayed Again​/​Dim Headlight'
And just when you think you've got this band pinned down, when you think you know what to expect. The opening track of this EP throws you into confusion for 'Delayed Again' is a droney psychedelic, and I mean really psychedelic, thing with organ of all things. That takes your head and drags it down into the sound until you are deep, so deep you feel suffocated, but you can't leave, you want to stay.
And then, not exactly unexpectedly, 'Dim Headlight' is just the complete opposite. It's this light guitar strumming song that is quite deliciously moving.
Oliver Carney – Vocals, Drums, Guitar, Bass
Ethan Dale-Hughes – Vocals, Guitar, Bass
Owen Claxton – Production, Mixing, Mastering, Organ, Tambourine
Sometimes it's hard to sum up quite what a band do and what they sound like, this is so much more the case with Soapbox Marathon. They just don't have a 'consistent easily pigeon-holed style' but that's a great thing, it's a fabulous thing. What they do have is something which you can identify as their thing, their take on music, that's the key here. I love a band that keeps us on your toes, that at times makes you think 'wait a minute, is this the same band? Have I wondered off into some other band's streaming page by mistake'
Expect the unexpected, for Soapbox Marathon just play what they want and write what they feel like writing, and it's fabulous, it's wonderful