After a forced break Riffest was back. The thing about Rifffest is that there's always a mix of bands that you've seen or heard and some you've never seen or heard; and I love being introduced to new music, so it was with a spring in my step that I made my way to Belgrave Music Hall dodging the shopping crowds of Leeds.
Opening the fest was Leeds post-punk band Dim Imagery. This is the second time I've seen them and this set just confirmed for me that they're fantastic.
The reason I like them so much is that they play music that it wonderfully brings back the music I loved way back when. And when I say music I mean all the music I loved, sometimes in just one song. And live they are visually compelling, they play a show. You just can't tear your eyes from their singer as he stalks the stage in a way that brings to mind Jim Morrison. And that isn't a facile comparison for sometimes the band's songs feature spoken passages.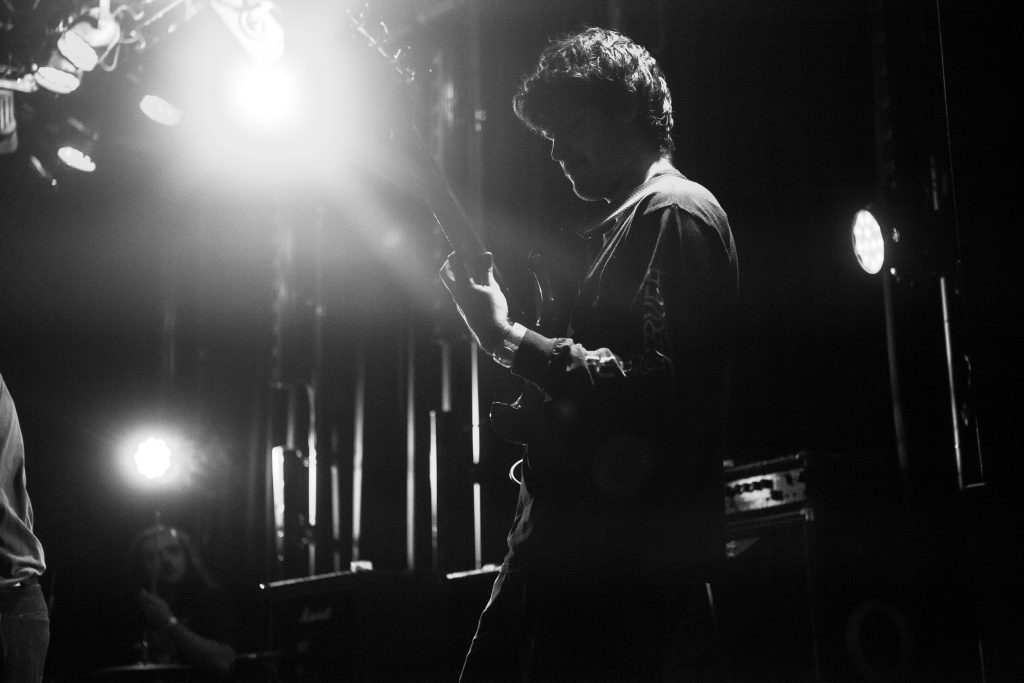 So just to retrace my steps a little bit. Dim Imagery play post-punk. This is the full range of post-punk – the jerky funk of Gang of Four, what can only be described as Goth, hints of that scything guitar, heavy rock and a whole slab of West Coast rock. They mix that into something of their own, something is both retro and of now.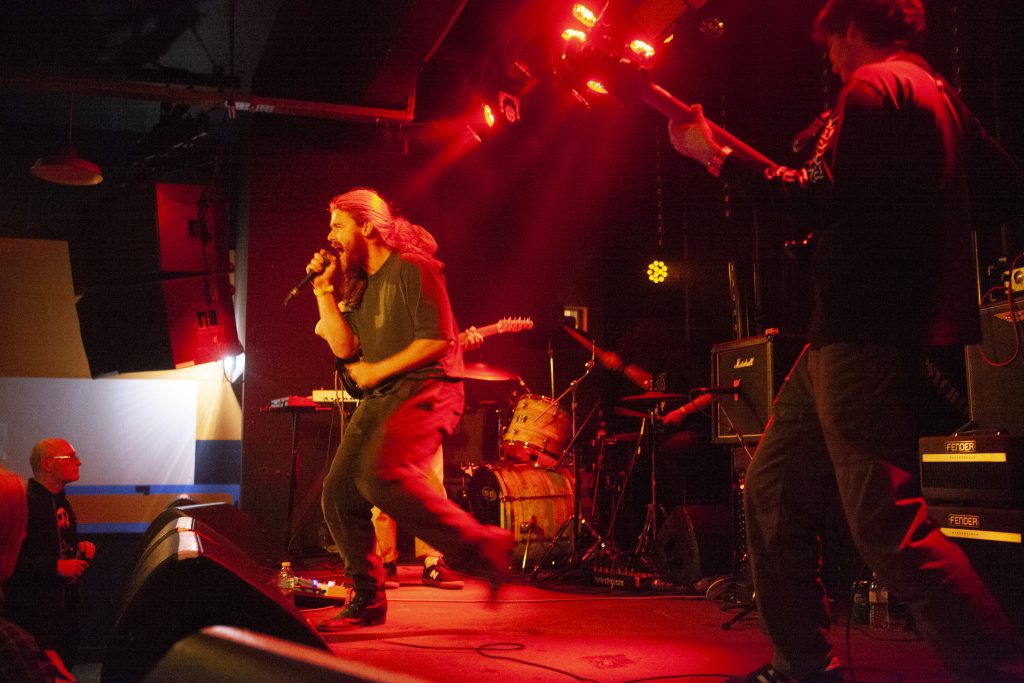 This was an absolute stormer of a set, and this is a band you need to see soon. In the meantime grab a listen to their debut single 'Three Degrees' as a teaser.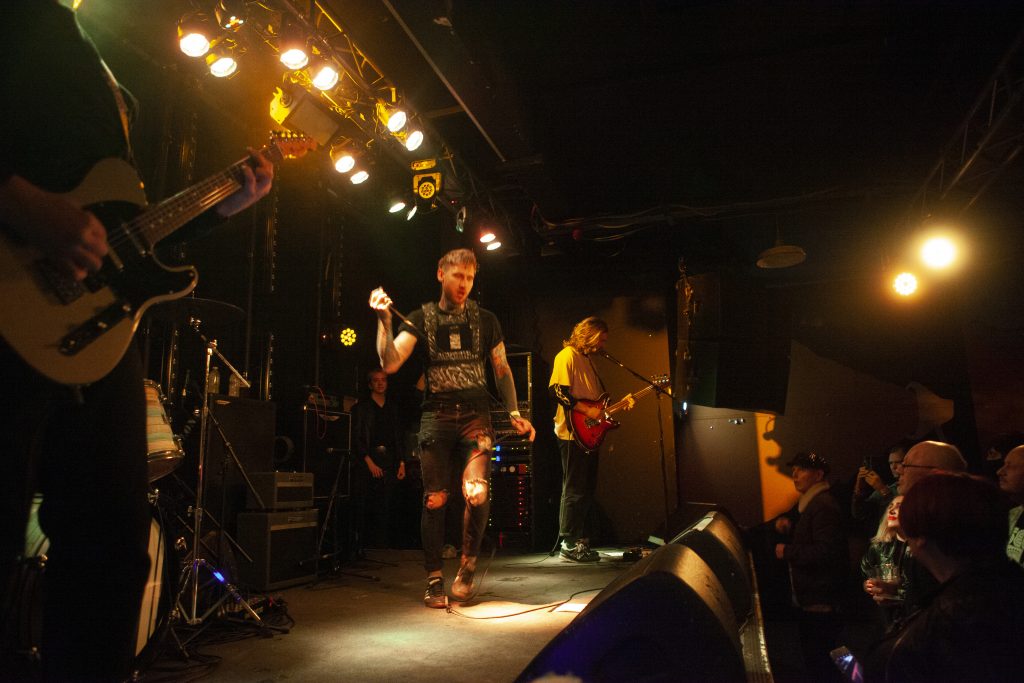 Next up a band I'd never heard or seen before – NEWMEDS. This Hull band are hard to pin down into one particular genre. There is Punk, Garage, Black Metal for sure somewhere in the sound. What it all adds up to is a riffing wall of sound; powerful, immersive, overwhelming.
Apart from a sound that was in danger of knocking me over, the other thing that held my attention was their singer. Stalking the stage with menace while words of angst and anger were screamed out. I like a band with a singer who exudes danger and he certainly did.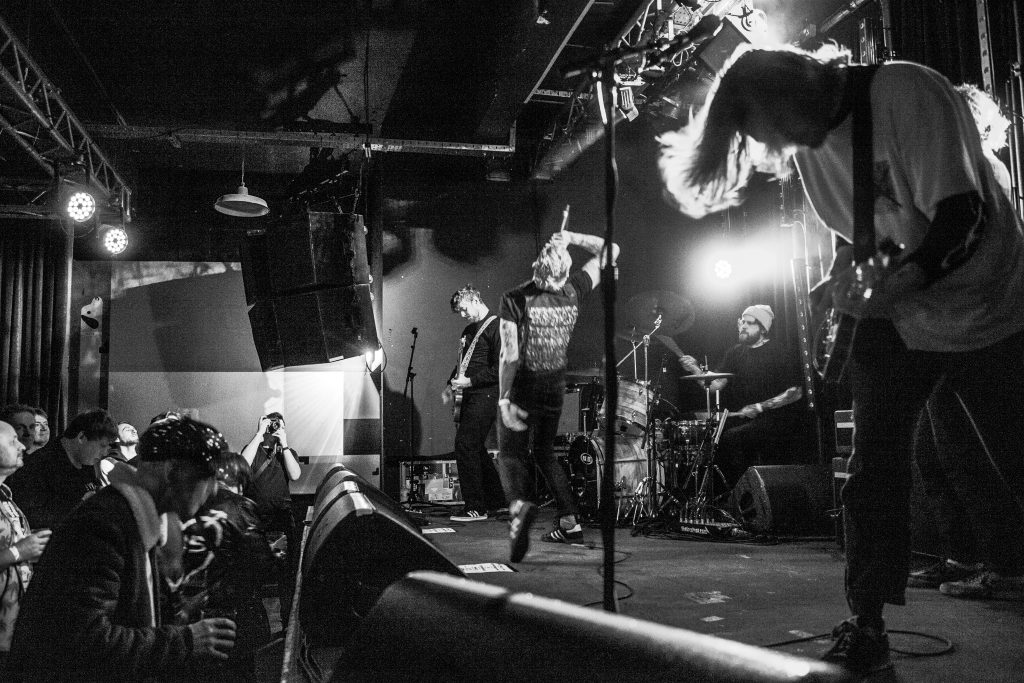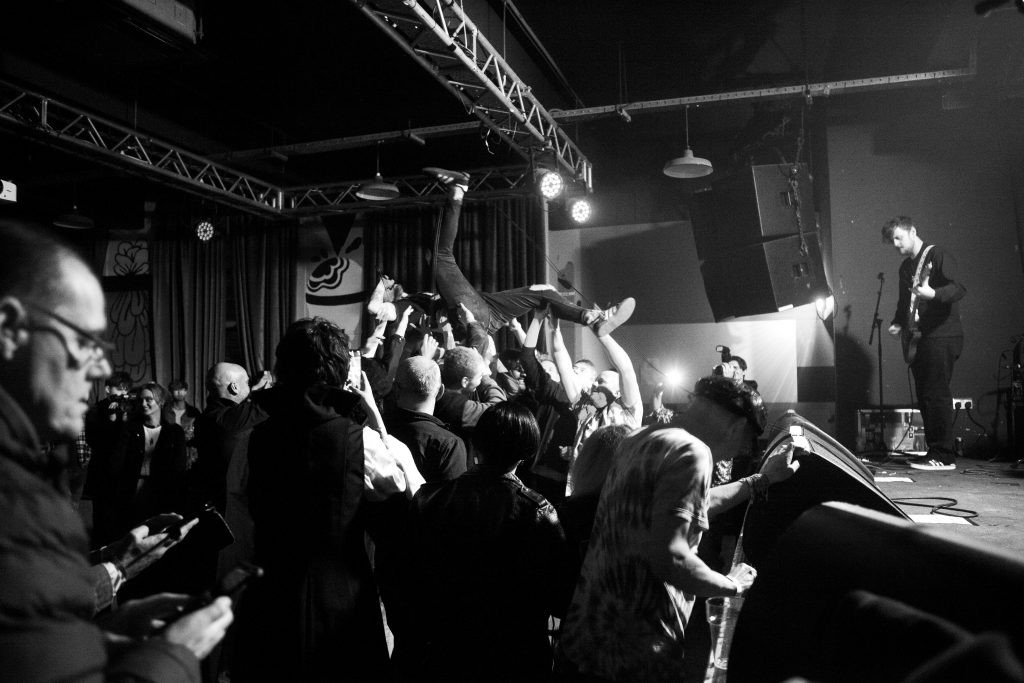 Yet the band don't just do wall of sound; there are songs that come with a tune, they're loud yes, but there's a tune there. And that added that extra something that had me riveted.
This is a band I certainly want to see again, and soon.
Next up, the joy that is Faux Pas. I adore Faux Pas, what they do is make music that is dense, sometimes psychy, beautiful. They have a presence and, I don't know whether this is going to make sense, grace that is utterly and completely mesmerising.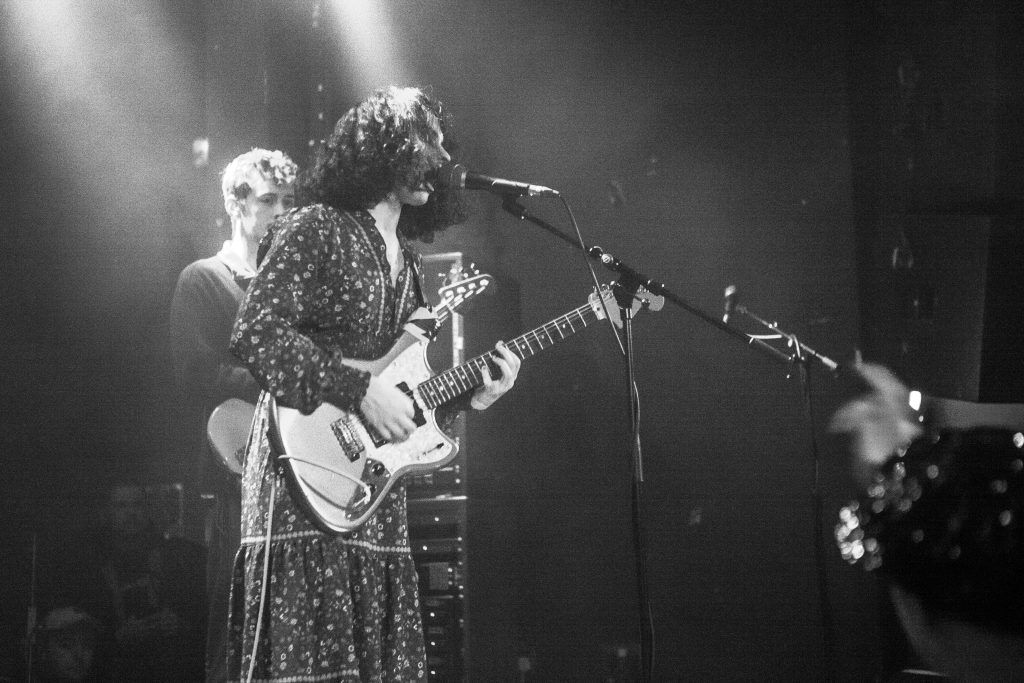 Part of that is undoubtedly Ru, who has to be one of the most compelling front persons around – both visually and sonically. But it isn't just that, the band sure can play. Their sound is crafted layer upon layer – with dense heaviness and, surprising, moments of sparseness of space. Musically their songs have texture. But at the heart of their songs there is a tune. The songs are emotional and, at times, raw; which adds yet another layer of beauty. And that emotion is conveyed through the music.
I never fail to feel uplifted, calm and somehow sorted mentally after seeing them play; and that is a truly beautiful thing.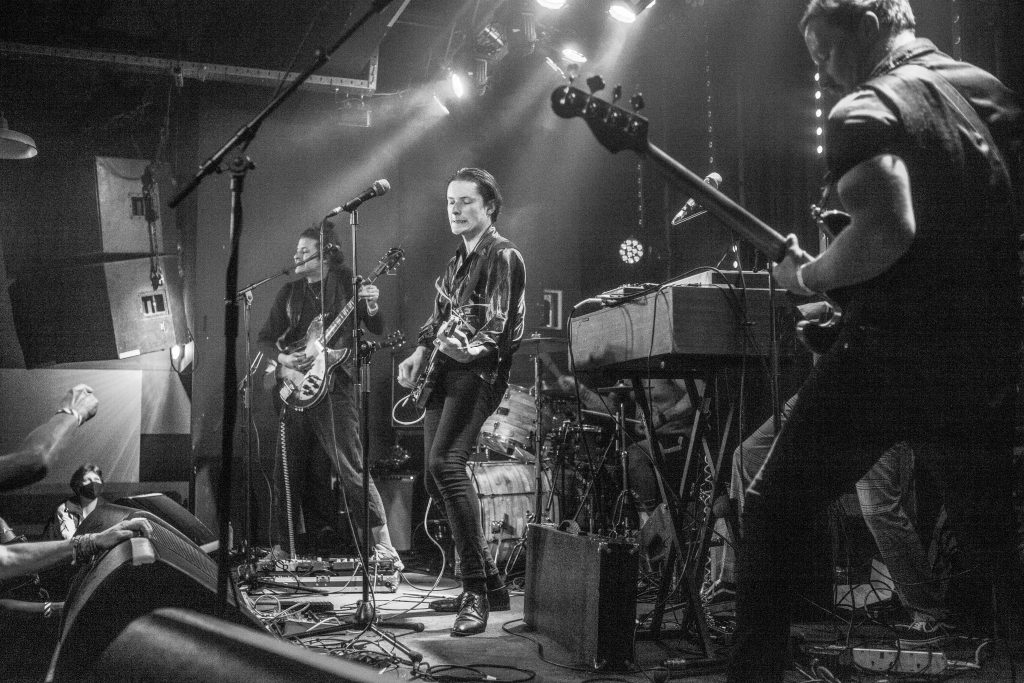 I'm ashamed to say that I've never actually seen or heard Avalanche Party until this edition of Rifffest. And, spoiler alert, I was converted in moments; bloody hell they've good..
Psychy Garage, Psychy Surf, even a hint of a kind of Psychy Post-punk if such a thing exists all seem to feature in their music. It's sound over sound over sound over… you get the picture. It swirls, it comes in waves that immerse you in sound. This is a sound that seems at once both familiar – at one point it struck me that it sounded a bit Damned of the 'Eloise' period, then suddenly of The Jesus and Mary Chain – and unfamiliar.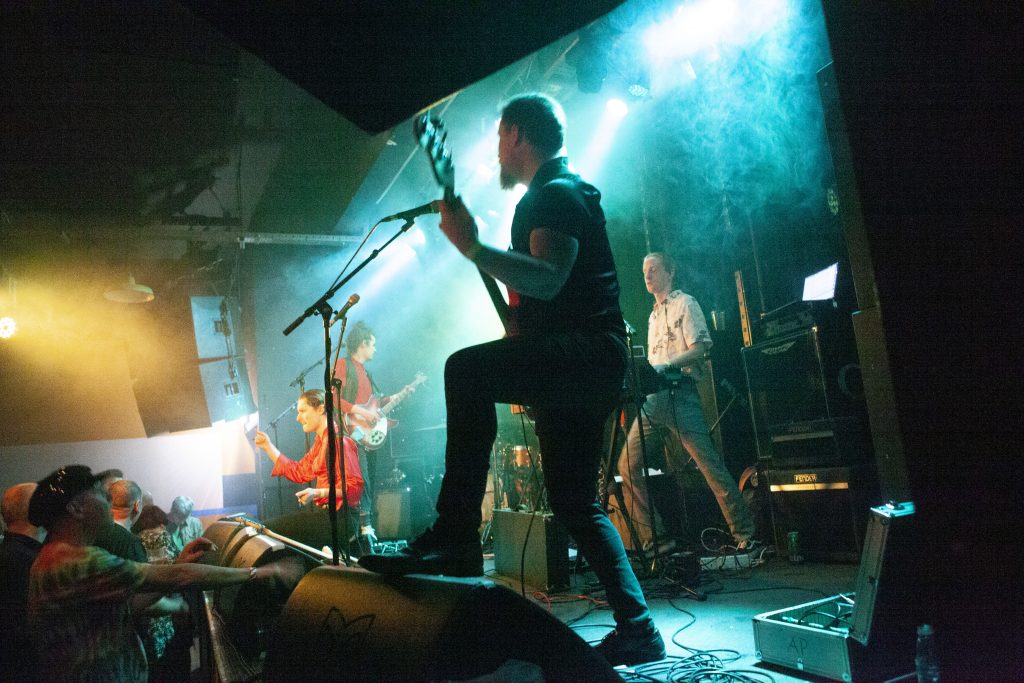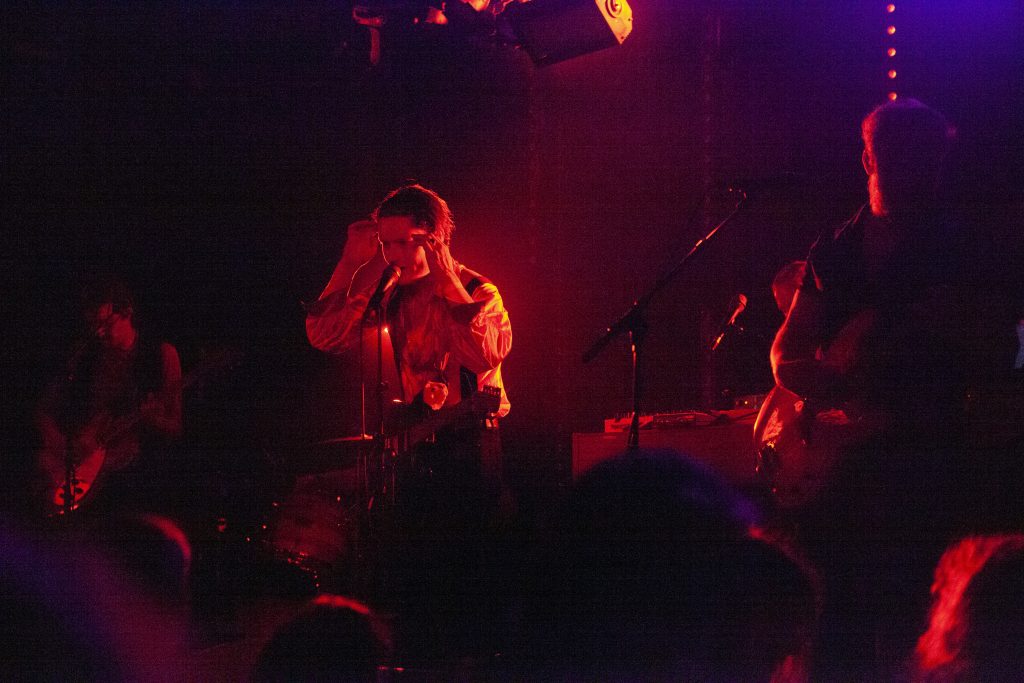 And just when you think it can't get any more out there, what do they do, they only go and produce a saxophone. It's crazy maaannnn.
It's wild, out of control and wonderful. It's spellbinding and it is, to be frank, sexy as fuck. I'm a fan.
Next up were Wooze. Sadly their alt-pop somewhat 80s influenced groove didn't click with me. However there was mass dancing going on, so with the audience it obviously did. Objectively the band can play that isn't in question at all. I was hoping to grab somebody who did get it to ask them why but sadly failed in that mission.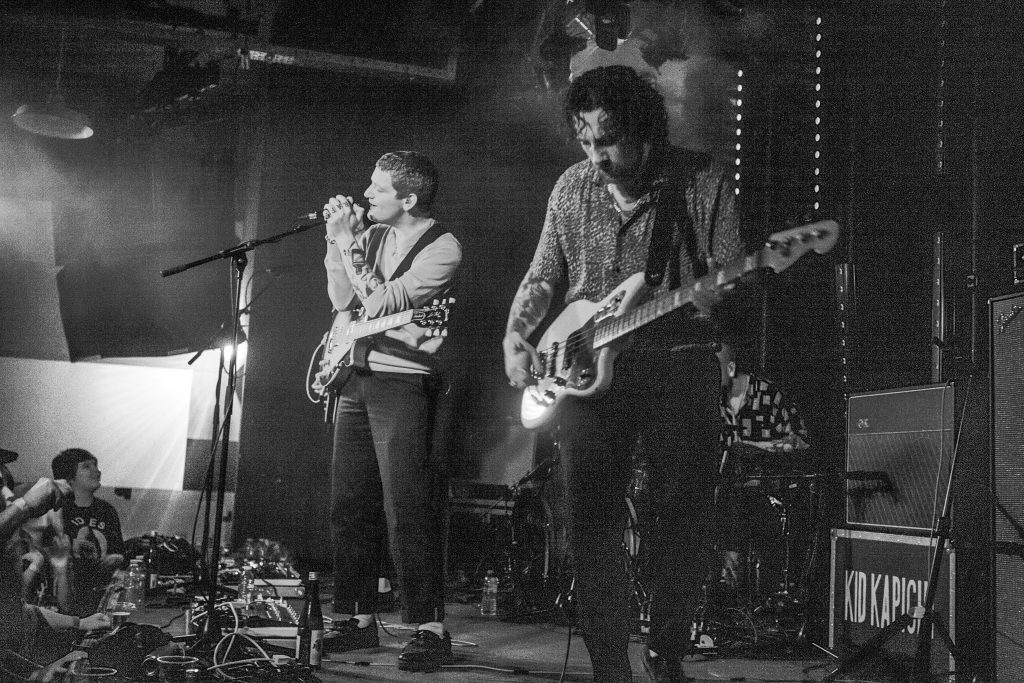 And now to our headliners – Kid Kapichi. Sadly due to the so called 'temporary rail timetable' I had to leave before their set was over. But this was with extreme reluctance because they were ace.
Their sound, to me at least, is punk with an indie edge. And as loud as it is, this is music you can dance to. All that and lyrics about things make for a brilliant thing. Great bands can make a large-ish venue feel small and intimate. and the band did that.
I really loved what they do but kinda feel limited in what I can say about them because of the short amount of time I actually saw them play. Kid Kapichi are a band who are on my 'must see again and soon' list.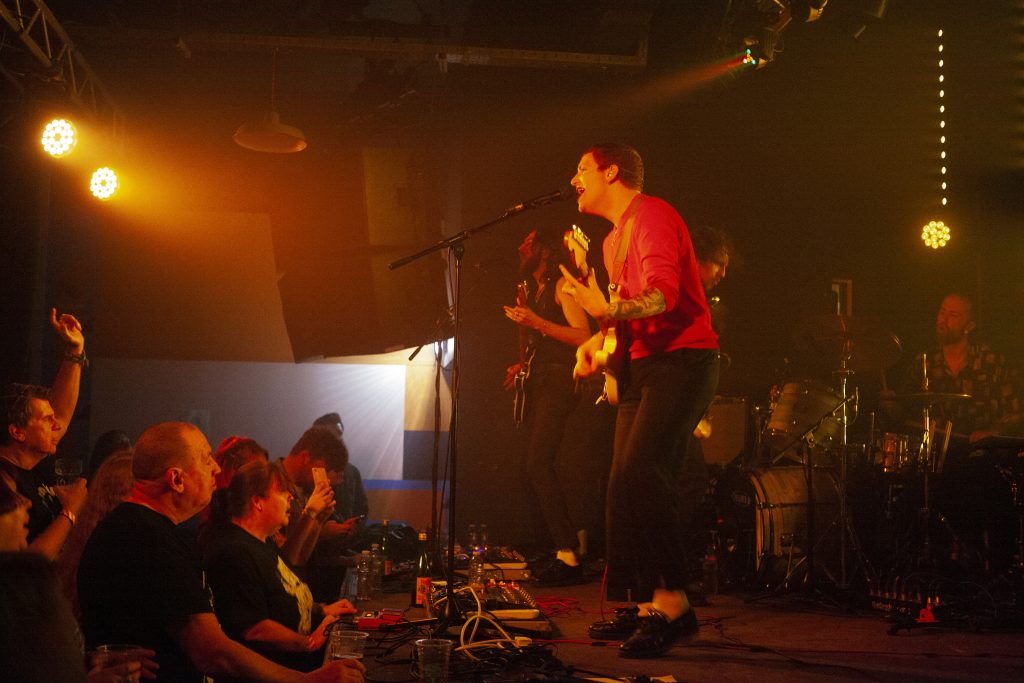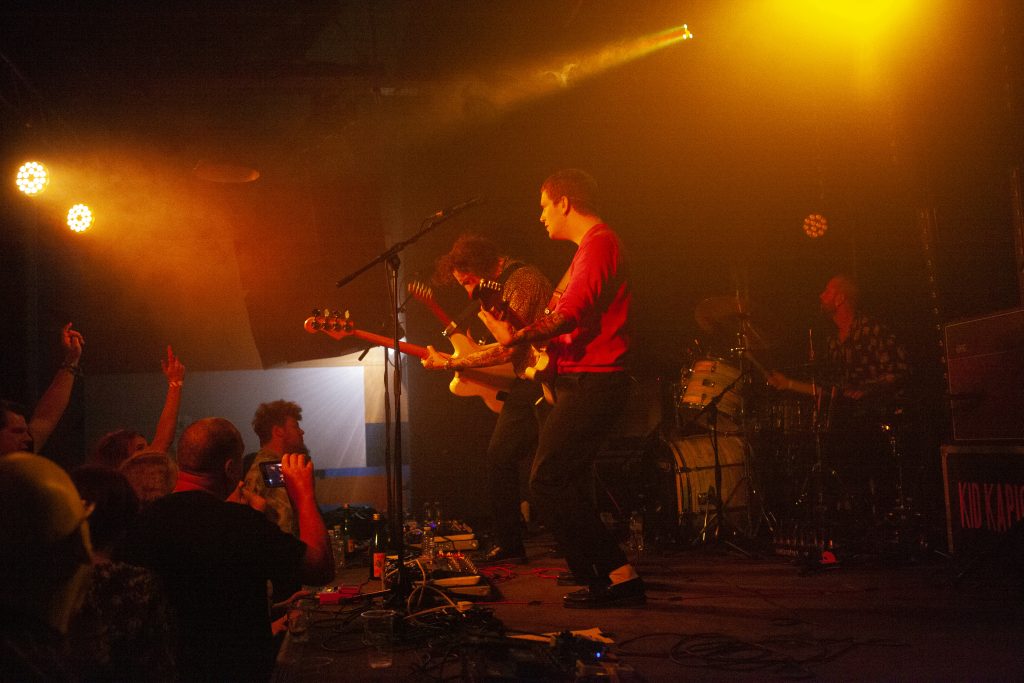 All photos © Frank Roper Photography. See more photos of Rifffest No.3 on the Frank Roper Photography Facebook Page