Blink and you might have missed the small door in the back streets of Leeds, but the Karma All Dayer at Temple of Boom was a lively little festival with a very friendly atmosphere. And at £10 a ticket it was incredibly good value for 15 hours of almost non-stop entertainment.
The venue was Temple of Boom's medium-size stage area – its skeletons and deathly quotes moderated by a curtain of silver streamers, stick on moons and larger than life papier mâché mushrooms – the compact 'Meat Locker' rehearsal space, a laid-back bar with regular DJ acts and a pop-up beer market. All clustered around an outdoor courtyard where most of the festival goers gathered between gigs. In the early afternoon most of the audience was made up of bands supporting each other but as the day wore on it became more packed as paying ticket holders started to arrive.
Unfortunately we arrived too late to catch Val Cale (one of us overslept) a four piece psych-blues prog rock band based in Leeds, which was a pity as we were rather taken with their pleasingly reflective track Mock Moon track on Sound Cloud https://soundcloud.com/valcaleofficial. And if there was one thing that we'd have liked a little more of at this festival it was slightly less ear-blasting sounds. Perhaps we are getting old but the performance areas are pretty small for such sheer volume of noise, especially when there were insufficient bodies to absorb them, and at times it made for rather painful listening. You know that feeling when it's like someone is playing table tennis with your vital organs, because the sound is reverberating so much….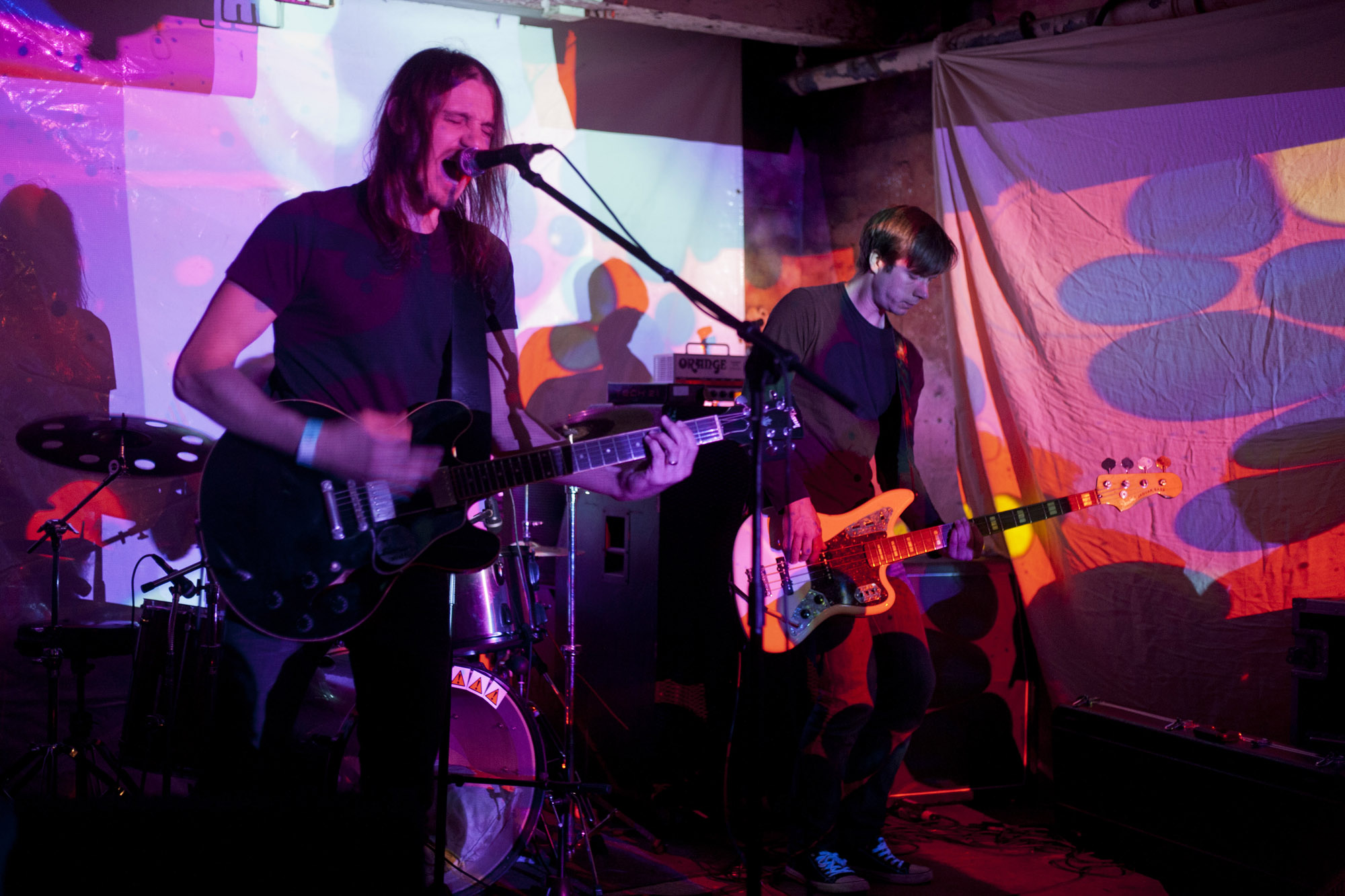 We caught the end of Two Skies, who created a bleak, but thrillingly other-worldly sound, which fluctuated from violently screaming strings through to something plaintively dark and edgy, backed with masses of reverb. Vocalist Dan Cutts has a strong voice, and although we couldn't make out a word of the lyrics, he offered a compelling invitation to follow him on a journey of gorgeously euphoric emptiness. Oliver Harrap on drums and Jamie Cheetham on bass, seemed equally transported to a world of their own, where the audience were merely accidental observers. There were certainly moments when we had to fight with a hypnotic inclination to rush out and sacrifice something to the gods of nihilism… But even more compelling was the urge to just get up and dance to the fierce, liberating spookiness of this music. But nobody else was, so we stayed still. And tried to look suitably cool.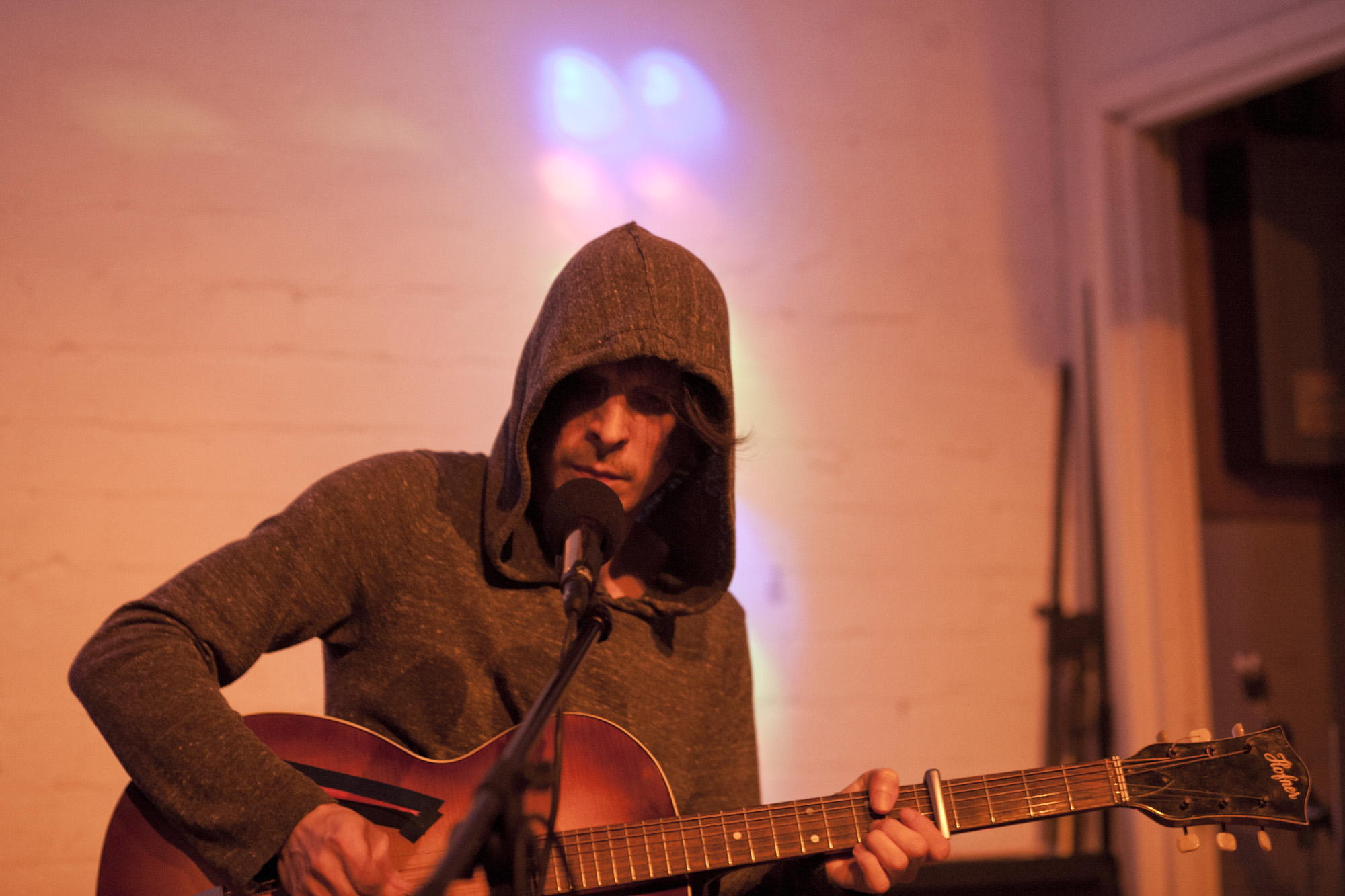 Rhys Bloodjoy is a tortured soul with a lot of talent. Hunched on a stool and frequently twisted around his microphone, his grey hood often pulled completely over his eyes, he sits surrounded by FX boxes – a modern day monk of some Holy Order of Melancholia. His guitar playing has an almost jazz feel to it, and his haunting vocals – accentuated by effects – works as another instrument in this heady mix. The way he occasionally stands up, puts the instrument down and walks into the audience to observe the sounds he's created, is both delightfully theatrical and a touch pretentious, at the same time. The music is darker than a very dark thing, and there are moments when you feel yourself needing to slip outside before you slit your wrist, but that would be a pity because the skilful way he creates such a comprehensive sound, is something worth listening to. 'It's very clever,' said one onlooker afterwards. 'it's so easy to be indulgent with sound effects, but there's just this one guy and he sounds like a whole band'. And another audience member commented on 'Great use of loop and a very strong hoody'.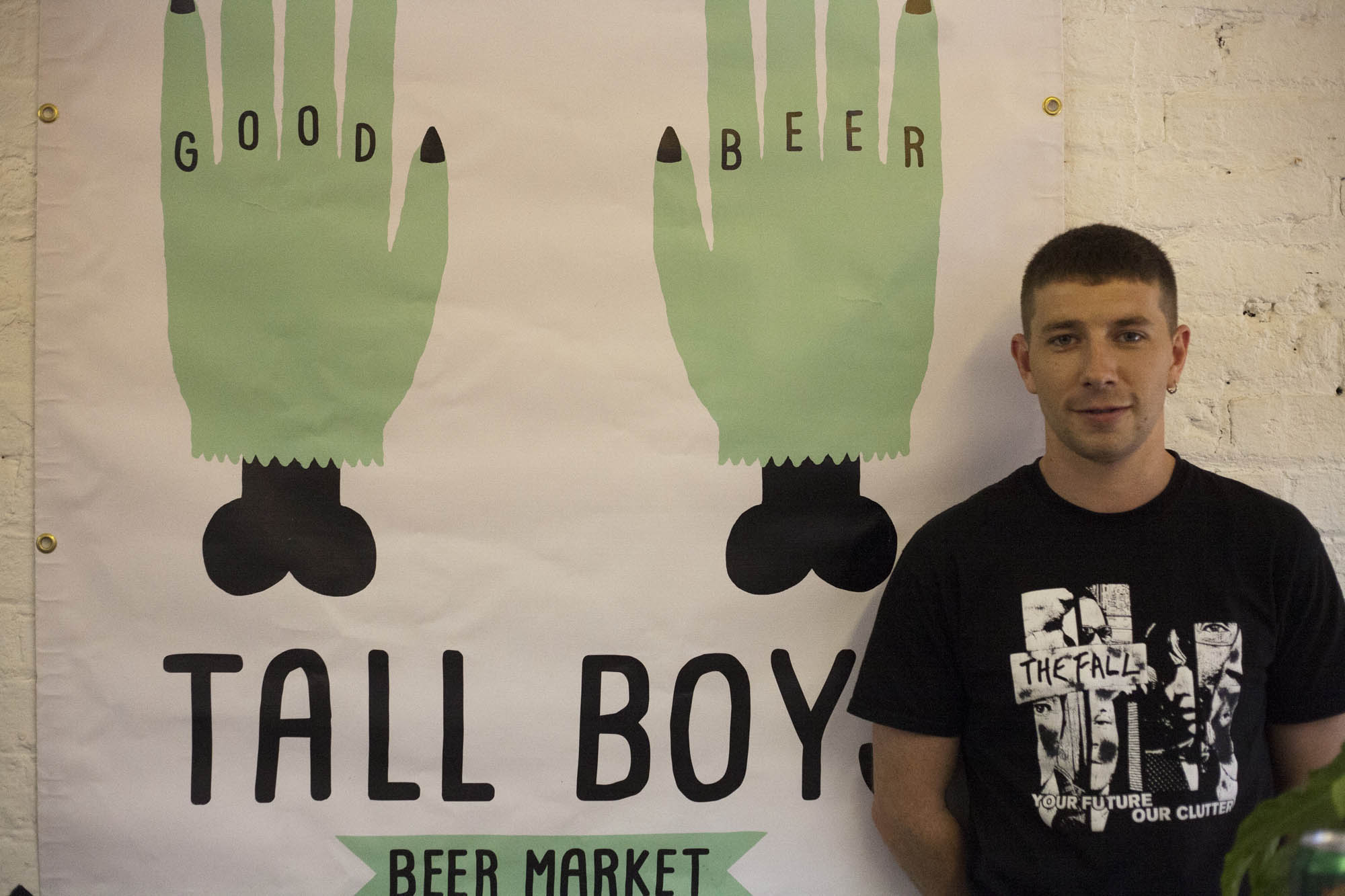 After such a performance we needed refreshment and visited the Tall Boys pop up Beer Market where we chatted with Sean O'Connell who told us that Karma has recently put on a couple of gigs at their bottle shop and beer cafe in Thornton's Arcade, Leeds. Always good to hear about live music events, and the beer was pretty cheap too.
Talking of refreshment this may as well be the point where we air one gripe that was echoed by a number of festival goers. There was no food on the premises, and performers and audience members alike were having to trek out to find takeaway meals. Fortunately we'd brought our own sandwiches (just how rock and roll is that!) but bands arriving tired after long journeys were frustrated to have to go out in search of grub. It did say something about 'Street Food' on the programme info, and if the festival was let down by whoever was supplying this, then it seems a real shame. Hopefully that will be sorted for future events.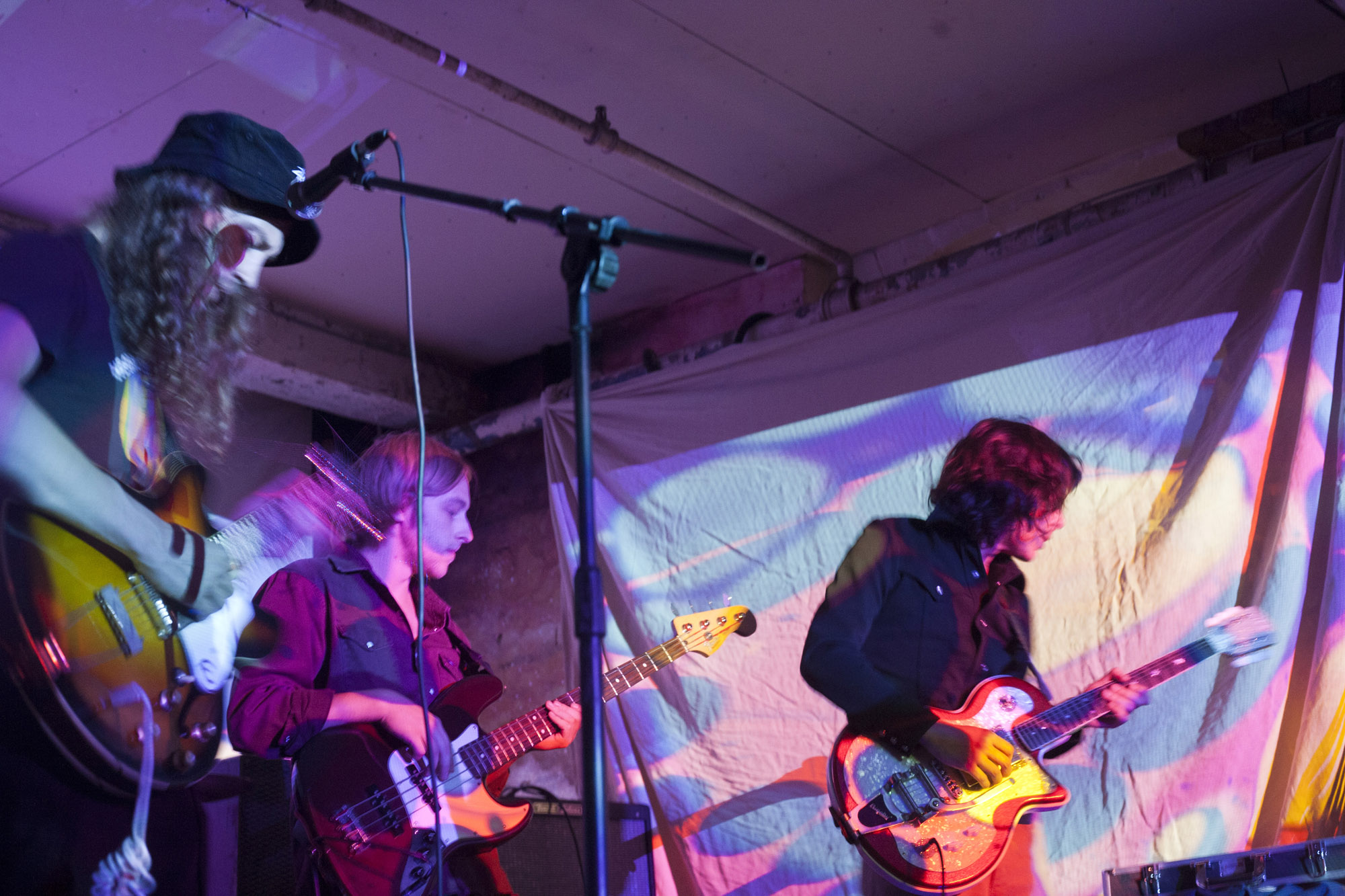 It's hard to believe that Wild Birds of Britain have only been performing together for a few months. Their act is tight and polished, big and confident. It's also shivery, down your spine West Coast influenced sound with a wonderful wah-wah reverb that makes you want to go find an open cornfield to lie in. You almost expect a sitar player to join them at any moment. However you'd want to have an umbrella to hand, because there are also dark clouds looming and while this music is spacey it certainly isn't safe. The singer's voice has a urgent raspy quality to it, and while the songs seem to have a lot to do with phoenix's and other Psychedelic imagery, it has a creepy, unsettlingly powerful element to it, that makes the listener pleasurably uneasy. This band wears its influences on its sleeve – Cream, Spirit, early Fleetwoord Mac, Peter Green and Grateful Dead all come to mind – and one of us couldn't help but hear overtones of Stairway to Heaven in one of the tracks (which the other didn't) but it also brings something excitingly original to a contemporary audience.
We managed to get a word with singer and founder, Luke Bell and he told us that the current band had evolved out of an acoustic act with a previously very stripped back sound. 'We're did our first show in December, we're still in a really raw state We're doing lots of tunes about feelings rather than producing robotic music.' Personally we didn't notice the 'rawness' and we were told by an audience member who saw them at Live at Leeds, that for him, they'd stolen the show at the Fringe event and, once again, at this Karma All Dayer.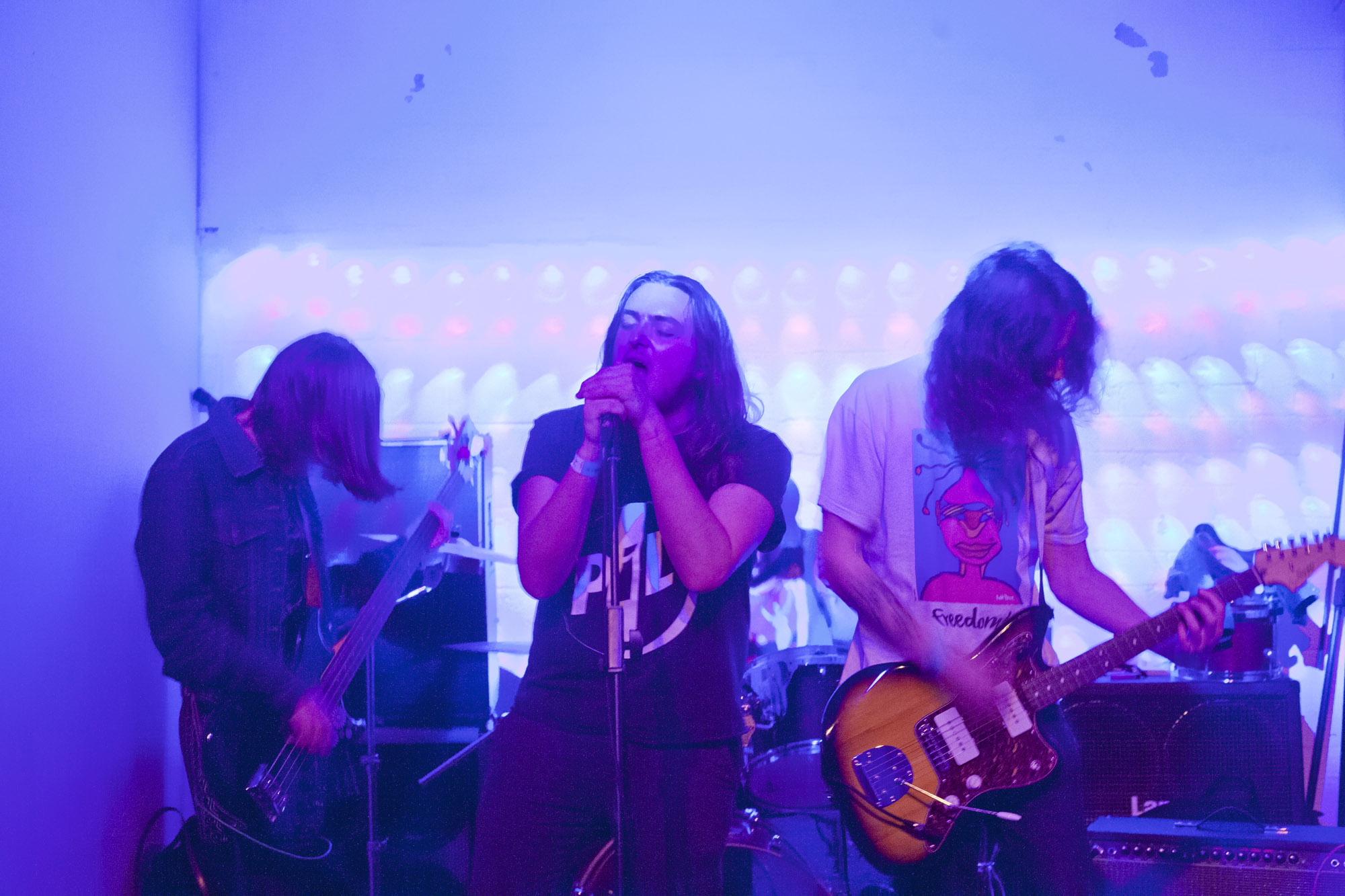 The Vulgarians performed in the cosy surroundings of the Meatlocker, and their punky, clashing, guttural sound was exciting and energetic, but got too much for our ageing ears. Even our photographer who used to sleep in the bass bins at Motorhead concerts had to pop out for a break after a couple of tracks. We decided we actually enjoyed them more from the other side of a heavy door and could imagine they'd be a great band to dance to, if the sound mix was right. However we were very keen to support them because their bassist was the first female we'd seen on stage that day, in this otherwise male-dominated festival. And they seemed all round nice guys who were happy to chat to us about other bands they'd seen.
There was a bit of a lull around 4ish (some acts had sadly pulled out because of injury and similar unforseeable circumstances) and the open air courtyard became a bit chilly despite the sunshine beyond the walls. So everyone was relieved to be told that Psyence was playing the main stage. This band clearly have a keen following and audience members whooped when the band announced some of their tracks, such as 'Chemicals for Breakfast'. There was definite light and shade in the music and what we could catch of the lyrics sounded intriguing, but the singer was often drowned out by the rest of the band. There was a passion and energy in the band and many of the substantial audience were having a really good time – some even starting to dance, but neither of us quite 'got' this band (Maybe the cold had subdued our mood).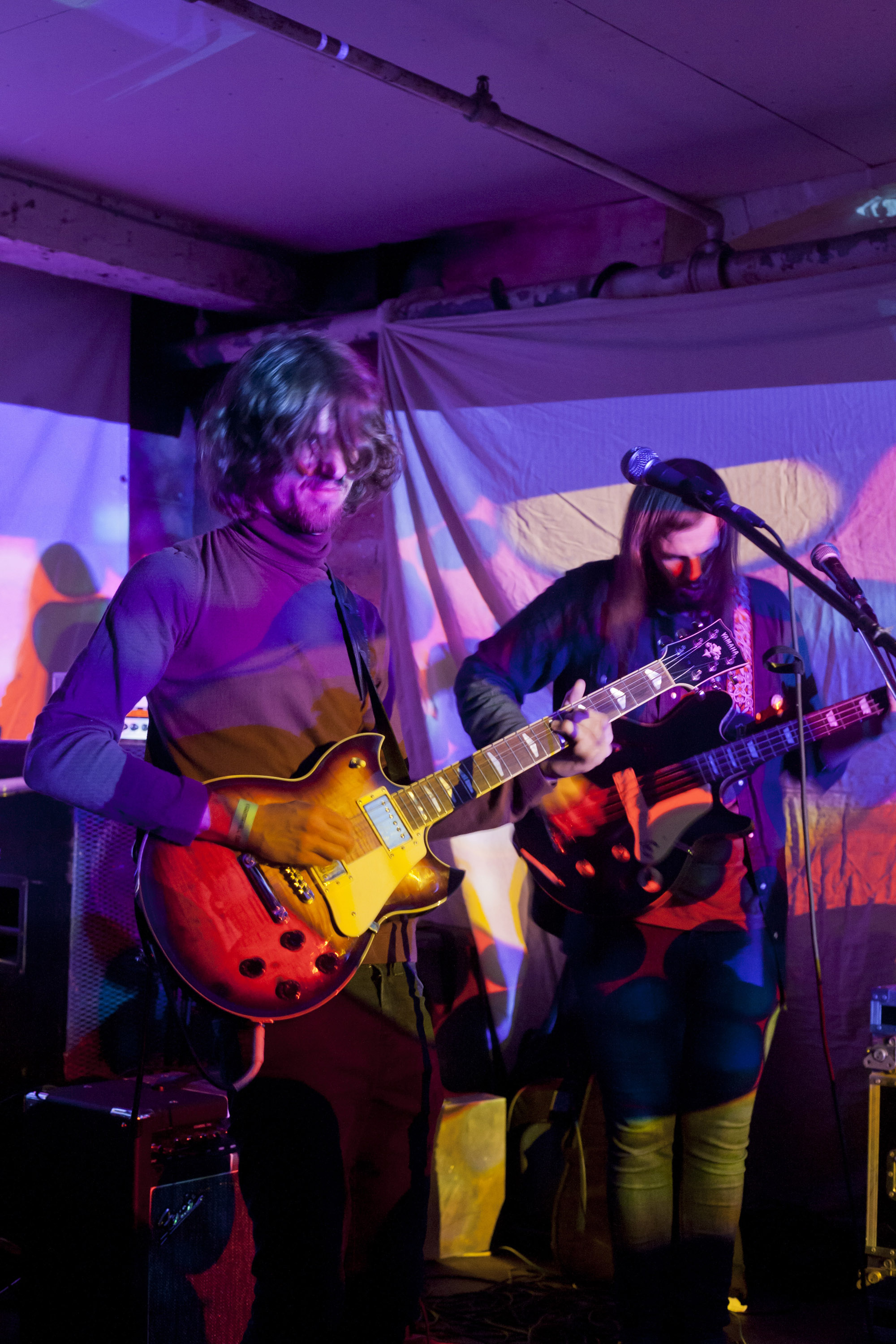 We took some time afterwards to ask festival goers why they'd responded so warmly to Psyence. 'Thought it was pretty rockin" said Lewis King who together with Sarah Sim had just arrived at the event. 'I don't know much about Psych and Sarah got me to come along, but yeah I definitely liked them,' he explained. And Sarah had good things to say about 'Led Zeppelin synthesizers and top knotch guitar solos' from the band.. '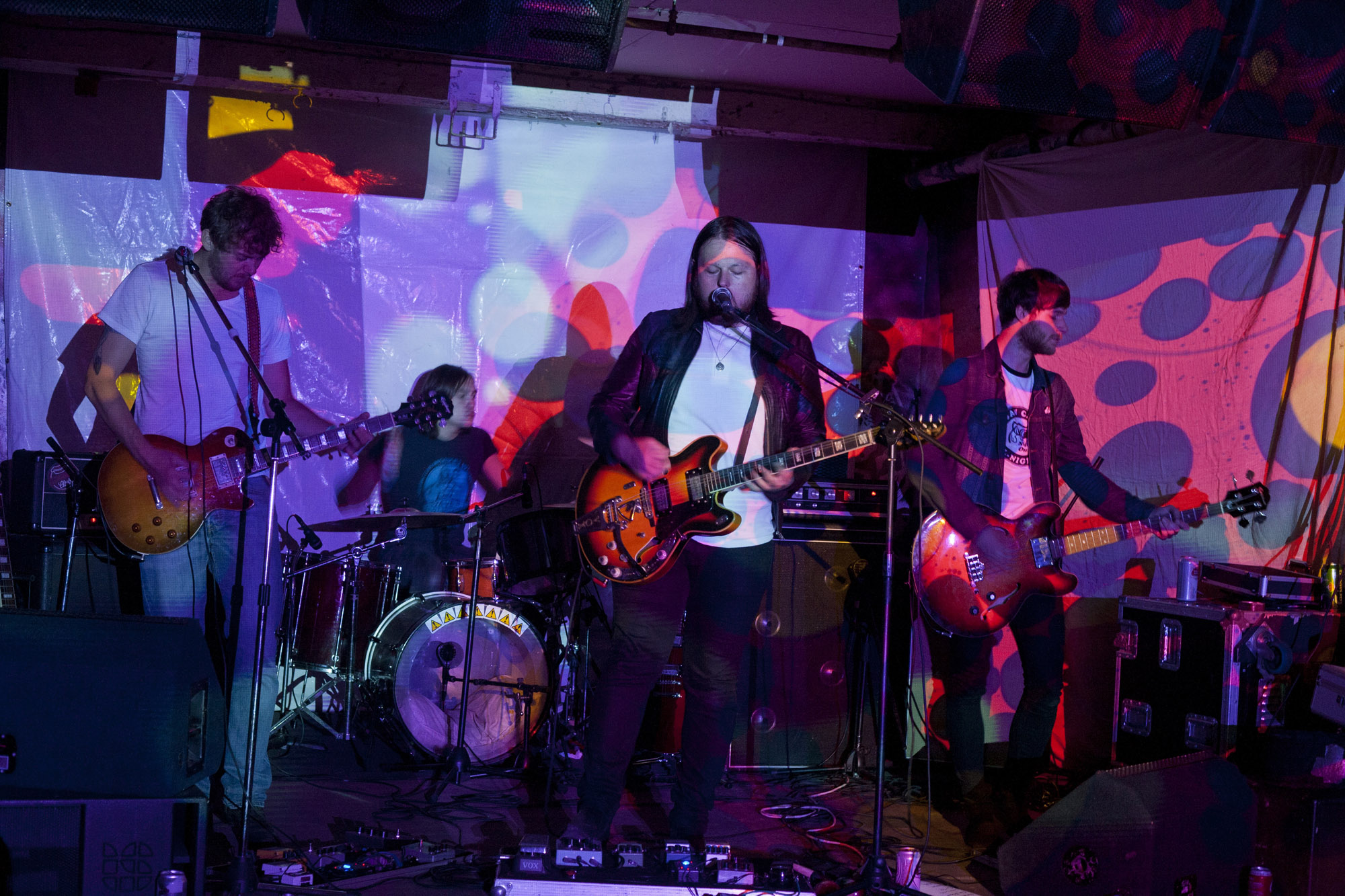 Unfortunately We didn't really warm to Black Delta Movement who were next on the main stage, and found their heavy guitar sound churning and a bit discordant. This again could have been because the volume was almost unbearable at times, but that could just be our elderly ears… However again they had a large, enthusiastic audience and sometimes you just have to accept that one person's beloved band is another person's ear battering. We know your fans love you guys, because one of them described you as 'fantastic!'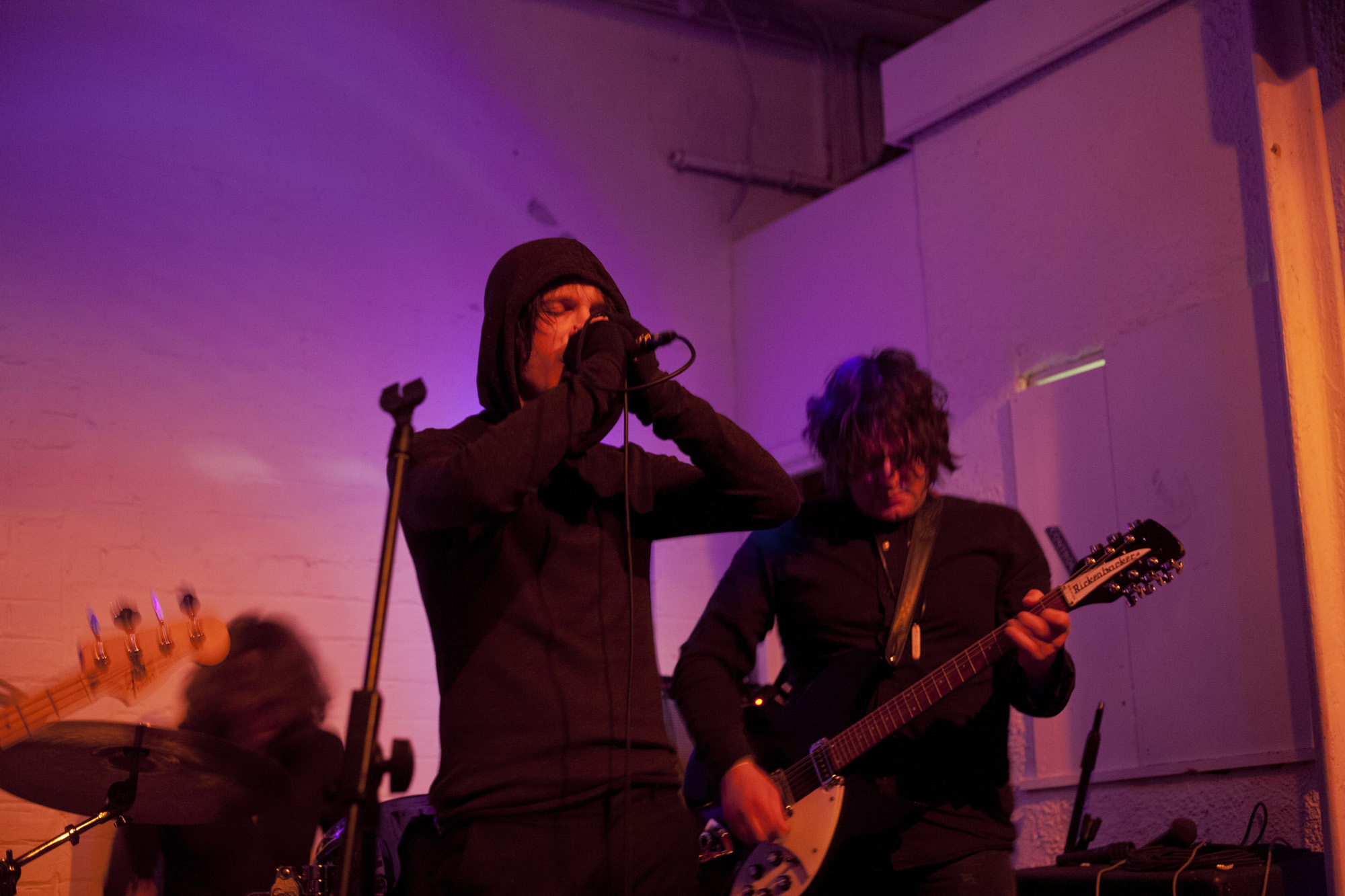 Performing in a packed Meatlocker, The Blackrays' performance was akin to a religious experience. Swaying and weaving, and sometimes kneeling over his mic, Rhys Bloodjoy (yes, him again) intoned, and then screamed out, the lyrics over a solid wall of sound that hit you like a sonic tidal wave. Yet in that wall of sound there's nuance – a guitar run that stabs out, a drum beat that mesmerises. This was an emotionally draining yet thrilling performance that left us wanting more.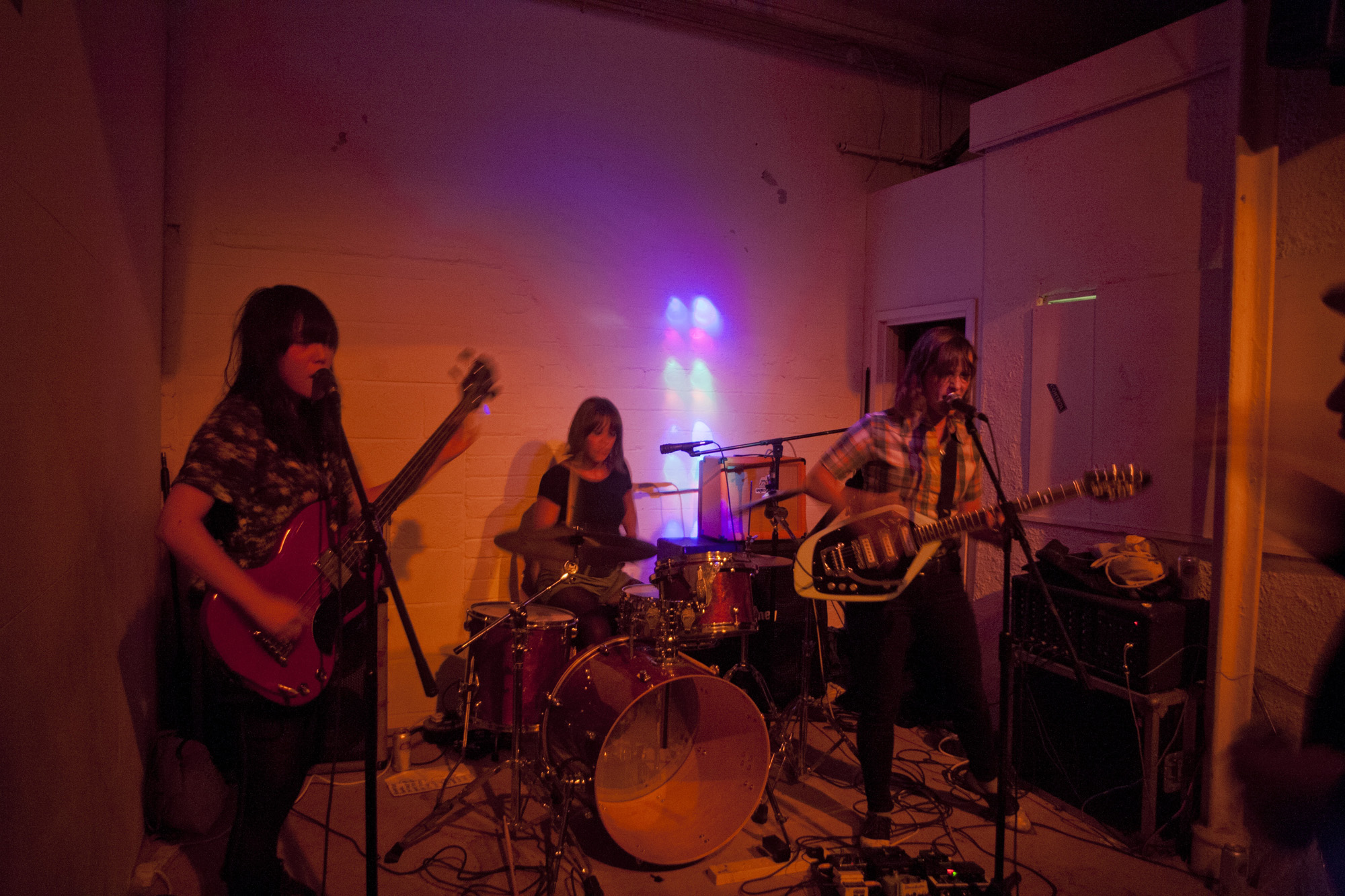 London's all female trio, The Abjects, have that punky garage sound with a psych edge that's just, well, fun! To our ears the faster numbers were slightly more successful, the more psychy slower stuff just didn't seem to gel although the sound didn't seem to be right for them, so it would be unfair to judge them too harshly. The audience really got into them and didn't hesitate to come right up to the stage edge when they told us not to be shy and come forward. This was their first time playing in Leeds and they promised to come again, so we'd recommend catching them if you can.
Unfortunately we only managed to hear the last half of The Mushroom Club's set. They seemed to go down well with the audience but their brand of psych-y jam band groove didn't really grab us. You can't deny that the band are talented but didn't quite work for us.
Eagerly anticipated, The Watchmakers didn't disappoint. The all too few numbers we managed to catch (10.30 is really an appalling early time for a last train on Saturday night ) managed to worm their way into our heads. They are undeniably psych but have a sort of indie edge.
Sadly we weren't around to hear the headliners – FEHM, Gnod and Cult of Dom Keller, because of those unhelpful train times. We also missed Mariko Crossley (The Double Hip Club DJ Set) which was scheduled til 3am. However our overall impression was of a very packed, interesting and great value day of musical experiences and we'd recommend you look out for the next event on their FaceBook page – https://www.facebook.com/KarmaLeeds