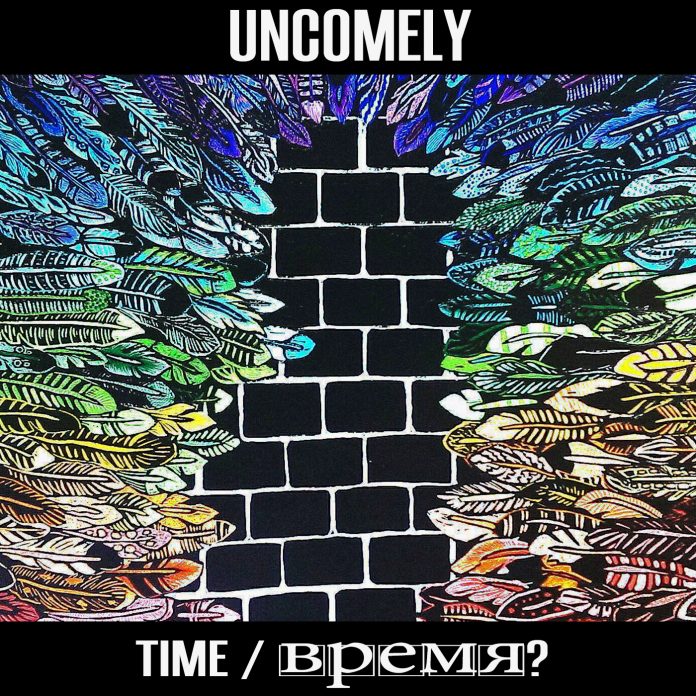 I really know very little about UNCOMELY. They're really a bit of a mystery. Apparently they come from Leeds (according to their Facebook Page and Soundcloud profile) or possibly just Yorkshire, or maybe they're not really based anywhere geographically (according to the bio I got from the band) and just sort of exist. Somewhere in a musical outerspace.
What I do know is that the members are Artyom – vox/guitars, Paul – bass, and Sam – drums. A little research reveals that Paul's last name is Hynes and the band bio reveals that he 'appears to be a sound engineer'. But beyond that I have very little idea what they look like. Even the band photos I was sent are a bit shadowy, with hats pulled low over their eyes. Curiouser and curiouser.
Given that I know so little, how do I come to be reviewing this band? Well it's just that they contacted us via our Facebook Page and I just happened to be online and took a listen to the single released from their 'TIME?/ВРЕМЯ?' EP 'Swan' and I was impressed. I told them I'd review it on the spot.
One thing you're going to find difficult to believe is that the EP was recorded in the bassist's bedroom. I do. I keep imagining a bedroom with a huge mixing desk and vocal booths and … Well, you get the picture.
The band have already released a single – 'Swan' – from the EP and a video of the track. So you can get a taste of what's to come. Or will you?
'Swan' is one of those quiet then loud then quiet and then loud and then quiet again indie-ish rock tracks you come across quite frequently. What makes is stand out for me is the slightly off-kilter and atonal sound. It reminds me of some post-punk bands in places – the song being based around this seemingly simple guitar figure and a very prominent bass part. There's some great guitar going on in the mix too, and I recommend listening to it on headphones to get the full effect of this. And I love the vocals on this track – Artyom's voice ranges from a drawl in the quiet sections to a controlled scream. This track has great atmosphere.
So what of the other three tracks on this four track EP? If you're expecting the same, you're going to get a surprise. Admittedly a very pleasant one. What UNCOMELY give us is some quite quite fab psych-ish rock. Yep there's that atonal thing definitely happening, so when you listen to the EP as a whole it hangs together and it's very clearly the UNCOMELY sound.
'Believe' has a rather wondrous sneaky start but drops into a hard driving riff almost right off the bat. Again you're going to get something extra from listening on headphones. There's some guitar parts that had me hitting repeat. Even the slightly ragged backing vocals worked. This one had me dancing round the room (honest).
'Silly Faces' sounds like something I've known all my life. You know those songs where you think you've heard them before because listening to them for the first time is like meeting an old friend. It's almost damn near perfect. It swaggers – hey, it's blues-ish psychy. It's got a violin on it, or something that sounds like violin, but it could be a clever guitar part. 'Silly Faces' has got great lyrics and this vocal arrangement that just make you smile. There's a hell of lot going on in this track but at no point do you think "well that doesn't work, why did they put it in?". For me it's the stand-out track on the EP.
With 'Time' we are back in more straightforward 'rock' mode but there's a clever vocal arrangement and it grooves … hard. You're going to find it hard to keep still when you hear this. Also it has the strangest ending which I found really quite disconcerting.
I started off this review by saying I didn't know much about this band. After listening to this EP what I do know is UNCOMELY can write, arrange and produce really great music! At the end of my first listen to the whole EP I was left stunned. So stunned in fact that I started wondering if this was some big hoax or joke. Were these guys really producing that amazing sound in someone's bedroom? But I like to believe they are, because I'm an old-fashioned sort who prefers to believe in musical miracles.
UNCOMELY are launching their EP at The Primmy in Leeds on 23rd January and a video for 'Believe' will be released at the end of January.
Website: http://www.uncomely.uk
Facebook: https://www.facebook.com/uncomely
Soundcloud: https://soundcloud.com/uncomely