With their debut album rapidly approaching, Micko & The Mellotronics have dropped another of its finest cuts – 'Psychedelic Shirt'.
In a true coming-of-age tale that unfolds like an episode of The Inbetweeners set in the 1980s, 'Psychedelic Shirt' takes us back to an era where the culturally cool was at loggerheads with Thatcherite careerism. An era where tribalism was rife, and no-less-so than on the dancefloors of the local disco.
It's a familiar set-up that any teenager trying to fit-in has inevitably found themselves in. Right shirt, wrong crowd. Or vice-versa perhaps… As Micko Westmoreland tells us:
"Psychedelic Shirt tells the story of venturing to an out of hours school disco in a dishevelled scout hut in Leeds. Where Top Man flick heads had seized upon my newly procured paisley shirt and sought about destroying it. I'd taken it off because I was too hot, left it on a peg in the boy's loos. Later, I found the article, 'mopped up in the fluid, screwed up in a ball' on the lino floor as the song's lyrics state. I was forced to make a choice between victimhood or empowerment but left contemplating shades somewhere in between…"
A song about finding teenage identity, in an embryonic & fragile state, subject to change and ridicule; it's one that will resonate with anyone who has been made to feel they didn't look the part. "It was a pivotal point in personality development." says Micko. "A voice came from deep inside at the moment of discovery, 'This is just too pants to fall to pieces over'."
The track was produced, arranged & mixed by Jon Klein (Banshees/Specimen/Batcave club) and Micko Wesmoreland.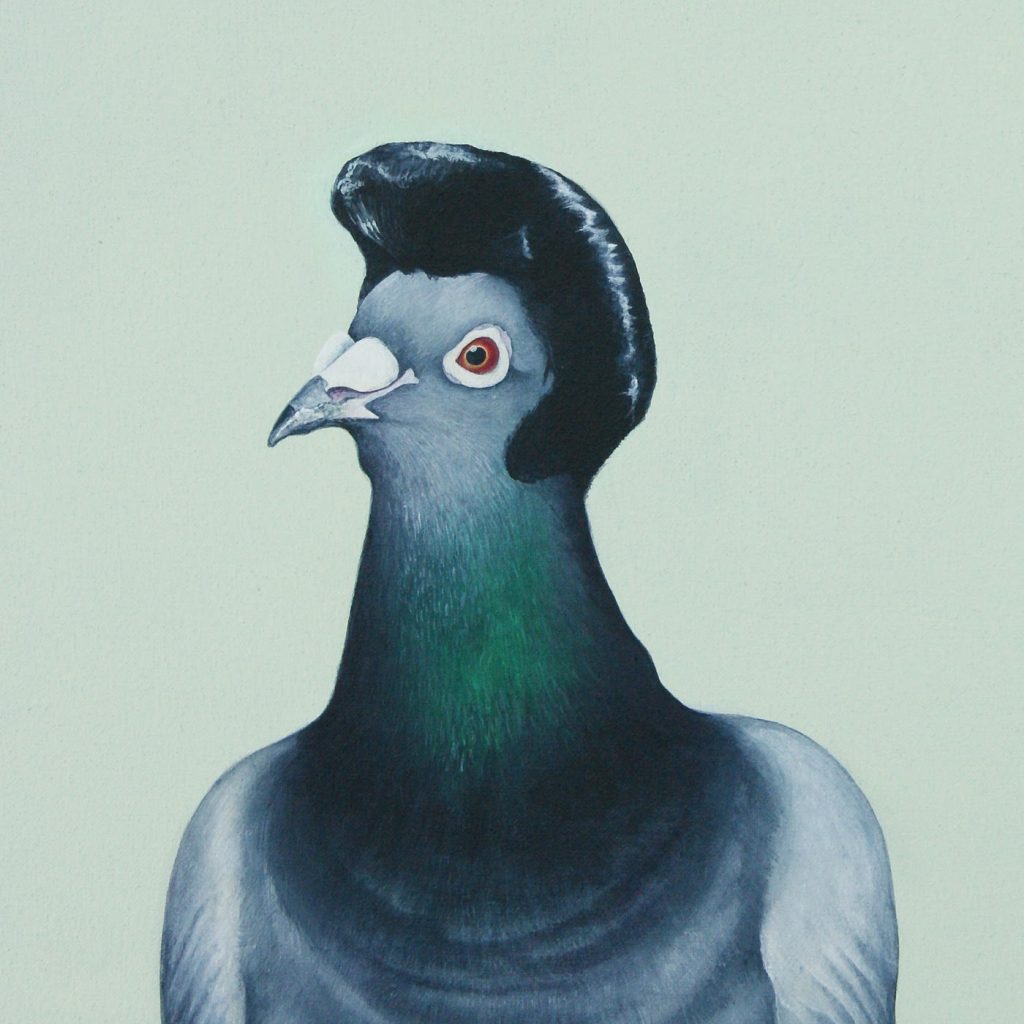 The track will feature on '½ dove – ½ pigeon', the upcoming debut album by Micko & The Mellotronics – out 27th November 2020, via Landline Records. "I titled the record ½ dove – ½ pigeon because I thought it was an honest reflection on how most people see themselves…" muses Micko, setting stage for a record of a very different breed.
Fronted by Micko Westmoreland; a musician, actor and creative already well known for his solo releases under his own name and material as The Bowling Green; ½ dove – ½ pigeon is the first release in which he is joined by his impressive backing band: The Mellotronics. Forming in 2017, the Mellotronics initially began playing out as a three-piece with founding member Nick Mackay (drums) and the enigmatic addition of Vicky Carroll (band "wicket keeper" and bass player). In 2018, the band were joined by revolutionary guitarist Jon Klein (Siouxsie & the Banshees/Specimen, and founder of the iconic Batcave club) who also adds his flare to their upcoming debut.
From the observational to the personal, the record sees Westmoreland put the world's peculiarities and his own fascinations under the microscope. From blowing apart the petty and mundane in life with rollicking ripostes (Noisy Neighbours) to reflections on the passing of time (You Killed My Father), punk-rock ditties about Filipino dictators (Imelda) and philosophical fantasies about the works of eminent psychologists (The Fear); a kaleidoscopic gamut of topics are covered in a record packed with references to pop-culture, philosophy, history and much more.
Over the years, Westmoreland has built up an array of TV & film connections; most notably with a starring-role in the cult 90s movie Velvet Goldmine, but also composing soundtracks with acclaimed sibling Wash Westmoreland (Still Alice, Colette). Naturally, Westmoreland's love of drama intrinsically spills into the record too.
A stellar array of special guest musicians also feature, including The Specials' bassist Horace Panter (a friend & collaborator who has worked with Micko on an annual charity record alongside Rat Scabies for the last 7 years), horn impresario Terry Edwards (PJ Harvey/Madness/Nick Cave) and alternative violinist in excelsis Dylan Bates (Waiting On Dwarfs/Penge Triangle), plus the late Monty Python/The Rutles/Bonzos great: Neil Innes. Early videos for featured singles 'The Finger' and 'Noisy Neighbours', have also seen the band working with actors Paul Putner (Little Britain) and Susy Kane (The I.T. Crowd, Gavin & Stacey) respectively.
Mixed, produced & arranged by Jon Klein & Micko Westmoreland, ½ dove – ½ pigeon was recorded at the Overlook Hotel in Hampstead & Kings Cross. The album was mastered by Wes Maebe at Sonic Cuisine. Drums were additionally recorded at Soup & Hermitage Works.
An album of slick new wave and razor-edged rock'n'roll, packed with even sharper quips and bone-dry witticisms; ½ dove – ½ pigeon invites you to revel in the obtuse and celebrate pop's avant garde with a novel and inclusive sense of fun.
Micko & The Mellotronics release ½ dove – ½ pigeon into the wild on 27 November 2020, available via Landline Records: http://landlinerecords.com and distributed by Republic of Music.