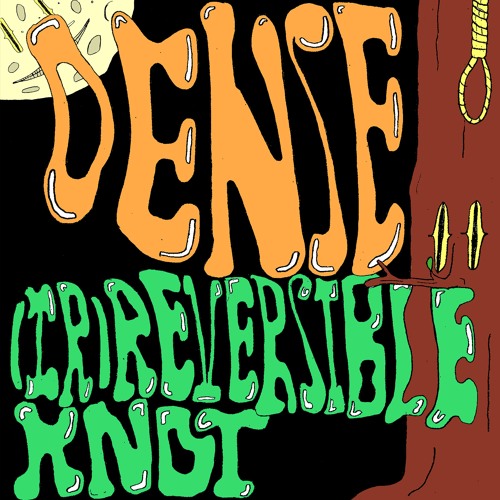 This, boys and girls, is a trip, a trip through a wall of sound. It batters you, it hypnotises you, it leaves you drained. Drained in a fucking great way.
DENSE play psychedelic garage rock, it's loud, it's just loaded with fuzz, noise and guitars roaring away. After a deceptively restrained start 'Irreversible Knot' comes at you in waves, there are lulls, but these just give you time to prepare for the next surge of thrilling guitar noise. But there is a throb, a throb that beats through the track, a throb that hypnotises, a throb that anchors the noise. And there are vocals, vocals that vibrate and echo, that just add the thrill.
But listen again, (and in my case listen again and again) and you notice that there is a more than just noise, there is structure, there is even at times a tune you could hum. And those vocals are sounding sweet, this guy can sing. The guitar noise is controlled, there is clever use of effects. And the drumming is subtle where it needs to be, and then it lets go where it needs to. And the bass, well the bass is cool. There is space in this track outside of the loud bits that is great, and you can hear everything, it doesn't descend into a morass of sound unless DENSE want it to.
OK so in an effort to be objective is there anything wrong with this track, nothing apart from the fact it could easily be longer, way longer. Those waves of sound are addictive, I just wanted this to stretch out.
This track left me with one question 'why in the hell had I not heard anything by DENSE before?' If you haven't either I suggest you remedy this immediately by going to their Soundcloud page, there is some fine, fine music there.
If you love loud garage rock or acid rock you're going to love 'Irreversible Knot'. Just make sure that you play it loud, way loud.
The info
DENSE are:
Charlie Fossick – Vocals/Guitar
Dylan Metcalf – Bass Guitar
Sam Heffer – Drums
Soundcloud: https://soundcloud.com/dense-music
Facebook: https://www.facebook.com/densestuff/
Twitter: https://twitter.com/denseband
Instagram: https://www.instagram.com/officialdense/