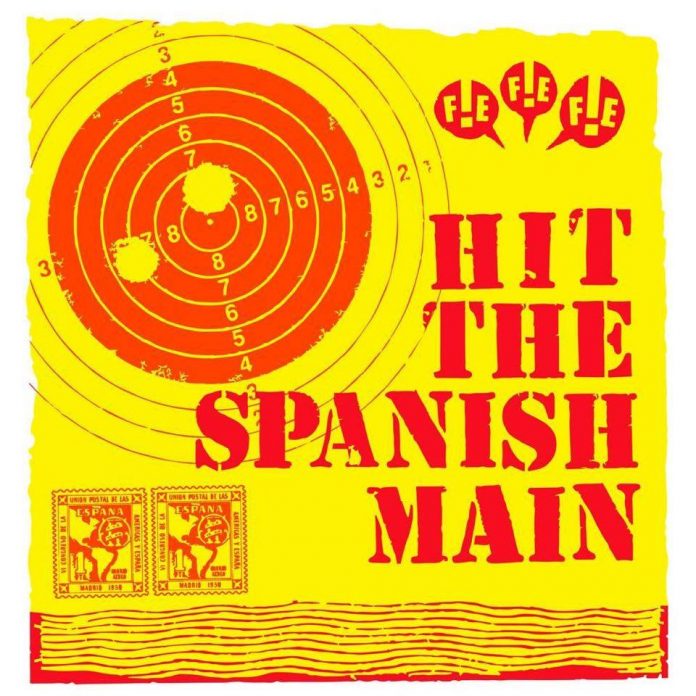 Let's get straight into the overall impression. If somebody asked me to sum it up in a single phrase I'd say, weird but in a good way or possible strange but in a compelling way. If you're familiar with Fie! Fie! Fie!'s work then this might not come as any sort of surprise. I'd have to add that it's a lot of fun.
Quite what the song is about isn't immediately obvious, so I asked Dan (vocals/guitars) to explain:
"In brief, it's as it may sound; tales of debauchery on the high seas. Adrift in a corrupt world – or some kind of world – with a humble gang of Pennine Conquistadors seeking the prize of warmer shores, to so much more. Or a day out with the lads…. could it have gone better?"
Ah so that explains the 'shipment of unmentionables' lyric (rather wonderfully rhymed with 'Español Principal' by the way). Or does it? Lyrically this track is all rather surreal.
Musically the track starts out sounding like a slightly twisted latin-tinged easy-listening song, and there's some rather lush saxophone in there too. And then bloody hell, what is that doing there? There's a screaming rock guitar. The first time you listen to the track this comes as rather a shock, on further listens you find yourself waiting for it to happen. All too soon it's over and we're back in twisted easy listening world. Then there's one last rock section, with added saxophone.
Although I've presented it as a series of 'sections' it's not at all like that. This is actually one cleverly arranged and produced track (self recorded, engineered, mixed and produced, by the band's bassist Avon Blyth). Musically it's one piece.
What holds this track together is the vocals; they're a 'performance' rather than just a straight vocal. I'm not going to attempt a description here but take my word for it the vocals are a big part of the song's fun factor.
Whether the band will take this as a compliment I don't know, it's meant that way, but I'm detecting a Bonzo Dog Doo-Dah Band or a Deaf School influence here – it's that vocal 'performance', the surreal lyrics and the fact that musically it's very clever.
I really like this track, it's a lot of fun and will bring a smile to your face. This is one catchy track and it's my current earworm..
The track will be available to stream and buy on 8th March. There will also be a live global exclusive air play on Radio Rock – The Blitz on the day of release.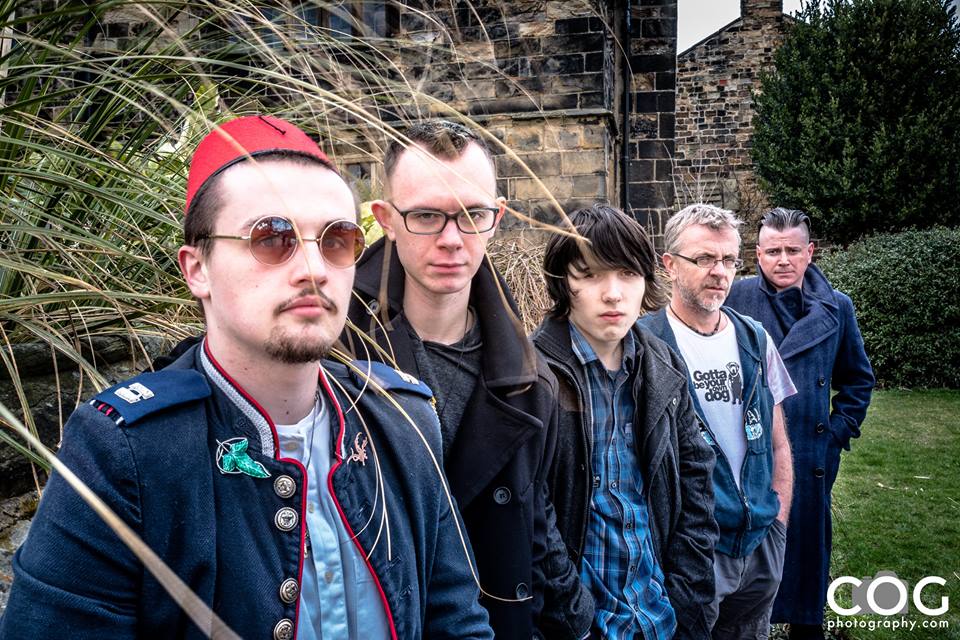 The band
Fie! Fie! Fie! formed in West Yorkshire in May 2013. The band describe their sound as Alternative Electro-Acoustic.
Fie! Fie! Fie! are:
Daniel Varley – vocals/acoustic guitar/percussion.
Pete Long – acoustic & electric guitars/harmonies.
Avon Blyth – bass/acoustic guitar/harmonies.
Zak Robinson – acoustic & electric guitars/vocals/percussion.
Ethan Bowen – sax/flute/keyboards.
Links
www.fiefiefie.co.uk
www.facebook.com/fietheband
www.reverbnation.com/fiefiefie
www.youtube.com/FieTheBand
www.soundcloud.com/fie-fie-fie
https://itun.es/gb/-jjM5
www.twitter.com/FieFieFie1