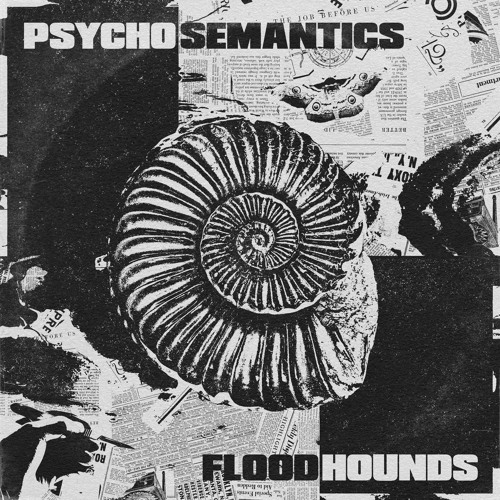 Oh my word this is so good, so fucking good. FloodHounds have made a track that is huge, really huge.
This is built around some dramatic guitar; it's all sinister spy movie soundtrack. This is heavy, people, this is guitar that batters its way through your skull. Backing this up is some heavy pounding drums and a bass that just won't quit. The cherry on the icing is some frankly thrilling synth and hits of electronic drums effects. This is the band's trademark stomp turned up to 11.
There is – as if I need to tell you – a darkness in this track."The theme is dealing with the external chaos that you can sometimes find yourself thrown into without warning," says songwriter Jack Flynn. "The line 'Get me out of this, Why'd you get me into this,' sparked it off, that's the genesis of the song. Sometimes these situations are your own doing, sometimes they are somebody else's, and even though you can see it coming, the allure of the chaos can get you hooked in before you realise you're bang in the middle of it. An uplifting chorus opens up the song, reminding you about how a bit of space to breathe is often all you need". It's that uplifting chorus that provides the solution to the darkness.
For me, this is the track that brings together all of the sounds the band have played with in the time I've known their music. There are the sounds of heavy stomping blues Indie Rock, the bite of Alt-rock, those hits of Psychedelia; it's all here. It sounds like a new start for the band, a new direction, a new way of mixing up their musical ingredients.
Before I gush to the end of this review there's something I need to tell you. The tracks sounds great on headphones and PC speakers but hearing it on a decent sound system is going to open up a whole other level to it. "We added sub-bass drops, so when the riff hits, it hits hard. You won't hear it on a phone, but put it on a big sound system and you're going to feel it rattling in your bones." says Lauren. And Anna adds "We had great fun in the studio, screaming the word "psycho!" and burying it deep into the mix, so you can't figure out why it feels so uneasy but it's all lurking in there".
'Psychosemantics' is a song with so many levels, so it opens up in sound, in meaning, the more you listen to it. Fucking hell this is so-so good. Go get yourself some of this right now.
The info
Known for their blasts of stomping fuzzed-up indie guitar, savage riffs and hook-heavy choruses; Yorkshire's FloodHounds deliver tight rabble-rousing live shows; bursting with startlingly jagged guitar, driving bass and wild rhythmic drums. Lyrically catchy, the Indie rock trio's powerful punk-infused and darkly melodic tunes, stay with you long after the gig.
Floodhounds have played live all over the country and put on their own headline shows, playing sets on the festival circuit at Isle Of Wight Festival, Brighton Great Escape, Liverpool Sound City, Live at Leeds and Tramlines fringe, as well as played sold out support slots with the likes of Kid Kapichi, The Blinders, PINS, Projector, King Nun, Strange Bones & Calva Louise. The band have also ventured abroad to play in Paris twice at the iconic Parisian venues Supersonic and Le Truskel.
FloodHounds are
Jack Flynn – Vocals/Guitar
Anna Melidone – Bass
Lauren Greaves – Drums
Upcoming 2023 gigs (more tba)
24 FEB – Rotherham – Magna
03 MAR -Shoreditch, Roadtrip & The Workshop, London (Headline)
24 MAR – Sheffield – Sidney & Matilda – (Headline)
02 APR – Derby – Hairy Dog – (Headline)