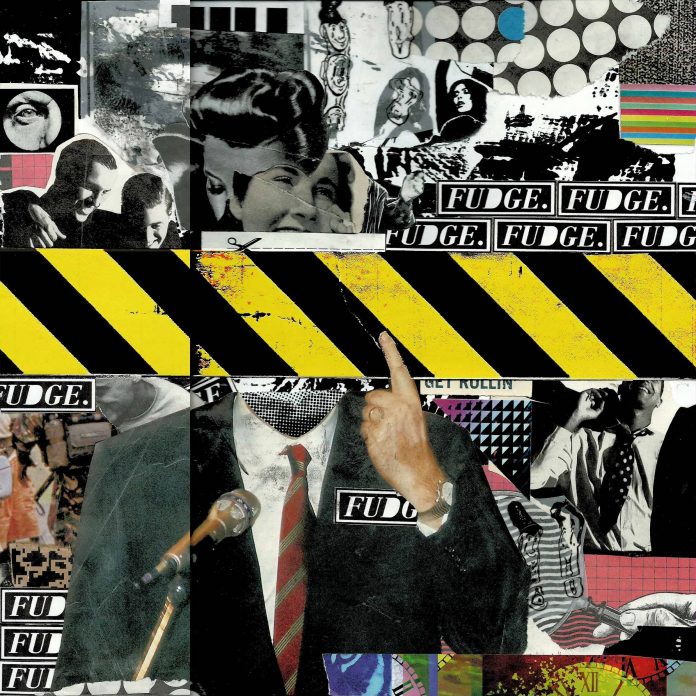 I had what I call a strange experience with the last single I reviewed from Fudge – 'Walrus' – it took going back and taking a second listen before suddenly it clicked. This I can report is a much more immediate listening experience, at least for me.
This is old-school punk, it reminds me of all sorts of stuff – it has this sound that immediately said 'Hmmmm, nice, it's all Vice Squad' and then 'Oh wow, New Model Army' and then this kind of hardcore rap thing. It's a riot. I love a riot. It's all shouted lyrics and hard guitar. But it has this strangely almost angelic female backing vocal, quite what are Fudge up to?
I can only assume that what Fudge are up to is treading their own path, without caring a flying fuck what people think of it. I applaud that, I stand and up and scream in support.
And it sounds like it has a message, the lyrics to this thing are important. Luckily we have some messages from the band that sum up the message of the song
CAM – vocals: "Not A Threat Just a Warning sends a message to the individuals that do not understand the outlook that Fudge. possess; it credits those on board and articulates frustration with passers by being little pussy bois. It's for them mother fucking Gs who wanna feel like they're going somewhere whatever's going down with the shitty world."
OTTO – guitar: "We wrote this song to have the kind of vibe that would rile someone up and put them in the mood to take on the world. To do something with their lives. It's a little dig at people who don't think for themselves; the people who are drip-fed content by mainstream media and seldom choose to look beyond that. It's a nod to the fact that the entire world is fucking bored of people reproducing the same bullshit that they have been for years and it's time to change that."
ANGUS – drums: "Not A Threat Just a Warning has much more to it than the initial punch in the face. It's more sophisticated in the way it delivers its energy, addressing a familiar feeling of vexation and instantly providing a way of releasing pent-up anger. Calling out the 'half-arsers' and the 'lacklustres', this song takes no shit from anyone and gives us three minutes of freedom from the constraints of everyday frustrations. I see this song as more of an outlet than something to be consumed; an outlet of emotion and passion that everyone possesses."
So there it is, that's pretty clear isn't it.
This thing is going to leave you ready to take on the world and win people. It's dangerous, and it's a long time since I've heard anything close to that. The last time a song left me feeling ready to start a revolution was a lifetime ago, there needs to be more music that does that. And look, if you don't care what the song says, how it says it is enough, the music, the music is hard, it rocks in a way I haven't heard for a long time.
This is music with heart, music that comes from the gut, music that provokes a physical reaction in you, and makes you think. Go listen now.
The single will be available to buy from 22nd February 2019, in the meantime the band have made a Soundcloud stream available to whet your appetite!
The band are playing a launch gig for the single
FUDGE. / The Varletts / We'll Be Detectives / Nervous Pills
Friday, 22 February 2019 from 20:00-23:30
360 Club, 229 Woodhouse Lane, LS2 3AP Leeds
Tickets: www.crashrecords.co.uk
The info
FACEBOOK: https://www.facebook.com/fudgebandofficial/
INSTAGRAM: https://www.instagram.com/fudgebandofficial/
TWITTER: https://www.twitter.com/fudgeband/
WEBSITE: https://www.musicglue.com/fudgebandofficial/