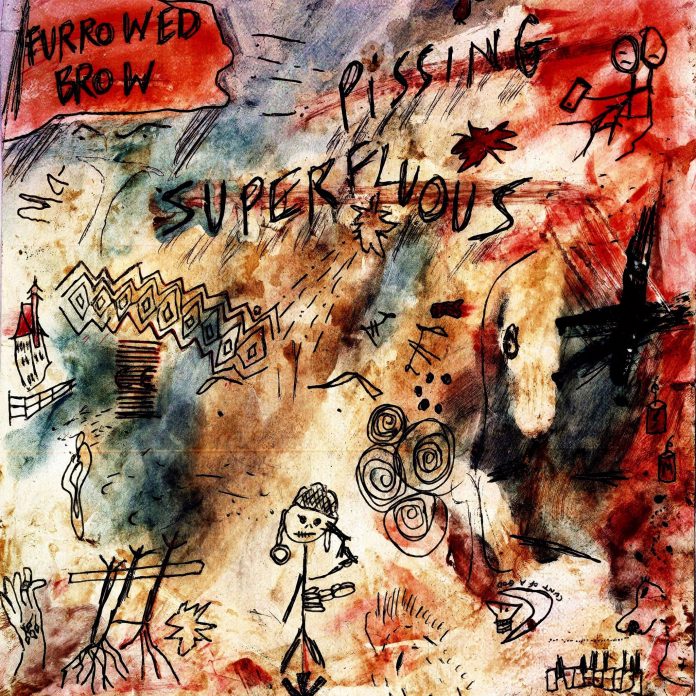 Furrowed Brow are out of Manchester, and there is something of a Manchester sound in this track. It sounds like The Fall and Joy Division combined playing a B-52s' song or as my very helpful friend coined it 'post-punk go-go music'.
It has throbbing bass, vaguely 60s' doomy organ, out there guitar, wonderful backing vocals, those braying lead vocals. It's fiercely DIY, has production values that are so lo-fi that it becomes part of the art of this track – it sounds like it was recorded in a bathroom with the band playing through one of their father's 70s' 'Hi-Fi' systems – in a good way, I emphasise, a great way.
It is of course, as the title might suggest, fantastically lyrically blunt.
If it sounds as though I'm damning this with faint praise, I'm sorry, I'm not. The thing is that 'Pissing Superfluous' is something wonderful, something fucking wonderful. It's the sound of a band who basically care not one jot for what is fashionable. I'm not entirely sure they care what the listening public thinks of what they do. They just do what they do, what they like, and leave for us to decide whether we like it. I love it. The same comments apply to the rest of their music, which I have devoured greedily. There is so much variation – mutant art-rock, mutant indie (I kid you not) – but it all comes with that Furrowed Brow thing (see 'The info' below for their Soundcloud profile)
The thing is that the more you listen to this you hear, through all of the on the edge sounds, things that delight – the organ is frankly glorious, the drop out section with whispered vocals over tingling percussion, the archness of the lead vocal, the wonderful fast section that sounds oh-so glamorous. And this is before I even address the words that are beyond words good. I give you:
'As more plastic's chucked in the sea
Plastic girls mince by
Romantically fucked beneath the Eiffel Tower
On a Tuesday night'
And
'Necking moonshine made with the yeast from an old pair of underpants
Snorting lines of powdered lemsip
A member of the public grovelling publicly to Megham Markle
I sold my shadow to a man in grey
He was the patron saint of all atheists
Who are the newsagents always on the phone to anyway
They're pissing superfluous'
It's post-punk poetry.
This my friends is a thing of beauty, it's beautiful because it's a band doing their own thing without a care in the world.
The info
Well known [some say notorious] across the North West for their unruly, irreverent shows and idiosyncratic and uncompromising sound, this single follows Furrowed Brow's debut 5-track EP 'Dead Dead Dead Still Digging' which picked up a slew of enthusiastic reviews and extensive airplay when it dropped in May.
Alex – synth / monotron / vox
Criostoir – drums
Ryan – bass / vox
Richey – vox
Meg – guitar