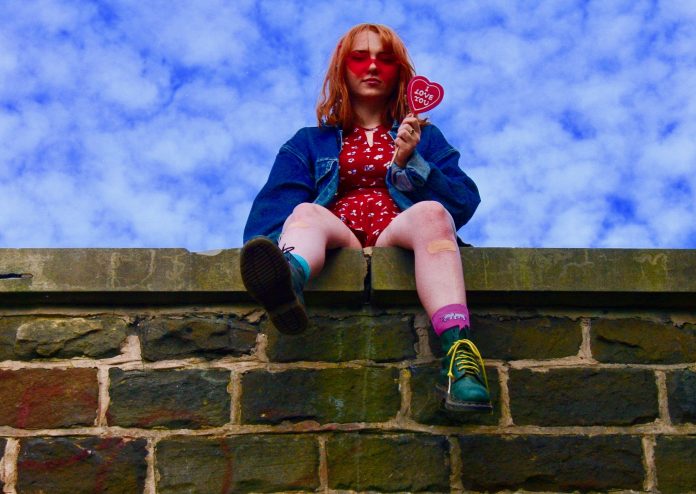 This is one of those 'I positively adore this but for the life of me can't say why' songs. I realise this isn't that useful for you – it's me 'saying I like this because I do, and you should too'. So this review is going to be something of a thinking aloud thing, please bear with me.
I could say it's because it's sweet and gentle, which it is, but sweet is something of a double edged sword; and I'm not sure it's an approved 'music reviewer' word. Not that this worries me, I'm not entirely sure most of my reviews fit that 'approved music review' thing. So let's start with sweet and gentle.
The thing that initially hooked me in was Georgi's voice – it has this lovely hint, and sometimes more, of South Yorkshire. It's a voice that has more range than you might think. As you listen to this track more and more, you hear more versatility – her voice goes from a folky lilt to a pure poppy thing, from something simple to something richer. And those harmonies are joyful.
And with her voice so upfront, the words better be good, and they are. Describing them is something I struggled with, but my oh-so helpful friend summed it up perfectly – 'simple but profound'. The song focuses on 'keeping your chin up' and getting through the complexities of life as a young person.
Musically the song goes from deceptively simple guitar, to adding small touches of sound. But it's the layers of vocals that charm and beguile. And this song is so catchy, that tune is delightful. It also features that seldom used musical element – the whistle. Somehow there's something rather timeless about this song.
This song is charming and compelling. There's a simple beauty in the words, and in the deceptively simple delivery and music. This is a song that connects on so many levels – even though I'm far from being a young person I get it, it rings true with me; it's something we can all relate to.
So there you go, that's why I adore this song. And it's still the case that I love this because I do, and you should too.
The info
Originally from Rotherham, Georgi now resides in Barnsley and attends Leeds College of Music. Hailing from the north, Georgi acts as a 'jack of all trades' writing, recording and mixing all her tracks from the four walls of her bedroom. This intimate way of creating music allows her to connect with her listeners on a deeper level than a lot of artists as they witness her go through every step of creating music and thus feel more connected to her because of this.
The single 'lovely little phrase' encapsulates Georgi's youthful approach to love and hopefulness. The dreamy and rich vocal harmonies surround the nostalgic lyrics focussing on young love and teenage insecurity that her listeners connect to, the song focuses on 'keeping your chin up' and getting through the complexities of life as a young person.