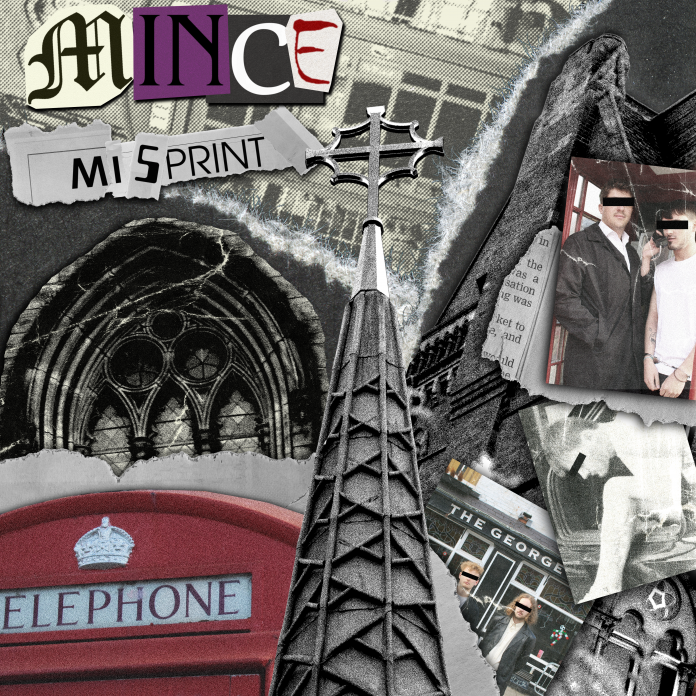 Ah those lovable post-punk rogues Mince strike again with a song that is about, as the band say "'Misprint' is a problem that nobody is ever likely to face. We all have irrational fears, but what about the worries our minds haven't even begun to cover? If you feel like you've forgotten or left something at home, it's probably just the knowledge that anything can change your life in an instant. Be care-free"
To accompany these thoughts the band make what can only be described as a rattling stuttering sound that veers from loud and dirty to weirdly dark and moody. It;s chaotic and damn fucking glorious.
It sounds like some unholy mix of Bauhaus, The Fall and weirdly Bowie. Look I kid you not, I'm bloody sure that at one point you'll hear something briefly that sounds like 'Boys Keep Swinging'. Words are spat and screamed over the dirty loud music and intoned like spoken word poetry over the dark and moody.
Mince lay at the crossroads of post-punk and garage rock, their music is post-punk but there's so much else that's in there it's only barely adequate to describe them.
This people, is a gorgeous racket that thrills, excites, and leaves you breathless for more.
The info
Mince as we know it Started in 2021, when the bedroom demos were released. The line up consisted of: Jamie, Owen, George (who have known each other since school), and Matthew who Jamie met via Joinmyband.com years ago. After years of trying to make the lineup stay together, it was at the start of 2022, when Clem joined the band, Mince really started getting cracking.
The bedroom demos not only garnered them fans from their friends, but also the likes of Hot Waxx who would promote them and Sugarhouse who would produce their first single – Ditch. Mince completed their first gig to an audience of almost 100 people with great success, bringing a large group of followers and also gaining one or two in the process.
They released the single 'Ditch; in May this year.
There are five of them:
Matthew Banks (Drums) – The squire who screams in his record shop
Clem Pulham Creagh (Bass) – The wisest southerner in Burley
Jamie Haddington (Guitar, Vocals) – The scribe who flogs shirts
Owen Bennett (Guitar) – The well-traveled gentleman of Pudsey
George McDermott (Vocals) – The arch enemy of the microphone