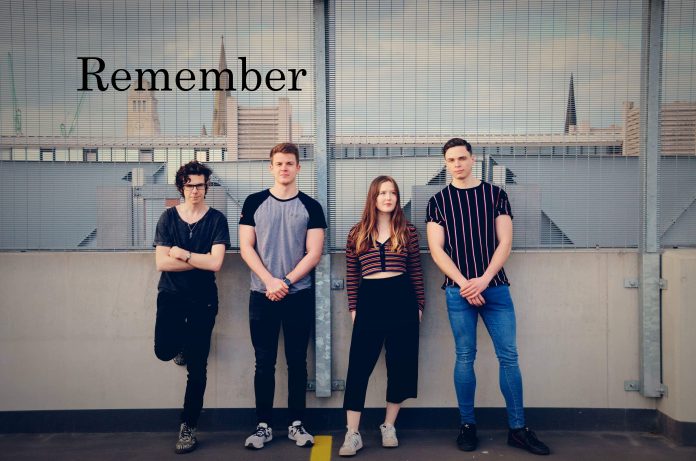 Pathways' single is another one of those 'singles from an indie-rock band that I'm really glad I actually listened to'. The thing is that sometimes LSF gets so many review submissions that listening to all of them is virtually impossible – although we do try, honest – and we have to decide what we actually 'take that first listen to' to decide whether we can review it. And it's unfortunately the case that indie isn't something that 'floats our boat' that much (Hint there for bands submitting tracks for review, do try to do more than just say you're an indie band – Ed).
So why, I hear you ask, is this something you're glad you listened to? Well Pathways' take on indie is rather more alternative rock and pretty raucous, and this is a very good thing. And they have a trump card up their sleeves – of which more later.
'Remember' is full of raw guitars and drives along, it's a blast. It has that alternative rock quiet loud thing going on. And this is fantastic. Behind all of that is the indie sound, it's there but it's not way up front. And it's really well played, this is a band who know their stuff.
But, the absolute standout thing about this track is the vocals. Over this raw indie/alternative rock Anna sings in the most surprising way, well it was for me anyway. Her vocals are kinda almost folk-ish in places, and towards the end of the track burst into something that reminded me of Stevie Nicks. This sounds strange, it sounds as though it wouldn't work, but honestly it's brilliant. And there are some completely wonderful backing vocals in there too.
The other thing about this song is that it's so bloody earwormy, it stays with you. And that's a surprise for me, because stuff like this doesn't usually do that. And for the life of me I can't say why, it just is how it is. This track has something, that certain indefinable thing, that makes it stay with you. And it makes me smile, I just can't help grinning when I listen to it.
Boy, am I glad I stayed up extra late just so that I could take that first listen. This thing is fabulous. It's just a blast of pure joy.
The info
Pathways are a new indie-rock band from Leeds. They are influenced by Catfish and the Bottlemen, Arctic Monkeys, The Kooks, Muse and Paramore.
Anna McLean – vocalist
Michael Denby – guitarist
Thomas Andreou – bassist
Matthew Squires – drummer
Facebook: https://www.facebook.com/OfficialPathways/
Instagram: https://www.instagram.com/pathways_leeds
SoundCloud: https://soundcloud.com/officialpathways
Upcoming gigs
Ten Hands High / Glassheads / Hurricane Eric / Pathways
Friday, 10 May 2019 from 20:00-23:30
360 Club, 229 Woodhouse Lane, LS2 3AP Leeds