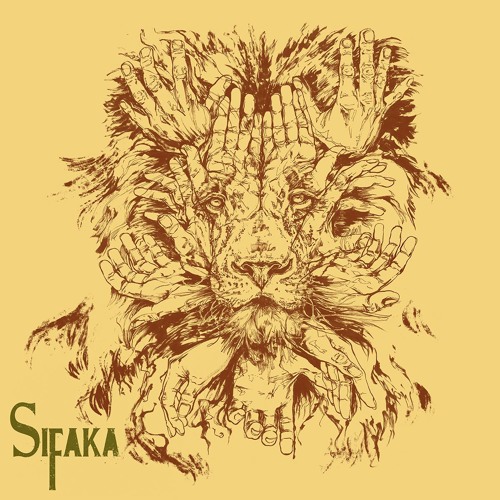 This thing people is a great glorious slab of a track. It's so glorious you can taste it. It's all sorts of stuff, it evokes the sounds of the past while at the same time being of today.
The frankly beautiful thing is that it builds and builds. It builds from something that has you thinking Love, Santana, to a great freaking freakout. There is organ people, there is organ in a way that makes it a lead instrument, it's choppy, it's soulful, it's hugely powerful. It has a bassline that you feel way way down in your soul.
You could be forgiven for thinking "quite what have I got myself into' as there is, of all things, a short sax solo right at the intro, but this works, it's part of the build. And then there are vocals, those sort of laid back soulful 60s' style vocals singing of how hard it is in the city, a Russian Princess, a tramp and his wolfhound sleeping in a doorway. This is all quite beautiful maaaannnnn.
And then it builds, to a freakout, there are searing guitars, there are those vaguely tribal drums, there are great glorious organ stabs. And then it ends. And as it ends all you can think is "I need to hear that again". And you just want this thing to stretch out, you imagine that end section just going on and on. And in my case I'm thinking, can I actually finish writing my immediate reactions to the track as frankly I just need to immerse myself in this thing much much louder than my neighbours might appreciate at nearly 2am.
The louder you play it, the more you appreciate the power of the band, the complexity in the arrangement, the layers of sound, that guitar that is frankly like spoonfuls of great glorious creamy sound. The frankly freeform drumming in the end section. The care the band have taken in putting this together.
This is some powerful track, it's of today yet it evokes the good bits of music from way back then. It moves you. I love this, it ticks all sorts of boxes for me. Do I recommend it, hell yeah of course I do. This is music for everybody.
'In the City' is available from all digital retail providers. Prints of the artwork (with download codes) will be for sale at upcoming gigs.
The info
Since forming in 2014 Sifaka have become part of the Leeds music scene. Dubbed 'soul rock' their sound is raw, powerful and straight from the heart, sitting at the crossroads between the soulful Southern sounds of Alabama Shakes and the heavy blues of Led Zeppelin.
Sifaka are:
Danny Davis
Mike Deakin
Nicky Pilkington
Sam Wilson
Teddy Roberts
The band have announced Leeds headline show with Scruff Of The Neck, which will take place on 18/08/18 at The Lending Room. The show will coincide with their second single launch 'Still In Love'. Tickets https://www.musicglue.com/ticketalien/events/521e96e64e90be94/5f676c40-3be8-0136-1b7b-1e86ae54fccf
https://www.facebook.com/sifakamusic/
https://www.instagram.com/sifakamusic/
http://www.sifakamusic.com