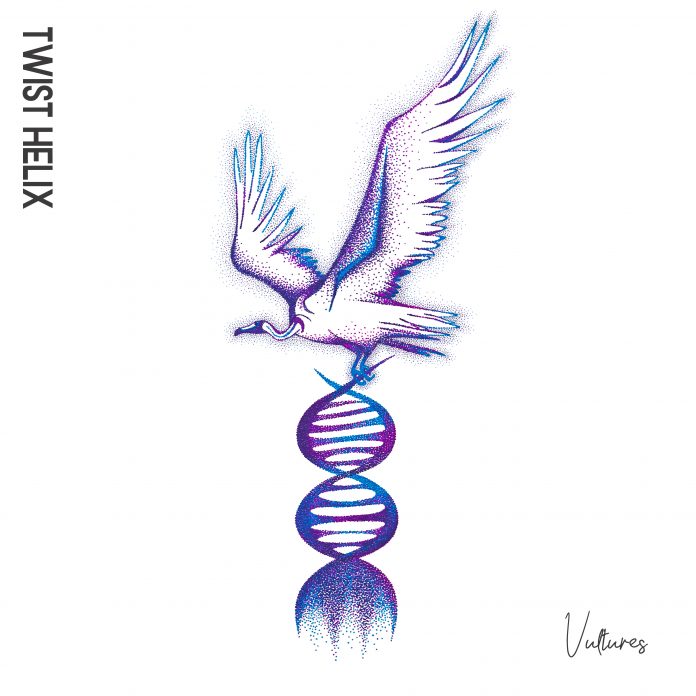 This is the last single from Twist Helix before they release their second album in November. The last release from the band I reviewed from the band – 'Frida Kahlo' – was, let's call it quirky. This isn't as quirky as that, but it's… I'm trying hard to come up with a way of putting this that doesn't sound like I'm damning it here. …It's quite out there is what I'm sticking with.
It sounds like a cross between early Human League and OMD played at a madcap speed – those heavy heavy synth sounds, those skittering sounds that pop up now and then. With a vocal that has hints of Toyah (kind of 'Four From Toyah' period), Siouxsie Sioux, all kinds of alternative female singers of the late 70s/80s. It's a heavy duty stomping dance-y – very dance-y – thing, something to go crazy out on a dancefloor to. It just never, and I mean never, let's up.
But not only is this a stonkingly wonderful thing musically, it's about something. The band explain, "'Vultures' specifically deals with those in the music industry, whose relation to creatives resembles that of facultative predators and scavengers. With this single we wanted to say that as an artist you're in an inherently vulnerable position that makes it very easy to be preyed upon. There are 'Vultures' out there who want to feed off of you, your talents and then leave you with little to show for it. From our point of view the music industry exists to extract works from creatives whilst divesting them of a sense of their worth and their feeling of agency. Too many good bands burn out or cease to be because of dodgy management deals, paltry streaming revenues, and a broader architecture designed to place power in the hands of everyone but the artist".
Having not seen this quote until after I'd listened to the song, and read the lyrics, I initially kind of misinterpreted the song – I'd read it as being about those sort of predatory men in a general sense. This wouldn't be the first time I've completely got the wrong end of the stick song topic wise, and definitely not the last. I think – and this is very much a personal opinion – the words have enough ambiguity to leave you to see it either way, in my defence.
The whole is a blast of bloody joyous sound that'll have you thrilled and throwing yourself around from the very start. But, and crucially, in no way, shape or form is this conventional. It has the unexpected that provides that thrill, it has twists to how you expect it to unfold. It's that that makes it so good.
The band released this as a teaser for the album, to show us what to expect from that. And frankly this leaves me on the edge of my seat for the release. It's fantastic, simple as.