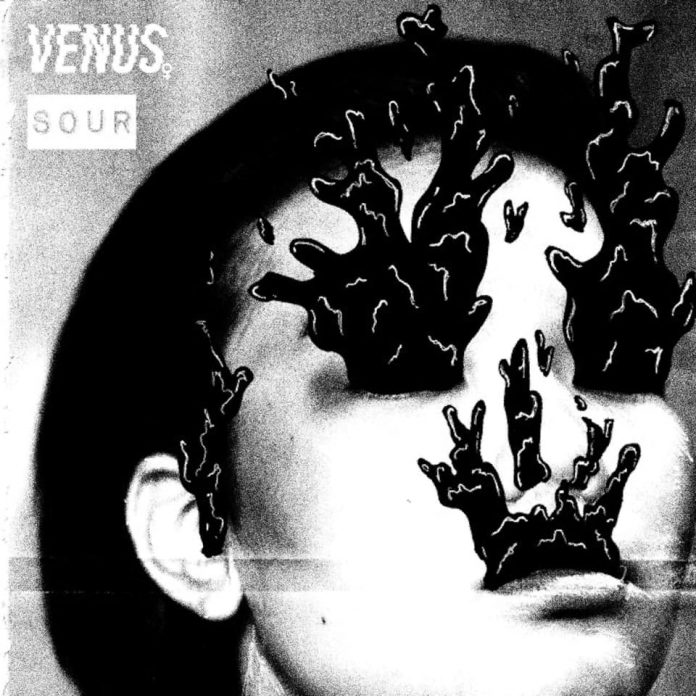 Venus are a band I've heard a lot about from friends usually with a rather incredulous 'you mean you haven't seen them' But to my shame I have to answer 'no. not yet' in a rather small embarrassed voice, and then almost too ashamed to say it 'and I haven't heard anything by them either'.
Clearly if this is anything to go on then I'm been missing something, for this is a huge huge glorious thing. It's like synth pop dialled up to say 20 on a 10 scale with rocky guitars that are just raw and synths that are just on the edge of crazy and falling apart. And over all of that riotous noise is this voice, a voice that is frankly astounding, a voice that is somewhat slightly scary. It soars, it reaches heights that thrill. It sends shivers up and down your spine. It's pure, oh so pure, and then it soars up and up, and then it screams and then it's all raw, riotously raw.
It is, if I'm honest, not quite what I was expecting, and to be honest again, I'm not entirely sure what I was expecting, just not this. The first time I listened to this I just sat there with my mouth open, just going 'this is so good, just so-so good' to myself. It does that. It also makes me want to go out and do crazy things, mad crazy things.
And just in case I've given the wrong impression there are times during this track where it is not raw, it's just incredibly gloriously huge, but then that guitar comes back in and it gets, it gets … words fucking fail me. They don't fail me in reality but it's stream of things I can't put in a review without Google blocking our site.
I'll try and calm down now, sorry I got a bit worked up. So OK I'll try and answer that question I hear from over there somewhere, the 'Well Frank, that's all very well, but what does this actually sound like?' question. It sounds like, well that's kinda hard to answer, Marilyn Manson without that goth thing, dirty period Depeche Mode with a raw rock attitude and guitars, Riot Grrrl with synths, some female fronted German symphonic metal band I can't remember the name of with a huge heap of riotous edge. It sounds like all of those, but then again nothing like those. The problem is that it sounds like nothing I've heard before, what Venus have done is to stump me completely. You'll just have to listen to it won't you.
The info
Venus follow up the success of Their debut single "Deranged" with a monumental mix of raucous guitars, accomplished cutting vocals and just the right amount of synth craziness.
Implementing Riot Grrrl aesthetics and feminist activism, Leeds synth rock 5-piece Venus release their second single 'SOUR' on Monomyth Records. Their live shows are unmissable events showcasing the bands depth and pure talent.
"Sour describes the aggravation derived from shallow characters pre-conceptually generalising or judging you, and mistakenly thinking they've 'figured you out'. If you're someone who has been
alienated, demonised or simply bullied for being who you are, I hope this song gives you some comfort. But a big thank you, to the perpetrators who inspired us to write this song, I hope you listen to it". GK.
The band are:
Grace Kelly
Jess Ayres
Hannah Barraclough
Grace Stubbings
Gabby Cooke
Facebook.com/VENUSGRRRLS
Instagram.com/venusgrrrls
Twitter.com/VENUSGRRRLS