How do you write a 600-700 page book about Psychedelia without once offering a definition? Well if you're Rob Chapman, from West Yorkshire, experienced music journalist and a man with a mind as fertile as rabbits in springtime, it doesn't take much doing. So LSF was delighted to be the first to interview him about his new book Psychedelia and Other Colours, to be published by Faber and Faber on 2nd September 2015.
Covering new ground
"What the world really doesn't need is another book about the psychedelic sixties with me regurgitating the received wisdom," Rob explains. He believes that the media has been responsible for creating far too many myths about the 60s, based on a very elitist view of London society.
"The life enjoyed by a couple of hundred groovy young things – as Peter York says – wasn't the life most of us were living. For every flowery shirt in Carnaby Street, there were plenty of people going to see bands in Stockport," he says.
Rob wants his readers to think outside the Summer of Love, Jefferson Airplane and The Grateful Dead (although you can be sure there will be Jerry Garcia insights in this book). He's keen to raise awareness of Ken Keese's Acid Tests, the performances of The San Francisco Mime Troupe, and the more recent electronic instrumentation of bands like Broadcast.
Debunking the myths
"My motivation as a writer has always been to find a new way of looking at things, and debunking existing myths. So when people ask me 'what else is there to say about Psychedelia?' my response is 'let me F'ing show you."
In his biography, Syd Barrett: a Very Irregular Head (published 2010) Rob challenged the notion that Syd's breakdown was as colossal as perceived wisdom claimed it to be. "I've known people who have lost it totally during breakdowns but Syd was never totally bereft, he still maintained much of his talent," Rob says.
While it's clear that Rob is keeping some of his powder dry for the actual launch, he's also willing to share nuggets about why he believes his book will be different from anything that's gone before on Psychedelia.
Influences from history
In his Syd Barrett book Rob claimed that Pyschedelia was part of a much wider phenomena, and in this new book he sets out his reasons for believing this.
"People have been trying to create immersive experiences for centuries – long before the Grateful Dead," Rob says. He sites examples such as the flickering candlelight shows happening as far back as the 14th century, Sir Isaac Newton experimenting with light in the 17th century, and László Moholy-Nagy, of the Bauhaus movement, creator of the Light-Space Modulator, which produced spectacular shadow formations using coloured and white light.
Rob explains that Psychedelia and Other Colours will encompass a wide range of influences from the Victorian and Edwardian period. He gives credit to Nicolete Gray who he describes as 'the lost art historian', and 'the alternative lineage to traditional routes to pop art'. Gray was a scholar of calligraphy and wrote books about 19th century ornamented typefaces and the history of lettering. As a teacher at Central School of Art and Design in the mid-60s, Gray influenced many designers and artists of that period.
Also included in the book, and another great influencer of the imagery associated with Psychedelia, is Barbara Jones, author of a book called The Unsophisticated Arts. Jones's innovative exhibition, Black Eyes and Lemonade, was part of the Festival of Britain in 1951. Jones focused on subjects like taxidermy, fairgrounds, canal boats, the seaside, shops, tattooing, waxworks, food decoration and toys – in other words the kind of everyday objects that previous generations wouldn't have considered art.
"These women were recognising that things pass through stages – from unpopular to kitsch and then to collectable," Rob says. "Nostalgia was a key part of the 60s. Images like Penny Farthings didn't just appear in artwork out of nowhere."
The myth of the artist
When people talk about Psychedelia they often employ phrases like 'he let his imagination run riot'. Rob believes that descriptions like this are missing the point because artists need to be disciplined and creative in order to achieve results. "Take someone like Syd Barrett, who was taking acid 7 days a week – when he was writing that was probably the only time his imagination was truly under control. You can be an undisciplined thinker but then you must marry that with being a focused, disciplined writer – otherwise you end up writing nonsense," Rob says.
Rob is also keen to debunk the 'myth' of the Bohemian world of art school and its association with Psychedelia. "When I was at college, we'd all be on our way to get pissed on cheap beer and we'd walk past the basements where the art students would be welding and hard at work," Rob says. "Art students were some of the hardest working and most disciplined people in my experience. It was just a few musicians, like Syd Barrett, who made a connection between their time at art school and what they did musically. People buy into that 'starving artist in the garret myth' but for many art students their hard work led to a commercial job."
A feminist tract
One of the other nuggets Rob is keen to share is that he believes his book to be something of a 'feminist tract'.
He believes that bands like the Beatles were responsible for the 'feminisation of pop' and doesn't buy into the idea that The Beatles killed girl groups – in the way that people, like film director John Waters, have claimed.
"I think Waters was taking an American perspective because girl groups were bigger in the States than here in the UK," Rob says. "I've looked at early Beatles stuff and it's very non-gender specific – their songs like 'She Loves You' could just as easily be sung by a girl. Acid kyboshed all the macho mob mentality of previous generations – by turning boys into 'sappy drips' and got people asking questions about is this a girl or a boy. Which I think was brilliant!"
Not defined by LSD
While acknowledging that LSD is considered pivotal to the Psychedelic movement, Rob doesn't accept that it is the defining element. "LSD is a metaphor,' he explains, "because, as Arthur Koestler says, it doesn't last. One day you think you've got the answer to the universe and tomorrow it's completely gone… So for me it was about developing an aesthetic – maybe a policy – of ephemera while writing this book. Which is why I went back to the flickering candle shows of the 14th century."
Rob also rejects traditional views which insist that Psychedelic music has to be produced under the influence of LSD." There were artists who didn't take drugs but who wrote about what they thought LSD was about – the state of being chemically changed and projecting layers of meaning. If you take something like Status Quo and their 'Pictures of Matchstick Men' – people say it's not 'real Psychedelia' because it wasn't produced under the influence. But I don't have a problem with it – I'm not a purist."
Neither for nor against
Rob says he knows he's bound to get asked lots of questions about his stand on LSD. "This is not a book for drug banishers or drug bores' he says, 'because I'm neither a prohibitionist or a proselyte.'
LSD, Rod believes, gave us incredible songs like 'God Only Knows', 'See Emily Play' and 'Itchycoo Park' – but he's clear that he can't stand drug bores. He quotes George Harrison saying he expected that LSD would lead to greater enlightenment, but realised after six months that people were just as stupid.
Rob does however subscribe to the idea that the change of drugs at the end of the 60s was responsible for bringing a change to the music produced. He feels that the energy and 'pushiness' of people on coke created a whole new mood in the music world.
Misplaced
Rob describes himself as a libertarian when it comes to drugs, but says it's the culture around drugs which he has less patience with. "Timothy Leary, who went around telling people to 'drop out' was a dangerous man because some people couldn't 'drop back in again'. He was a Whisky drinking Harvard professor – a medicine show salesman who did a lot of harm to vulnerable people," he says.
What Rob feels people like Leary should've been focusing on was issues such as the racism of the 60s. "Why was the ethnic make up of the University of California only one percent black?" he asks. "Black people were the ''exotic others'' of the sixties, but that doesn't mean people were really doing anything to include them in society."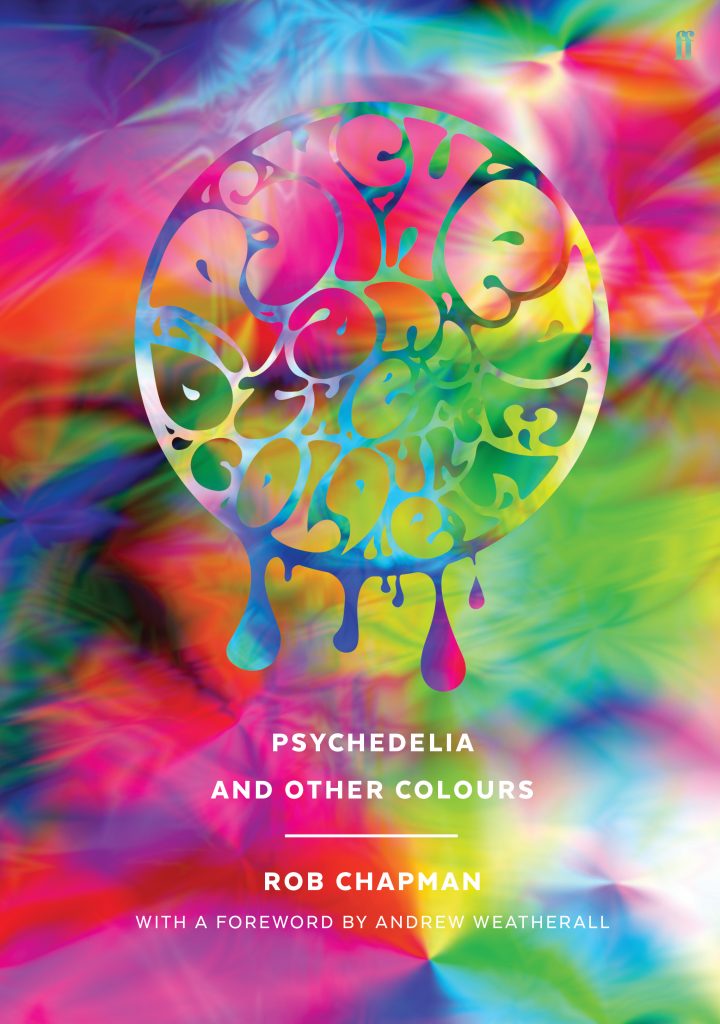 Rob Chapman will be speaking at a range of venues this summer:
August 1st. Port Eliot Festival St Germans, Cornwall.
August 8th. W.A.M.E Festival Woodbridge, Suffolk
August 20th-23rd. Green Man Brecon, Wales
August 27th. Rough Trade East London
September 4-6th. End Of The Road Festival Larmer Tree Farm, Dorset
September 18th. Todmorden Library
September 20th. Good Life Experience Festival Hawarden Estate, Flintshire
September 25th-26th. Liverpool Psych Fest