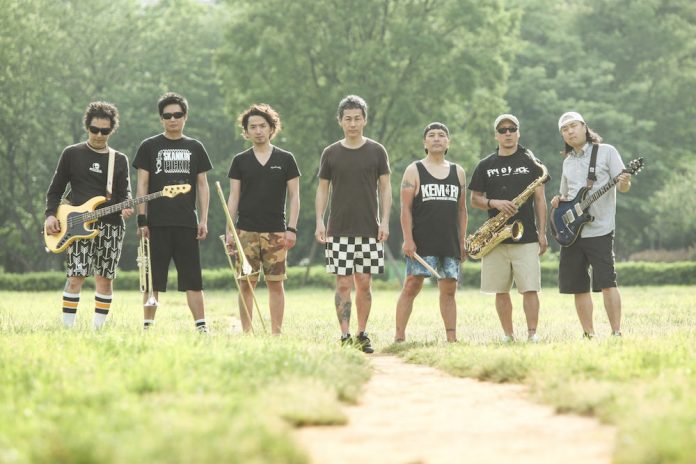 This UK exclusive edition of Ska Bravo sees KEMURI's original members join forces, along with their live support musicians, to cover and re-record 14 of their greatest tracks, taken from a career spanning three decades.
Some of the highlights include their ultimate anthem 'PMA (Positive Mental Attitude)', 'Standing in the rain' with its lyrics paying homage to Madness, and 'New Generation' which originally appeared on their debut album 'Little Playmate', released by ROADRUNNER JAPAN in 1997.
In total Ska Bravo features nine energy-filled songs sung entirely in English, one instrumental piece and four tracks in Japanese. The latter have their lyrics translated into English for the first time in the album's 16-page booklet, along with transliterations that allow fans to sing along phonetically, without needing to be fluent in Japanese.
Famed illustrator and manga writer Taiyo Matsumoto also returns. The Tekkonkinkreet creator's first and only other time to work with KEMURI was on the artwork to Little Playmate. This time round Matsumoto has supplied art for the cover, booklet, backcard and CD, while the inlay features a selection of photos from KEMURI when they toured the United States last year. They will return to America this November with further tour dates.
KEMURI will be in the United Kingdom from 3rd October as part of the Fireball – Fuelling The Fire Tour 2016, featuring some of the best live bands the international punk scene has to offer, and headlined by Florida heroes Less Than Jake.
KEMURI will perform at the following Fireball – Fuelling The Fire Tour dates:
3rd October – Bristol, O2 Academy
4th October – Sheffield, O2 Academy
5th October – Birmingham, O2 Academy
6th October – London, O2 Academy Brixton