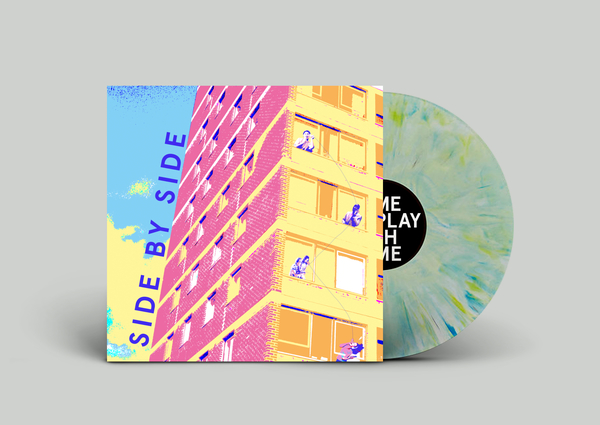 Come Play With Me have announced their forthcoming compilation 'Side by Side': a callout to support women, marginalised genders and LGBTQ+ artists based in Leeds and further afield around the north of England. The album is the latest in a series of exciting releases from the much-respected Leeds label, following last year's 'Come Stay With Me' compilation fundraising for local artists, and their ongoing 7" singles club series.
The album features a collection of 12 brand new diverse tracks from an exceptionally talented group of artists including emerging shoegaze/dreampop sensation Bored At My Grandma's House, renowned composer and Carnatic vocalist Supriya Nagarajan, art-rock collective Dilettante (led by multi-instrumentalist Francesca Pidgeon), and soul/pop singer-songwriter Tyron Webster. Due for release summer 2021, the album will be available both digitally and on limited vinyl via the CPWM website along with various online streaming services.
The first single taken from the compilation comes from ambitious hip-hop talent Jamaal Monarch. Raised in Manchester with Pakistani roots, Jamaal's music fuses modern production with intelligent wordplay and tender vocal melodies. His track 'Love's A Joke, I'm The Butt Of It' sees him ruminate on the pursuit of love and relationships, showing both a sense of humour and a vulnerability that allows the listener to view the world through his unique lens.
Tony Ereira, Come Play With Me director on 'Side By Side':
"We're ridiculously excited to be working with an incredible group of musicians on this album. There's such an amazing diversity of music being made in and around Leeds right now – but we wanted to show off some of the equally amazing diversity of musicians making it too. There isn't a duff track on here and there's hopefully plenty to keep everyone interested. We feel dead lucky to be working with this lot and showing them all off to the world!"
Full 'Side by Side' tracklist:
1. Tyron Webster – Love Ya, Pt. II
2. Dilettante – Single Serve
3. Bored At My Grandmas House – China Doll (Demo)
4. Long Legged Creatures – EZY8667
5. Witch Of The East – Somethings Wrong
6. LADY – Foolish Love
7. Supriya Nagarajan – A Paradox Of Opposites
8. DHRAMA – Another Life
9. Shauna – Modes Of Thinking (Club Quarantine Rework)
10. The Elephant Trees – Day 42
11. Jamaal Monarch – Love's A Joke, I'm The Butt Of It
12. DIVE – Take Me Away
'Side by Side' is available to pre-order here: https://cpwm.awesomedistro.com/products/694225-cpwm206-side-by-side-lp-compilation-album-ecomix-vinyl
Come Play With Me is a Leeds based development organisation, record label and magazine first launched as a singles club in 2015. Since its inception the label have supported a huge number of artists from the region as well releasing over 30 releases on vinyl for Leeds artists including the 'Come Stay With Me' compilation released in Summer 2020 to raise funds for contributing artists following Covid-19 related loss of earnings and opportunity. CPWM are also responsible for a number of events including LGBTQ The Music & HERFest.
'Side By Side' is supported with funding from The National Lottery Social Enterprise Support Fund and PRS Foundation