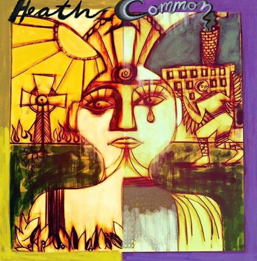 When I was offered the chance of reviewing this album I didn't have the slightest idea who Heath Common was beyond the fact that he was born in West Yorkshire and appears to now live in or near Scarborough. I took up the review purely on the basis of some music I found on the internet. This is risky – the album could have been completely different or just 'not good'.
I have to be honest that part of the reason I ultimately said yes to the review is that it annoyed me that Heath appears to have completely slipped past me, and it was a chance to fill that gap in my knowledge.
The material on this album is inspired by two places that made an impression on Heath – Halifax and Notting Hill; not only the places but the people in them. If you should buy the physical CD – and I suggest you do – this comes with a booklet that tells you what each of the songs is about. I'd suggest that although you could listen to the songs and not have that information you'll not get the best from them. You won't know, for example, that 'Jack Brown' is about a bouncer from Mixenden. Knowing this immediately makes sense of the song.
So now onto the music. You'll going to be slightly mislead – at least at first – by the spoken intro to the Halifax set. You'll going to be thinking what have I got myself into here. So the actual first track 'Halifax Gala Queen' is going to come as a slight surprise. It's like a Syd Barrett Pink Floyd song lyrically but with big post-Barrett Floyd music- you know acoustic guitar building up into a big electric chorus. The lyrics are great by the way. And that first big swell, well it's going to get you.
'Jack Brown' barrels along, Heath is throwing all sorts of stuff at this, layered vocals, shouted vocals, strange spoken bits. It's a huge smile inducing thing.
Suddenly we're in a 70s' ballad, 'Room At The Top' is actually about the Woolshops area of Halifax (once an area inhabited by Irish immigrants). But Heath chooses to tell the story backed by lush strings. It really shouldn't work but it does. 'Spirit of Ogden' is slightly more 'out there' but that's OK I'm into this now. Spoken bits, crashing guitars, swelling strings.
'Mixenden I'm Coming Home' ends the Halifax set and what an end. It starts with a prose poem over music and then we're into it. It's a simple touching ballad. Hugely effective and moving.
I found the transition to the Notting Hill set rather jarring if I'm honest. If this was on vinyl you'd have that pause while you flipped it over but on CD it crashes in. The first track of this section 'Satori in the Sky' is one of those big post-Sgt. Pepper psychedelic pop things, You know the sort of thing – throw everything at it. It did bring a smile to my face, I loved the lyrics which just about manage to include everything hippy-period London. It's a celebration.
Ah now – and taking a side-trip to New York – 'Basquiat and Warhol', this is genuinely strange, weird, freaky. From the spoken narration to the strangely stilted vocals (sort of Bowie-esque) going on in the background. You can listen to this time and time ago and find something new going on. I was reminded – in a good way – of one of those John Cale Velvet Underground tracks.
I've tried all sorts of things to attempt to describe 'Still Howling' – the closest I can come is warped and twisted Ivor Cutler with hints of later period Leonard Cohen. Is is a song? is it a poem with music? Who knows but I like it, I like it a lot.
For me 'The Busking Bodhisatta' is another of the highlights. A simple story about trying to stay alive on the streets of Notting Hill Gate. The words are moving, the music is simply effective. Lovely.
The final rack 'Anita Pallenburg' has that off-kilter 'Alabama Song' feel to it. I've listened to it many times but I still can't work out quite what I feel about it. It's mostly good. It might have worked better after 'Still Howling'. I have tried this out, running the Notting Hill set with this after 'Still Howling' and 'The Busking Bodhisatta' as the final track and for me that works. You may disagree.
So how do I sum this up? This is a set of songs that have everything – both musically and lyrically. They do need work to fully appreciate them – unless you know who or where the songs are about you'll not get the full benefit. Some of the songs had me reaching for Google – I had a vague idea who Basquiat was but I needed to check. But this is the thing with genuinely autobiographical songs you need to know the context. And this makes them songs you'll really need to listen to properly, this is not in any shape or form background music.
I'm not sorry I said yes to this review. I just wish I'd come across Heath years ago.
The album will be available – it's available for pre-order now – from HI 4 HEAD RECORDS: http://hi4headrecords.com
The info
Heath Common is a songwriter, poet and performance-artist who was born in Normanton.
Heath Common began his musical career playing in New York City with Robert Lockwood and Johnny Shines – the stepson and close friend, respectively, of the legendary blues musician, Robert Johnson. Following this, Heath Common worked with – and was greatly influenced by – many major figures in the New York 'Art Rock' scene of the 1980s and early 1990s.
Subsequently, Heath Common formed a duo with Christopher Halliwell before both men went on to work with a diverse number of musicians ranging from the guitarist John Fahey to the British indie act, The Rhythm Sisters. Heath Common continues to work closely with many of the surviving figures from the Beat Movement and he is a published poet.
Website: http://www.heathcommon.com