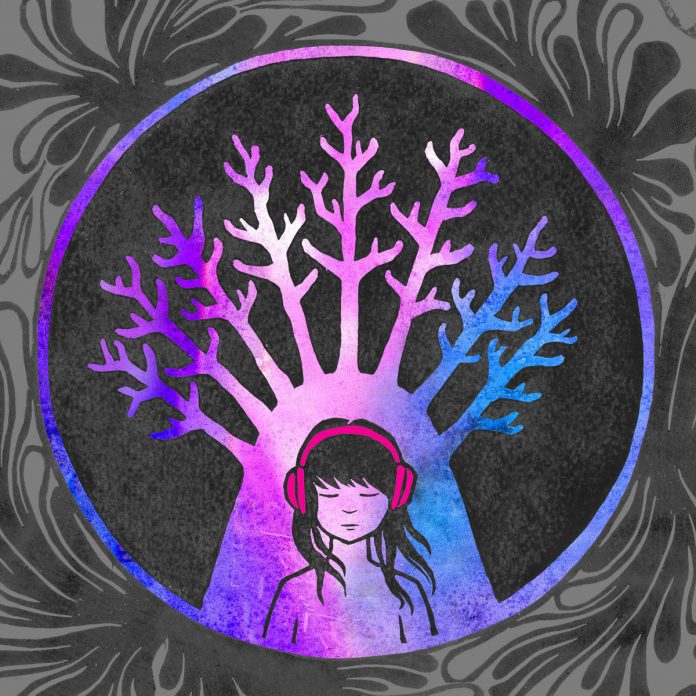 If you've heard the teaser singles released from this album (and if not, I have to ask why not) you'll know that Mayshe-Mayshe's music works on more than one level. Yes, she makes exquisite synth/electro art pop but behind the sometimes jaunty sounds there is something deeper going on in her songs.
This much will be obvious from the opening track 'But I Do' which, as the press release explains is a 'stream of consciousness on the cognitive dissonance wrought by attempting ethics under consumerism'. The thing is that you might be misled by the sound of this track, which although having a touch of darkness, actually has more than a hint of the soundtrack to a Japanese Sci-Fi movie. Or you may notice a resemblance to the ads shown on the big display screen in Blade Runner. However your head reacts to this track there is a sense of the dystopian decay in today's society.
The key to the following track 'Dark Mountain' is the apparent disconnect between the music and the words. The music is almost too joyful, you'll see that it is driven to a point when it sounds edgy with a sense of sonic anxiety. But just wait until the track breaks down, then it hits you. And her vocals have this fragility which is almost painful. While the words seem to reference things being too much; to the point of drowning under it all. You are left with a sense that the song is very very personal. The combination of the music and words is brittle, is fragile; but counterintuitively the obvious honesty is a strength. So there are layers to this song. The music is deceptively simple; it has layers of sound that draw you in, and an emotional depth. The words demand close listening. And finally, if you can drag yourself away from listening more closely, you can dance to it; for it is pop. So it's a complex thing 'Dark Mountain' but it's the whole song which is important.
'Moonflood' musically is a beautiful piece of almost retro sounding electro-pop. It's one of those tracks built on layers of drone, vocals and those – and please forgive me for this – those plinky-plonky mono synth sounds. Again words spill out in a stream of consciousness, that build through a skittering anxiety to something stronger.
'Velvet' is an ethereal track; Alice charms with a vocal that is almost nursery rhyme sweet. But listen more closely and suddenly the lyrics spring into sharp focus. These seem to speak of a kind of emotional withering, and ask 'what will you think when your heart dries out'. And suddenly the vocals go. The track becomes instrumental, the voice, the person has disappeared. Haunting, disturbing.
The intriguing track 'Monastery' follows. It's aptly named as the feel of plainsong echoes through the track. It features a vocal sound sample that reoccurs across the songs but is treated differently. The whole has an almost gothic musical atmosphere.
There are times when the theme of the album is obvious from the song titles, and 'Colours of Anxiety' is one of those. I know exactly what she's describing here; I have anxiety and it does come in different colours. Another of these song titles that make the theme obvious is 'Eczema'. I'm aware that stress can sometimes cause this, but also a whole range of consumer products can be a cause. The words sometimes point to stress as a cause. Musically this track feels more like the live Mayshe-Mayshe experience; especially as this the song that features a hairdryer.
'How To Be Happy' is sweet electro-pop, but the sound is too bright, on the edge of brittle. I have listened to this song many many times in an attempt to work out what it's about but every time I hear it I get a different meaning.
Next up is the intriguingly named 'Zachter'. In an attempt to get a handle on the song I found that this is actually a Dutch word which as far as I can see means:
Gentler or
Softer or
To yield or relent
The track mesmerises, it weaves a hypnotic spell. It's soothing, and gently beautiful.
It is tempting to believe that the beginning of 'Flood-drone' is the sound of a flood siren; it certainly reminds me of that, having experienced this sound too many times when I lived in the Calder Valley. It is a piece built around drone sounds that wash over you.
The title track 'Indigo' is dark and moody. This is really all about atmosphere. From the start with moody synth, strangely of-kilter rhythm and almost whispered vocals to the build of layered vocals and an anxious skittering sound; this is a track to immerse yourself in, let it take you on a musical journey. It's a word I often over-use but this track is beautiful; layers of carefully chosen dreamy sounds and vocals are put together with craft and, yes, emotion to make something that is absolutely mesmerising.
While the album explores themes of anxiety, depression and burn out; sometimes with an honesty that is almost shocking, it doesn't always reflect that in the sounds of the tracks. Alice says that the songs are "pop-ponderings on the human condition, but with bright edges. There's nothing like a catchy pop hook to help you process dark moments". This explains her musical approach.
I agree with part of this but don't agree with her description of the songs as 'pop-ponderings'. Her music may be based on lofi bedroom electro-pop but it's elevated above this, the tracks are carefully and artfully 'composed'. Every sound is there to help tell a story, explain a mood, sonically describe an emotion or feeling; and yes, that includes the catchy pop hooks.
I wouldn't dare use the phrase 'concept album' to describe this but as we already know there is a theme to the album; and it has sounds that turn up in many songs but modified which is quite 'concept-y'. One of these is a particular vocal sample.
This is an album that is fantastic in so many ways; musically, lyrically and, particularly, the brutal honesty of the songs. These combine to make something that is compelling, mesmirising and beautiful.
I will end this review with a plea. I know it's tempting to pick and choose tracks but please do try to listen to the whole album in the right order at least once; you'll get so much more out of the songs, I promise you.
Links to stream, buy digital or physical copies of 'Indigo', plus socials, website and more https://linktr.ee/mayshe_mayshe
The info
Mayshe-Mayshe is the solo project of Yorkshire-based writer-producer Alice Rowan. Since releasing her debut LP 'Cocoa Smoke' in 2018, much in the world has changed – or at least become more apparent. Her new album follows suit by unpeeling layers of ennui, uncertainty and melancholy.
The album is written, recorded and produced by Alice. Embracing the DIY ethos that's a clear drive behind all her creative output, she's spent the last years honing her production and home recording skills. "Learning to self-produce my music has been such a joyful, empowering experience – it feels like having a super power, having this new ability to create sonic worlds from my sofa."
​The result is a work with added depth: the dreamy bedroom pop of Mayshe's debut album 'Cocoa Smoke' remains intact on 'Indigo', but the lo-fi recording style is bolstered by muscular production and rich textures. Her frequent collaborator and Living Body bandmate Jeff T. Smith performed mixing and co-production duties.
Live dates
12 November – Sheffield @ Hatch
14 November – Derby @ Dubrek Studios
15 November – Durham @ The Holy Grale
17 November – Leeds @ Oporto Bar
18 November – Manchester @ Peer Hat
19 November – Hartlepool @ The Studio
20 November – Halifax @ The Grayston Unity
26 November – Richmond @ Blues Night