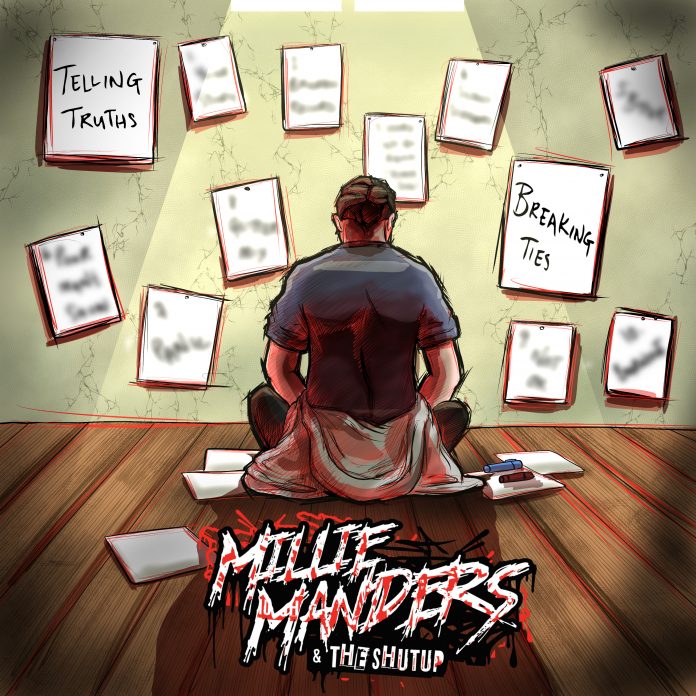 Millie Manders and The Shutup hail from Norwich/London, and I know this breaks the 'LSF focuses on music made in Yorkshire' thing but the thing is I love this album, and I think you will too. So I'm reviewing it. Because I want to. You got that?
Millie Manders and The Shutup is rather a long band name to type every time I want to refer to them so I'm thinking I may use MMATS. Hope that's OK.
MMATS are a punky band at heart but they add in things – ska, metal, pop – into that sound, so it does that rather lovely thing of sounding both rock raw and polished pop, sometimes at the same time. And it seems important to mention that they have saxophone, great punky saxophone. At times they sound a teensy bit like No Doubt, just a tiny tiny bit and this is a good thing, at least it is for me.
Album opener – 'Your Story' – is a pop-punk blast. You're going to immediately be hit by Millie's vocals – boy can she sing. Her voice is powerful, it swings between smooth and raw. But there's more to this song than pop-punk because there's a hint of ska – it's in that saxophone. And the words are great, they are words that are worth it. And it has a bloody great tune.
'Broken Record' is heavier, it mixes in metal-ish sounds. That saxophone takes on a sound that raises a big grin for me, it's all X-Ray Spex's punky. There's even a rock'n'roll-ish bit. This thing is a joy. If this doesn't get you up and raving, I don't know what will. And it has the loveliest layered voice end that left me speechless.
I am kind of reminded of False Advertising at times during 'Here We Go Again (Black Dog)', there's a grunge pop thing going on. That is before it goes all speeded up, punked up Madness. Look to tell the truth this thing has so many changes, but because it has a beat that won't die and a great tune, it all works.
'Silent Screams' is kind of nu-metal punk-hiphop. It has these big metal choruses and sections where Millie raps in her own unique style. And then again it suddenly goes big pop ballad. Look I'm just going to call this one huge song. 'Bitter' is another metal-punk song with words spat out at the speed of light, a huge chorus in an old-ish metal style. It fucking rocks people. Guitars squeal, bass throbs, drums pound. Play this fucking loud.
'Poor Mans Show' is a hiphop reggae-style song. It's really really poppy. And really dance-y. What you notice here is that the words of MMAST songs are fantastic, I mean that's obvious from the songs before this, but this really shows in this song. The song is a comment on the state of this country – for a song that sounds so light and breezy, the words are crushingly heavy.
There is something of a funny intro to 'Panic Master'. It's a metal song of protest about the environment. That is a metal song with the most tuneful sax. Sounds strange. Isn't at all.
For me 'Glitter Mix' is one of the album highlights. It's a big tuneful building rock ballad. The vocals on this are completely mesmirising. I found myself turning it up and up just to hear that voice. And there is the surprise of a piano, and that is a wondrous thing. The first time I heard this I added it to my list of all time favourite rock ballads, it's that good people.
'Not Okay' is a ska-y (at times) pop-punk rocky thing that makes you want to get up and dance round and round until you get dizzy. It has a tune that's so damn earwormy. Album closer 'Burnout' is a rocky song with a great tune (natch) and words that seem to tell the story of being in a band, working two jobs to fund it. I admit I may have got this wrong.
Putting this band into a niche is impossible, but I like that. I love a band who play their music, a band that takes all their influences, all the things they love, and mixes them into something that is theirs. And this may be difficult for some people who have a closely defined 'I like this, but not this' stance on music. I started by saying that Millie Manders and The Shutup are a punk band at heart but writing this I start to drift away from that statement; sorry I realise that this may be slightly irritating. This isn't to say that some of the songs on the album aren't punky, they are; but there are so many styles of music all blended together that defining them as punk is somewhat misleading. And defining them as a rock band is similarly misleading, given the elements of pop, hiphop and ska. You get the problem I have here?
What I can say, and this is what I really love about this album, is that whatever niche you may put the songs, or completely fail to for that matter; the band know how to write fantastic songs with great tunes and words that are meaningful – these songs are about loss, betrayal, anger, anxiety, heartbreak, bitterness, environmental catastrophe and political unrest. The lyrics are personal and about real things which makes them really worth the effort to listen to properly.
And this seems a good time to mention Millie's voice – while she changes her delivery style, it's always clear. When a song calls for audible emotion you got it, when a song calls for power you got it. She goes from metal rawness to sweet pop smoothness. Her vocals are fierce, people.
And these songs are played amazingly well. I had quite a battle between listening to the words and really focusing on the playing. Doing the music thing I found myself forced to my feet, and throwing myself around the room. But the fact that the songs are about something made sitting and listening to it just as rewarding. That makes it an album that I found myself going back to time after time.
This, people, is a great album filled with great songs. Songs to dance to, songs to listen to. Do we need anything more? Thought not, go to it.
The album is available on download, streaming, CD and red vinyl. The physical releases can be ordered from the band at https://millie-manders.com/ alongside a range of limited-edition merchandise that raises funds for The Survivors Trust – an umbrella charity for survivors of rape and sexual abuse – NHS Charities Together, and the mental health charities Mind and Papyrus.
The info
WEBSITE: https://millie-manders.com/
BANDCAMP: https://milliemanders.bandcamp.com/
FACEBOOK: https://www.facebook.com/milliemandersmusic
INSTAGRAM: https://www.instagram.com/milliemanders/
TWITTER: https://twitter.com/milliemanders