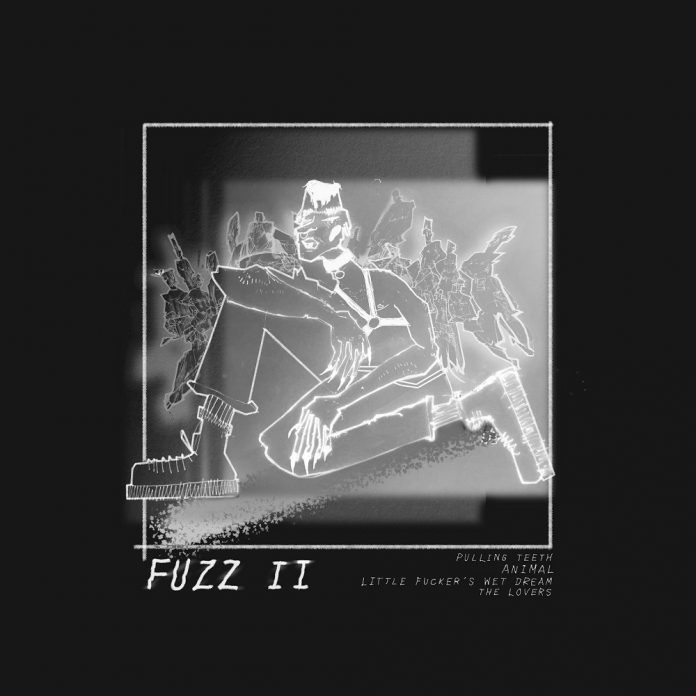 'FUZZ II' is, somewhat misleadingly, not the band's second or 11th EP but their EP debut. I reviewed the lead single release – Animal' back in March, and I was mightily impressed (read the review).
Let's dive in, I can't wait, this EP is a bloody fucking joy;
The opening track 'Pulling Teeth' lies in that grungy psychedelic garage rock with hints of wild post-punk. A tribal surfy drum is the gentle introduction to this, before it bursts into wondrous noise – grungy guitars, stabs of sound that are frankly terrifying. But suddenly it drops into this really disturbing section that sounds of all things like a drunken warped Bauhaus – really – before building into glorious noise. It's that drunken warped bit that makes this track. The unexpectedness of it is fab.
'Animal' takes a fuzzy heavy grunge road but as I said in my review 'while that description might give you some idea of what they do, it doesn't indicate the rather subtle touches of sound this track has in places, or the heavy surf sounds, or the hints of psychedelic noise.I like a band who do that, and Fuzz Lightyear do that incredibly well. Pure fuzzy noisy rock is great but those touches are like salt and pepper on food, they season it, they make the noise better'.
But it was with 'L.F.W.D' (and no I have not the slightest idea what that might stand for, your guess is as good as mine) that I found this is a band who don't just tread the same path over and over again. It opens with something that is post-punk to the max, a guitar intro that Siouxsie and The Banshees would have been proud of. But this is before it warps it's way into something more psychedelic, something that reminds me simultaneously of a way heavy John's Children (the band that Marc Bolan was in for a while http://johnschildren.info), Samothrace and Black Sabbath. Or possibly even Iron Butterfly. You get the picture? It's slow, it's languid, it grinds, it bursts into wild noise, noise that fucking burns your brain.
'The Lovers' is another slow burner. It starts with something that sounds rather Goth, punctuated with bursts of noise. Strange stabs, tinkles of guitar, droning vocals. And then it grinds heavy heavy noise. Then it just goes crazy – psychedelic garage, punky – it's raw, it's a bloody noise, a lovely noise. A noise that is almost guaranteed to piss off your neighbours if played loud. But this is something you have to do, play it loud and to hell with the consequences. Before fading out in a wonderfully ponderous post-punk way.
Fuzz Lightyear didn't let me down with this EP, the promises made by 'Animal' back in March were completely fulfilled. There isn't one track on this EP that isn't fucking fantastic. It's so good I can't do anything but use expletives in the way I describe this, I'm driven to it.
This isn't just noisy psychedelic garage rock, it's noisy psychedelic garage rock with spice – touches of inventiveness, songwriting craft, musical skill. But in the end fuck does this thing rock. It leaves you beaten down with noise, your head spinning, hurting from the sounds, but with the biggest smile on your face ready to play it again but louder, louder and louder, the better to be immersed in the noise.
The info
A band used to playing dingy basements and rooms filled with rowdy pits, Fuzz Lightyear have made a mark filling venues in Leeds and further afield. Emerging as a band playing riotous psych-tinged garage rock in basements for house shows, they built an audience in their home town with both the crowds and the music getting noisier and more energized. Committed to engaging audiences to the best of their ability, Fuzz Lightyear are not afraid to hit hard with their music and have built a live show to match.
Their evolving sound sits in the middle of post-punk, grunge, and noise-rock, synthesizing many currents of modern and historic rock and punk music.