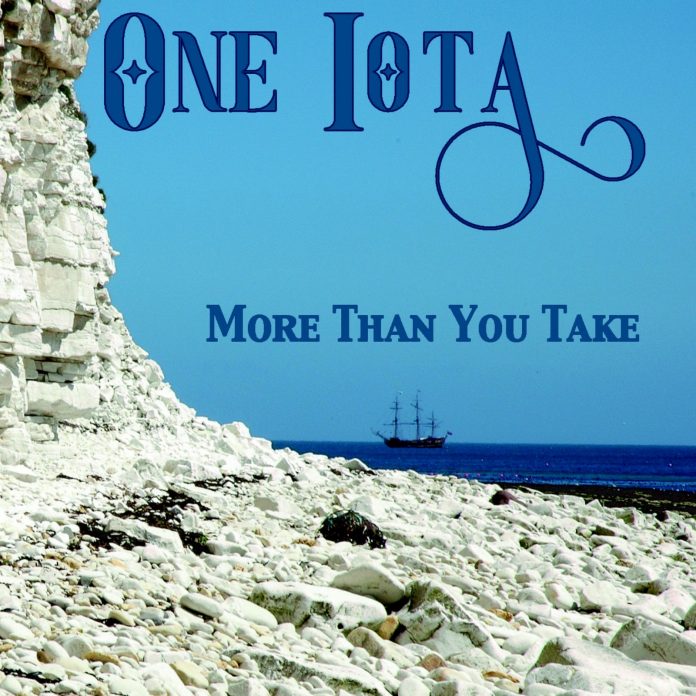 As you might know I love a song with a great tune and is played by a band who know what they're doing. And here we have a whole album of songs that fit that description from York's One Iota.
Album opener 'Your Arm In Mine' sets out One Iota's stall (so to speak). It's a toe tapping 60s' pop song with a Mersey Beat feel. I say toe tapping but it's a danceable thing to be sure. But hey listen a little closer and there's some great guitar work going on here.
Up next is 'Summer Daze' which I reviewed when it was released as a single. Here's the lowdown. I'd be the first to admit that this is nothing cutting edge, It's not going to test out your ears in weird ways; it's a fab slice of 60s/70s influenced pop. But there isn't anything wrong with that, great pop is hard to do. And examine it a little closer and you'll hear some fine vocals, a fantastically tasteful 70s pop guitar break. And you can hear and feel the sunny days; the hope of Summer.
'Raise A Glass' shifts the gears. You still get that 'great song played really well' feel but it's more of now. I'm not saying there's not a retro influence there but it's set in an of now approach. You get a great acoustic start, lyrics that immediately say 'singalong right now', a great big chorus. Lovely stuff.
We're back to that pop with a Merseybeat feel with 'One Thing Is Certain'. This is all about the vocals; lead and backing. Oh and the huge chorus and guitar break.
Given what's come before 'Stories' sees the band take a sharp left. It's a kind of country influenced Rock'n'Roll number. The sort of thing I seem to recall from the 70s' Rock'n'Roll revival thing. There's some sharp guitar here, a driving rhythm and a lyric that supplies smiles aplenty.
I'd like to describe 'One In A Million' as sounding a bit like a 70s' Country influenced pop song. Yep, let's stick with that. Catchy tune and words. 'If I Were You' is a Merseybeat slow number.
'Another Day' surprises. This late 60s' pop, slightly psychedelic with a rock edge. Big on harmonies, some heavy spiky guitar. Glorious stuff. We seem to be in a section of surprises ''Never Let A Fool Kiss You' is a one of those rock arty take-offs of 20s' music. Think 'Seaside Rendezvous' or 'Good Company' from Queen's 'Night At The Opera';
'In Spite Of It All' is a big piano ballad number. Somehow this managed to worm it's way into my head as I heard it for the first time. It is a lovely song played with feeling, great vocals. And a guitar break that amazes.
Boy is this band versatile, 'Harlequin' kinda has the feel of a Crosby, Stills and Nash song. It's all about the vocal harmonies, the sparse instrumentation. Very definitely an album highlight for me.
How to describe 'Tidal Waves', perhaps a late 60s' psychedelic pop song. That sitar like guitar, great harmonies, a suitable mystic lyric. Throw in the sonic effects, and we have a song that shows those other bands who try and do this how it should be done.
A great return to that slow Mersybeat feel with 'The Other Side'. Closing the album. 'Be The One' is clever. It features a drum that is way up front adding something special. It's a great timeless song.
This is, for me at least, an album of ups and small downs. There are some great songs with truly inventive musical ideas done brilliantly, and some songs that sit in the musical genre of retro revival. I'm not saying these aren't done really well, they are, but they don't catch my attention as much as the others. And being honest some of those more retro songs I love and adore.
Overall it's more an album from a band who are making brilliantly put together, fabulously played and written songs. The songs come with a retro feel but that's neither a good or bad thing given the musical skills on show, and that the retro influences are used in really wonderful ways mixing them with influences of now.
You can buy the CD here: https://oneiota.uk/shop/more-than-you-take-cd-album/ And it'll be available on streaming services soon