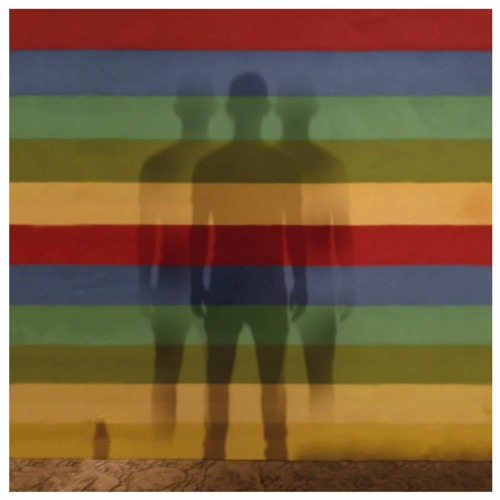 One question I had in my mind before clicking play (but after reading the press blurb) was where would this sit musical genre-wise. The answer is these are songs with a punk attitude to the max. Punk attitude can be measured in many ways – raw energy, delivery, lyrically content. SJA's songs have that, boy do that have that.
So yes, while the songs are kind of saying 'we were written on acoustic, and we're proud of that', the recorded result is kind of electro/acoustic punk. By this I mean they sometimes come with folk or singer/songwriter undertones. And lyrically his powerful lyrics are very much in that singer/songwriter vein. I guess by now you're asking 'but who does it sound like?'. Well there are hints of the focussed power of The Clash, A bit of The Alarm, sometimes The Pogues and there's Headsticks somewhere in there as well. But at other times he combines the lyrical power of punk with a full on noisy raw folk sound.
Opening track 'Outlaw' is a track that takes an Americana lean on a punk sound. It's a bit Clash like if you held a gun to my head. It has that stomping raging beat. Powerful, is my thought on this. It instantly provokes wild dancing around the room as well as providing food for thought lyrically. A fave.
I'm going straight to track two here, although this is not a track by track review. I'm doing this because suddenly we are thrown into a song that features a violin – 'The Anchor'. This exchanges a raging beat for a throbbing hypnotic pulse. Dense layers of sound provide a power that is overwhelming. The violin, by the way, does something distinctly folky. And over this Steve's vocals demand your attention. It's a heady mix.
'Lotus Eaters' introduces us to a gentler musical feel – acoustic. While the lyrics – great words – tell of the pressures and failings of modern life. At least that's my reading. These are words, to be honest, that are worth spending way more time than I have on. It's a heartfelt lament on the state of modern life.
Another song, another musical feel. 'Old Friend' is joyous, danceable and has a tune to die for. All that with a raw energy you can feel.
'Slap In The Face' is a track with something of an old-style indie feel – surprisingly. Beat to dance to, tune that induces smiles. Need anything else? Yes, well there's something of a madcap somewhat 60s' pop song. 'Indistinct Chatter' feels like 'Slap In The Face Pt 2'. It continues the same sound and feel. A great couple of songs.
And then 'Means To And End' crashes in. Raucous, raw, noisy, angry. Pounding acoustic. And then there's the added bonus of the gentle guitar dropouts. Lovely stuff.
The album closes with 'Other World'. A song I keep returning to over and over again. Brooding and dark. Lyrics that compel; more poetry than pure song lyrics. The power of this song, unbelievable.
'Contrast' is an album that I had no expectations about. It isn't the first punk influenced singer/songwriter or singer/songwriter influenced punk set of songs I've had in front of my ears. This is one, one of the few, that I have ground to love. As I listened and experienced the stylistically varying songs that all came with the same care musically and lyrically I was at first won over, and then addicted. The main reason for this is that Steve lays bare his soul in these songs, and that draws you in, and compels you to listen. These are serious songs to listen to, ponder over, to be engrossed in.
The info
STEVE J. ALLEN is working on his music in his own uncompromising way and he has no intention of being tied down or held back by anyone else's expectations of him. He grew up in Peterborough, toured with punk bands from a young age and musically came of age in Sheffield, where he worked and lived for over 10 years before moving temporarily to South East Asia.
His debut record "Wreck The Place", released in 2014 via Righteous Anger Records/Labelship fell mostly into the punk category.
On this album the sentiment of raw and angry energy has evolved into a wider range of emotions.
The songs were written over many years, during epic tours and wanderings across the globe. Possessing both the spirit of a troubadour and a fierce performer, on this album SJA combines the two worlds of singer-songwriter introspection and furious punk energy.
It's an upbeat and straightforward record consisting of short and catchy tunes. Acoustic guitars still shape most of SJA's sound and the majority of the songs were tracked live in a three-piece band setting. It was recorded mostly in sporadic sessions and finished with an array of guest musicians from the Sheffield scene. A couple of home recordings co-written and co-produced by Matt Hardouin were added to the mix to round off this publication.
"To me, this album is organic, imperfect and open to suggestion. I enjoy it, and that's all I really care about."
All songs written, arranged and performed by Steve J. Allen except The Anchor and Other World, written by Steve J. Allen & Matt Hardouin
Recorded and mixed by Thomas Lebioda at The Laundry Rooms, Sheffield
The Anchor and Other World recorded at Steve's flat by Matt Hardouin
Mastered by Karsten Deutschmann at Gentle Art, Hamburg, Germany
Lacquers cut by Noel Summerville, London
Cover art by Steve J. Allen
Sleeve design and layout by Lauren Kelley
Additional musicians:
ALLY FRASER; drums (Outlaw, No Time, Old Friend, For Joe, Slap In The Face, Indistinct Chatter, Means To An End), backing vocals (Old Friend, Indistinct Chatter)
LIZ HANLEY; violin (The Anchor)
MATT HARDOUIN; guitar (The Anchor, Other World), vocals / percussion (The Anchor)
STEFANO ESPOSITO; bass (Mystery Interlude II)
STEPHEN MOSEL; bass (No Time, For Joe, Slap In The Face)
THOMAS LEBIODA; bass (The Anchor, Old Friend, Indistinct Chatter), backing vocals (Outlaw, Means To An End), percussion (The Anchor), piano (For Joe)
TOM JARVIS; guitar / percussion (The Anchor)