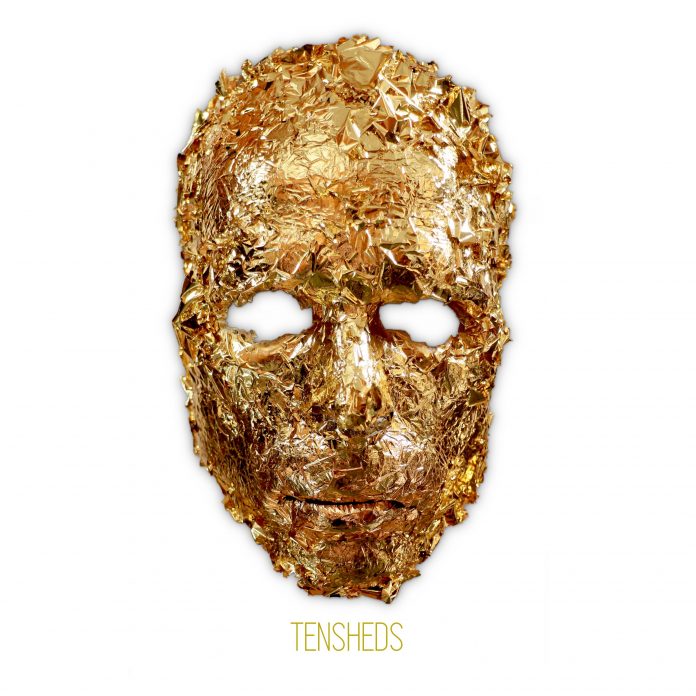 Tensheds is one of those people I've heard of but never, until I heard this album, heard or seen before. I even passed up an opportunity to see him perform not 5 minutes walk away from the house I previously lived in. This is clearly 'not good enough', I have failed badly in my lifetime quest for new and good music, and my own self-image as somebody with a finger on the musical pulse.
What I kind of expected was what I'd heard from James Leg (who I saw supporting Tav Falco's Panther Burns back in 2016), who does that organ and drums thing – a kind of dirty swampy southern blues. This isn't exactly what I got, yep it's blues, yep it's garagey but it's not the same. And this is a album of huge and wonderful variety.
Album opener 'Youngbloods' sounds, how can I put this, like Tom Waits singing a Whitesnake song done in the way that Queen might interpret it. It's full of classical influenced organ sounds. And it doesn't sound just like organ and drums, you'd swear blind there was a bass there.
'Gold Tooth' is pure garagey swampy blues. The organ is used with effects to sound uncannily like a fuzzy guitar. It even does short guitar like runs. And over this there's that pure organ sound, that takes off into tangents of squealing noise. Utterly fantastic.
And suddenly it all gets faster and fuzzier with 'Stag'. It sounds a bit early Motorhead like, whether Tensheds would thank me for that I have no idea but that's what it sounds like to me. But gradually Tensheds brings in piano, and it gets wild, wild and strange. Until it drops out to just piano, light tinkling piano with a gentle vocal, and then it gets all operatic and gritty. Oh my word it's a trip, a journey through sound.
'The Letting Go' is a gentler thing with a lovely tune, an almost country/Americana thing. Although my friend said it sounded a bit Squeeze like, I kind of agree but at the same time disagree. What it does have in common with that is a fine ear for a tune.
And then we back in slightly fuzzy garage territory with 'Black Blood' which sounds a bit Springsteen like, it's like a big stadium rock thing done with that drum and organ. It even does that dropout to a slow section at the end. This is very much an album standout for me, I love Tensheds' vocals on this.
'Troubleshooter' is that country music bluesy sound. It even has something of a jazzy thing going on. The vocals take centre stage with a mellow organ break a close second.
And oh my word Tensheds does ZZ Top, 'Sharp Threads' is a stomping blues rock song in that 'Sharp Dressed Man' vein. It's a gas people.
Massed vocals start 'Secrets'. It's a mellow bluesy gospel ballad that kinda sounds like something I can't quite put my finger on – to be honest a lot of this album does that to me. There's only one word for this, beautiful.
Beautiful is also the way I'd describe 'The Picture Book' a huge piano led ballad that soars and soars. And yet as I listen the words start to come through and they are so so good. The effect is heart wrenching.
Album closer 'Forever In Dreams' is a mellow slow song that is just so good I don't have the words to describe how good it is.
Look it almost goes without saying that the playing on this album is incredible. And while you may think you'd miss those things with strings you don't, the sounds that Tensheds makes with keyboards more than makes up for those. And the songs are brilliantly put together and written. And his vocals are utterly wonderful, that raw voice is deceptive, it's capable of so much emotion.
This album is completely fantastically fucking brilliant, the songs on it take you on a musical journey that is emotionally satisfying, and takes you off in unexpected directions. If you're already hip to Tensheds it's a must have, and if, like me, Tensheds is new to you, listen to this and be captivated.
Order
The info
More about the album
Tensheds new album, "Deathrow Disco" sees the award-winning artist explore a whole new instrument – the Rhodes organ. Apart from his beloved 1835 Collard & Collard grand piano, the entire record was recorded on Rhodes organ. No guitars, Basses, or any of the traditional tools used to make gritty garage blues music were used in making this record. Instead Tensheds masterfully explores the use of pedals and prepared piano technique to create these hard hitting sounds.
And hard hitting is what it is. Recorded in just 3 days at Free House Studios with long standing drummer and collaborator Ed Wells, along with engineer Sam Dyson. Tensheds set out to make a fun and danceable record. Something not often associated with piano music. Explaining that "the music had to be upbeat and fun, because the lyrics were not".
As the title suggests, the album does touch on the subject of incarceration, but more than that, Tensheds wanted to explore the idea that we are in fact all prisoners; whether we are prisoners stuck on a planet we are slowly destroying or prisoners of love and loss. "We are prisoners to our minds, to our feelings and thoughts. There is no such thing as freedom, or if there is it is very difficult to find".
Talking about the album Tensheds said: "I had the album title a year before I even started writing this record. So the acorn was planted, and the concept was born. The two words sum up the album perfectly. It does what it says on the tin!"
"After spending a year trying to achieve the impossible with my last record – making a alternative rock album using only a near 200 year old grand piano, I wanted this experience to be totally different. So with this in mind, me and my drummer Ed Wells moved into a cottage in the depths of Wales – so far from away from anything we could play full volume all night. Basically we locked ourselves away to write a record and gave ourselves a week to do so. We were done in 3 days! It then seemed like a natural progression to limit studio time to 3 days also. Obviously!"
"I like limitations. Having only two instruments means everything has to be specifically designed and have a place. I don't have to accommodate for a bands worth of instruments, plus I kinda like how modern music does away with instrumental egos. I had a simple plan: I wanted big riffs and fat beats. And my instrument of choice for Deathrow Disco was Rhodes organ. No guitars, basses or synths were used. It's all Rhodes going through various pedals. My beloved Collard & Collard grand piano makes an appearance, but it's 99% Rhodes. However I did make one over indulgence. The cover! As this would be my album available on vinyl, I wanted a stunning piece of art. So with the help of Finnish shaman (actually a shaman) Enni Topiankki we sculpted my face with 24 carat gold leaf. I am immensely proud of this record. Just because we are trapped, it doesn't mean we can't enjoy ourself.
More about Tensheds
Tensheds has been captivating audiences since the release of his debut studio album Crazy Beautiful back in 2010. His unmistakable unique style and rare ability to blend gritty alternative blues with soft tender ballads has won him fans far and wide as well as numerous awards, critical acclaim and even an invitation to open the Isle Of Wight Festival.
A true innovator and a relentless pusher of boundaries, the multi-instrumentalists absolute refusal to pigeonhole his music sees him constantly evolving. Producing all his records himself and forever exploring ways to bring the piano into the 21st Century, while blending his gritty punk blues with elements of his classical heritage – having trained as a classical pianist at the Royal Scottish Academy of Music.
Tensheds real magic lies in his live performances. His audacious showmanship and Rachmaninoff style piano skills, deftly delivers his brand of gritty, edgy alternative blues. Honing his craft in the time-honoured tradition, hoboing the road. A true road dog, so much so that when the legendary Hazel O'Connor offered him 5 full UK tours supporting her, he actually moved into a camper-van for the next 2 years to make it happen. He has since gone on to supports artists such as: John Mayall, Mick Taylor, Jeffrey Lewis, Blockheads, Spear Of Destiny,
Paul Kelly, Manfred Mann, as not forgetting a recent tour with Bad Seeds drummer Jim Sclavunos and his up-coming 27 date winter tour supporting cult folk hero Beans On Toast.
When he's not wowing audiences as Tensheds he is also full-time keyboard player with Beans On Toast and garage rockers Jim Jones And The Righteous Mind. This year alone has seen him play nearly 200 shows as well as making his Glastonbury debut, fittingly performing 10 shows. The highlight of which was his performance on the Greenpeace Stage to a packed out field, with Frank Turner watching in the wings, declaring this is "Fucking Incredible".
Over the year Tensheds has picked up numerous awards, including the PRS UK Unsigned Artists of the Year and Celtic Connections festival Award. He also holds the World Record for Most Gigs Performed in 24 Hours – playing 8 cities in 24 hours to raising money for the Railway Children charity.
It's no wonder Tensheds has been labelled 'Jerry Lee Lewis and Tom Waits love child'.
Tensheds will also be embarking on a mammoth 25 date tour across the nation
supporting Beans On Toast throughout the winter, followed in the Spring with
headline tour with drummer Ed Wells.
Live dates
06 – PLYMOUTH Junction
07 – SWANSEA Garage
08 – STROUD Prince Albert – SOLD OUT
10 – GUILDFORD Boileroom
11 – CAMBRIDGE Portland Arms
12 – DERBY Venue
13 – NORWICH Arts Centre
14 – BEDFORD Esquires
18 – SHEFFIELD Leadmill
19 – STOKE Sugarmill
20 – LIVERPOOL Phase One
21 – COLCHESTER Three Wise Monkeys
JANUARY 2020
31 – BRIGHTON Chalk
FEBRUARY 2020
01 – BRISTOL Trinity
05 – SOUTHAMPTON The Loft
06 – CARDIFF The Globe
07 – LEEDS Brudenell Social Club
08 – BIRMINGHAM Castle & Falcon
09 – NOTTINGHAM Bodega
12 – NEWCASTLE Tyne Bank Brewery
13 – EDINBURGH Old Dr Bells Baths
14 – MANCHESTER Gorilla
15 – LONDON Dome