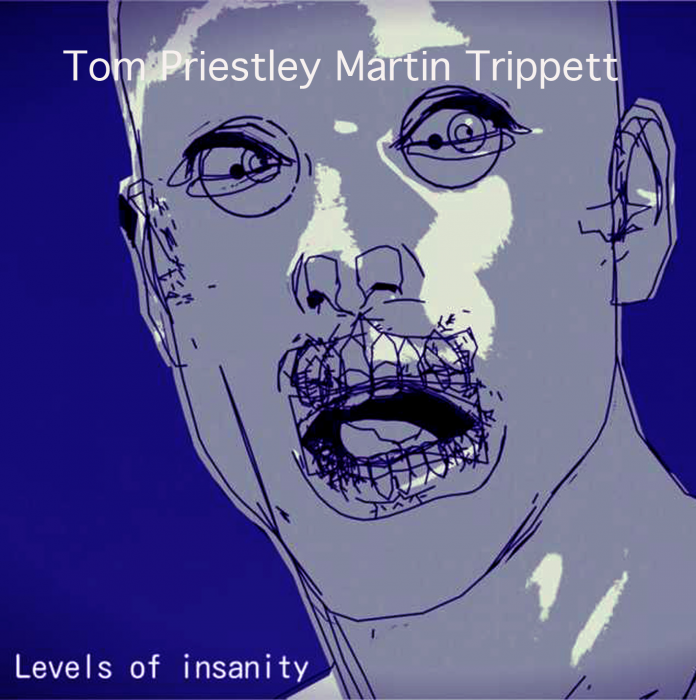 I've said it before but, for me, a great song is all about great words and great music where the words are reflected in the music (and indeed vice versa). In 'Levels of Insanity' this is so wonderfully so but these are not songs. This is poetry with a fabulously atmospheric backing.
Before I go on I am not known to be a great fan of poetry, perhaps even less so of performance poetry; but the pieces on this album grabbed me, they grabbed me somewhere deep down inside.
Because this is poetry, the short time I've had with this album has not been enough to explore the pieces is just not enough. Indeed this is something to return to time and time again to immerse yourself in Tom's words and world.
The album opens with what is perhaps the closest to what we might call a song – 'Dead Planet'.To a frankly banging musical backing – that sits somewhere in the area covered by The Fall, psychedelic surf and psychobilly – Tom spits the words in his very own way. This way has, to my mind, hints of Mark Smith and John Cooper Clarke. But this is distinctively of Yorkshire and more importantly Leeds. The words are dark and go straight for the throat.
The pieces go from the dark and darkness of 'Subliminal' to a languid smoky mysterious piano, to the tortured rock of 'Itch' (which strangely has me in mind of 'What A Waste'). 'Nowhere Street' is set to a madcap mix-up of prog and weirdly folky punk. The words tell of a place that is both nowhere and everywhere. This is dark humour, this is addictive.
The haunting 'Maze of Death' evokes visions of the path of life; while musically the atmospheric tone poem evokes more than a hint of religious music.
The biting words of 'Welcome Back' take a hit at the Brit Expats who voted for Brexit and now have to return to a Britain of austerity and decay. This is not kind, justifiably not kind at all. The music here evokes a Spanish feel appropriately. 'Virus' is a kaleidoscope of images, the words take flight, they build word on word; like jazz they build on themselves, taking you further down the rabbit hole.
'The Factory Song' evokes the suffocating reality of the world of manual employment, of working to live, the dead end of life once you get there. It tells this over to a backing that builds to a sonic scream.
'Levels of Insanity' is a compelling album that combines words and music in a very special way. The music reflects the words of the pieces but they do more; they add layers of meaning. This is a fantastic collection of pieces that take your mind on a journey that is dark but enlightening. They are of now but at the same time timeless.
If you're a lover of poetry the album will tick all of your boxes, and perhaps boxes you never knew you had. If you're not sure about it then this will change your mind.
The info
Tom Priestley is a Leeds performance poet and multi-instrumentalist. He also plays drums for Leeds's band The Beer Snobs;