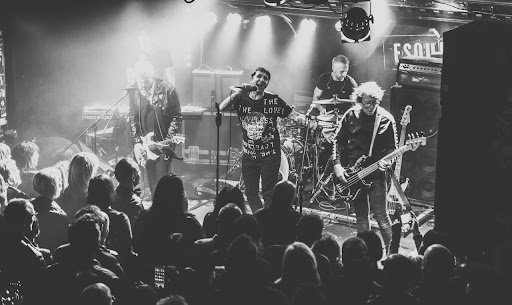 TOMORROW'S GHOSTS FESTIVAL 2022 have announced their primetime Saturday night headliner
THE LOVELESS
Comprising the singular shadow-cast tones Marc Almond, the snaking melodies of Sigue Sigue Sputnik axeman Neal X, the thunderous rhythm section of Iggy Pop's touring troupe Mat Hector and Ben Ellis, plus the haunting Hammond organ sound of the esteemed James Beaumont; together they are THE LOVELESS.
Making their Tomorrow's Ghosts debut in 2022 with a headline set, expect the unexpected when The Loveless bring their devilishly dark arts to Whitby Pavilion next Halloween.
A project designed to take its constituent parts back to where they all began, The Loveless pledges itself to the pulp appeal of Garage Rock in its rawest, most gripping guise.
Drawing material from Marc Almond's immense back catalogue as well as from the oeuvres of Lou Reed to David Bowie, warped 60s R&B staples to lost garage-rock gems, The Loveless could be accused of being a "covers band". And yet with a demonstrative talent for chiselling cuts down to their most primeval rock roots, it's one that has seen the band steal the claim for being "Britain's best garage rock band" (Louder Than War).
First appearing on the live stage in 2019, The Loveless spent the lockdown of the last few years recording their debut studio release. A self-titled 7-track mini album released just before Christmas 2020, the record saw swaggering Iggy Pop covers ("Kill City") rubbing shoulders with leather-clad garage originals (Shadows of Knight's "Dark Side"); dark dancehall standards ("Putty In Your Hands" by John Patton and Eddie Snyder) sparring with daring mash-ups of Deep Purple and The Sweet. And despite the insidious nature of gentrification that has made the area a theme park of its former self, guitarist Neal X swears the ghosts of old Soho make their presence felt in the twilight hours and late-night grooves of The Loveless' version of Smoky's 'Hot, Hard & Ready'.
Having played just a handful of live shows since their formation, The Loveless' headline set at Whitby's Tomorrow's Ghosts Festival will be a rare opportunity to see some of the world's finest musicians in unbridled form and embracing their dark sides. Miss this at your peril.
PREVIOUSLY ANNOUNCED
Already shaping-up to be a vintage year, The Loveless will join a line-up sporting a smorgasbord of gothic and alternative desirables drawn from across Europe & the USA.
Headlining the Friday night, original goth rock messiahs Fields of the Nephilim have been previously announced to be topping the bill that night. One of Goth's most significant artists, Carl McCoy and co. will be reacquainting audiences with their magnetic, macabre appeal and a boundary-pushing arsenal that includes scintillating singles such as "Moonchild", "Psychonaut", "Summerland" and so much more.
Elsewhere, other incredible acts confirmed to be appearing at Whitby's premier gothic and alternative arts festival include very special guests Into A Circle, Ghost Dance, and Balaam And The Angel, as well as exclusive performances from Bootblacks, All My Thorns, AND Evil Blizzard present… 'Blizzoween'.
TOMORROW'S GHOSTS FESTIVAL 2022
The only festival unafraid to paint the town black, Tomorrow's Ghosts Festival will return to Whitby for Halloween 2022. The ultimate celebration of all things Gothic and alternative, the festival will return to its spiritual home between Friday 28th to Sunday 30th October 2022. A weekend that relishes in the darkest of arts, from music to markets, performance to literature, and so much more, the festival remains central to the wider events taking place across the town, the official birthplace of Dracula for what will be its fifth year.
Dabbling in the dark arts to provide one of the most unique festival experiences in the country, expect diverse performances and surreal happenings aplenty when Tomorrow's Ghosts returns on Halloween weekend 2022.
Whitby Pavilion, Whitby
Friday 28th October – Sunday 30th October 2022
TICKETS
Tickets for Tomorrow's Ghosts Festival are on general sale NOW. Links and prices are as follows:
Friday Night Tickets – 28th October 2022- £38.00 Advance STBF
General Sale: https://bit.ly/3l2LRlS
Saturday Night Tickets – 29th October 2022 – £38.00 Advance STBF
General Sale: https://bit.ly/3xiOMMd
Weekend Tickets – Friday 28th & Saturday 29th October 2022 – £70.00 Advance STBF
General Sale: https://bit.ly/3r6EjTg
Ages 8+
Under 14s to be accompanied by an adult over the age of 18 at all times. Over 18s only for after show club night events.
LINE UP SO FAR
Friday October 28th 2022
Headliner – Fields of the Nephilim
Special Guests – Ghost Dance
Evil Blizzard present Blizzoween
Bootblacks
Saturday October 29th 2022
Headliner – The Loveless
Special Guests – Into a Circle
Very Special Guests – Balaam And The Angel
All My Thorns
FOR MORE INFORMATION
https://www.tomorrowsghostsfestival.co.uk