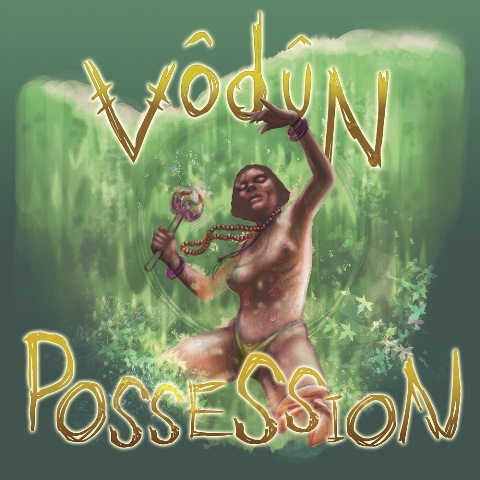 LSF was contacted to preview London Afro-metal-psych rockers, Vōdūn, in the run-up to their appearance at Manchester's Noiz all-dayer at Rebellion on April 2nd. As a teaser we were sent a link to the video for Mawu, taken from their debut album, Possession, (out today on Riff Rock Records) and after such a striking initiation, I was intrigued to hear what else they had up their sleeves.
Sleeves though, it seems, aren't high on Vōdūn's to-do list. Portraying themselves as tribal warriors, with war paint and naked flesh favoured over westernised garb, this is a trio staunchly dedicated to its message.
Why waste words on appearance? Well, for a start, Vōdūn look great – a challenge to the eyes before a note's been played in anger. But secondly, the aesthetic is central to their music.Stemming from the West African religion of Vodun (pronounced voh-doon) – more familiar in its Lousianan form, Voodoo – each member adopts a Vodun alter ego, symbolic of their role in the band. Performances are treated as a 'channeling of the spirits'.
The Stones borrowed African tribal rhythms for Sympathy For The Devil, and Wings' Voodoo-inspired Live and Let Die produced a classic Bond theme, but both seem lightweight beside Vōdūn's ominously sludgy soul stew.
Possession's 11 tracks cover a hell of a lot of ground musically, and lovers of rock in its many forms will undoubtedly find one, if not many, tunes to rave about. 'Mawu' – my introduction to Vōdūn, and still my favourite – typifies the band at its strongest: grinding low-slung riffs, a beat that taunts you with each impending crash, and a vocal that struts between utter control and untempered soul. It's killer.
The few points in the album that seem weak by comparison are those that sound 'less Vōdūn' – a chord pattern here or a riff there, that could easily be attributed to other bands. I'm not saying it's possible or even desirable to be unique all the time, but with such peaks for reference, it's hard to come down!
Lyrics about cosmic forces and priestesses shamelessly honour Vōdūn's driving force, but might stick in the craw for some. As this Pitchfork review of Swedish psych rockers, Goat, opines, sustaining such a premise could even prove a stumbling block in future. But for now, ignore them. Ignore me! Rock should be different, rebellious and challenging. And Vōdūn are most definitely rock.
I strongly urge you to buy Possession and hear for yourself (I can't wait to get my hands on the orange vinyl edition!) and don't miss out on tickets for Vōdūn's gig at Rebellion, Manchester, April 2nd. I'll be there with bells on. It wouldn't surprise me if Vodun are too.