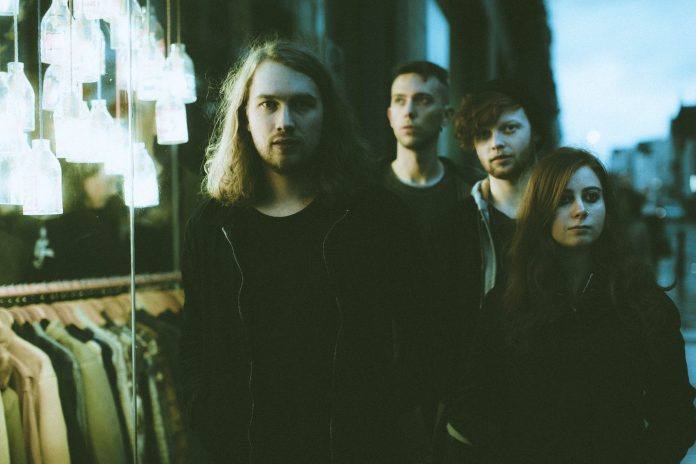 By the time we arrived (train shenanigans) Natalie McCool was three songs in to her set. Arriving mid way through a song though, it was clear she commanded the stage and there was an attentive crowd at the brilliantly intimate Soup Kitchen. Natalie looked and sounded a lot different to solo female artists I've seen of late; she definitely had a rock chick vibe about her and west coast America sound as opposed to the largely folky female artists that I've been coming across. She confidently belted out two lyrically opposing tunes – one about heartbreak and one, 'Magnet', about being attracted to someone for the first time. Lyrically, 'Magnet' really got me. Musically, I found Natalie's sound engaging, but lyrically, I needed something more. For example the chorus of 'Fortress' wasn't detailed enough for me. However I would definitely go to see her again and she's one to follow, I'd say.
Having listened to Lake Komo on their Soundcloud prior to their intimate Soup Kitchen gig, expectations weren't huge, if I'm honest. How wrong I was proved! The four piece Lake Komo made me smile from the beginning of their set to the end. It was clear the band themselves were having a great time and this energy was infectious and engaging for the crowd who were well up for them. From the beginning – setting up and sound checking – they were itching to get going and the energy didn't subside once they did!
They were well rehearsed, moving slickly from one track to the next. They're not a band to pigeon hole as one genre or another from their poppy, anthem tune 'Think Tank' to 'Ritual, 'which has an electronic/ synthy vibe to it and 'Manners' (I think that's what it was called; track names weren't introduced – change that guys!) which was definitely where a comparison could be made to the fabulous Bon Ivor.
Lead singer,Jay has a strong beautiful, adaptable voice. The bassist put down some moves alongside his playing, which added to the band's showmanship overall. I would've liked to have heard more from the female keyboard player, Jess, who also provided vocals on some tracks, but her voice didn't shine through enough for me.
It's clear Lake Komo already have a big following who were swept along by the irresistible flow of compelling music as were we. All in all, a great gig in a charmingly shabby venue. Lake Komo needed to win me over and they did!