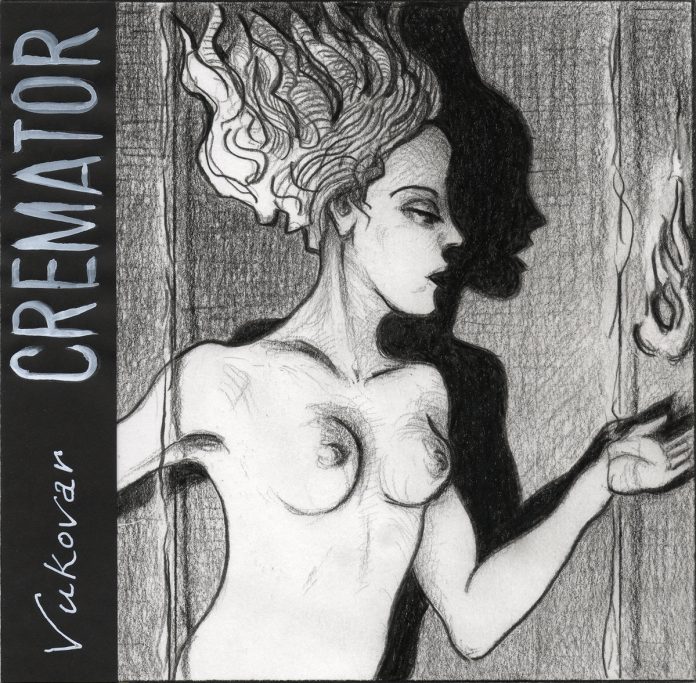 News that a new Vukovar album has been released is greeted with a certain amount of unrestrained joy, tempered by a degree of apprehension, here in LSF HQ. Apprehension that it may give me nightmares for many dark nights.
The first, let's call it, scan listen, left me with an overall impression of not being scared out of my skin, that's not to say it isn't dark, it is, but it's not so dark as to provoke nightmare images. And in places you might almost define it as pleasant, something that Vukovar do, that mix of dark and almost pop-ish music is something they do. The feeling I was left with was that this album is accessible, now there's something really shocking. Now this may just me, I am used to Vukovar's music, I actually really like the music they make that other people beg me to stop playing because it's too dark and too scary; you may find this dark and frankly terrifying in places I admit.
Musically it varies between post-punk electronica and an almost gothic post-punk thing. It doesn't have those bombastic beat driven things where Vukovar use – as one of them said to me – drums as a weapon. Musically it has sophistication and, I hardly dare say this, subtlety. That's not to say it doesn't have those soundpieces that are such a feature of their work, but they're easier to listen to than the ones on earlier albums. Whether this is a good thing or a bad thing is something I can't decide, that may take me some time to decide. The positive thing is that this makes them accessible to new Vukovar listeners.
What this album has in common with other Vukovar albums is that this is best listened to as a whole, you need to immerse yourself in it. That isn't to say that there are tracks that you couldn't take out and play separately but you'll find it better to listen to the whole thing in one hit, at least to start with.
That said let's dive in and immerse ourselves in 'Cremator'. The opening track 'Rome Invicta' is a song yes but it's also a soundpiece, it evolves. It features a female voice in the opening seconds but then becomes a pulsing pounding piece of electronica. There are strange – very strange – almost discordant vocals, while sounds hit you from all directions. Ripping apart the layers of sound – for there are many – there is an almost Kraftwerk sound buried in there. And while I said this album was accessible, this is one of the less accessible tracks. The band are perverse like that.
But with the second track – 'Love Meetings' – this album starts to show us the easier side of what they do. It's a song that is almost sweet, it's gloriously rich. It has that classic post-punk synth driven pop thing going on. And yes, there are sounds that surprise, the use of fx'ed vocals. but there are also the loveliest backing vocals. Musically it has a depth that is compulsive, you want to bury yourself in it, to swim in the many layers of sound.
'Interment By Mirrors' is dark. It's beautifully gloriously slow . It has vocals that make your harm hairs stand up. The more you listen the more layers of sound you get. Whether you choose to call this a sound piece or a song is basically up to the listener, there is almost bizarrely a tune buried in there somewhere. The thing about this track is that while it may contain sounds that you think are not, definitely not, going to work together, they do.
The most wonderfully elastic deep bass sound opens 'Diving For Your Memory'. But over this is is a synth thing that is so huge that it fills you with a joy. It's early Human League, it's Heaven 17, it's 'dirty period' Depeche Mode, it's weirdly and strangely almost church like in sound.
And then with 'Purient' we hit the song that I'd love to see taken out as a single, this is something, that with some relief to be honest, you could dance to. It's goth-y, it's synth poppy. And yes, it has spoken voices. It has strange hints of Soft Cell. It has extended dance mix written all over it.
'The Cold Lord' is a spoken word soundpiece, a voice intones in an almost prayer like fashion, while ghostly voices flit in and out. It is almost calming, I say almost for the tone of the words is oppressive. Those ghostly voices have an edge of something bad. Listening to this is like being slowly and gradually pushed into something dark and thick, by the halfway point you are aching for it to come to an end. It lasts for over 8 ½ minutes, 8 ½ minutes of seemingly random sounds and voices.
This makes 'Love Provocation' a relief, a joy, a synth post punk filled joy. That is beautiful. But this lasts a short while before it ends and 'Prennial' starts. This is plainsong like, it's slow with ominous synth, and drums that almost randomly sound, while spoken sang vocals sleepily intone.
'Voices/Seers/Voices' has almost dirty period Depeche Mode thing going on, in a slightly gothy kind of way. It sounds like a Sisters of Mercy track in places. It is, again with some relief, something you could dance to. And yes, Vukovar never do this straight, they add in what I assume are found voices. But in the right club, with the right lighting, and the right sort of chemical enhancement this would fill the floor.
And then to a soundpiece with a female voice, 'The Orchids' is enchanting, it's darkly charming, it's enticing. 'Tomorrow's Gone' starts sounding church-like and then sounds crept in, the sound of vintage synths. It's another of those gloriously rich and beautiful tracks that Vukovar do. The vocal is just lovely, I can think of no other way to describe it. The whole is moody, atmospheric and wistful.
'The River Of Three Crossings' has a deceptively almost cheerful edge to it, it is basically quite simple, it has almost folk like simplicity. But this again is something the band do at times, they have a track record of these folk like songs. It has rather wonderful dual male-female vocals that are charming.
The album closer 'Decameron (Or 10 Days Of Violence)' is another of my favourite tracks. It's a song yes, there's a tune – it's not obvious sometimes but there is in places, but it could be a soundpiece. It is beautiful, there's no other way of saying it.
I am left, after listening to it, with a sense of beauty across the tracks that make up this album. Even in the discordant sounds that litter this album there is a profound beauty that draws me back to it time and time again. It doesn't leave me scared out of my wits but with a sense of disappointment that it's over. And it's easier, not easy that would be pushing it too far, to listen to than other Vukovar albums. The mix of those tracks than are songs with a tune and structure or something you can dance to, and those that are soundpieces is right. Don't get me wrong, I love those dark dark albums of Vukovar's, the ones that leave me frankly shaken, but this is a different sort of Vukovar album.
'Cremator' can be purchased from the Other Voices Records https://othervoicesrecords.bandcamp.com/album/cremator-vox-43 in either digital or physical formst. The vinyl album can be purchased in either black or ash-grey colours.
The info
'Cremator' is the 7th LP by Vukovar and marks The First Death of the group: the ending of the Shades incarnation/incarceration.
Heavily featuring are Simon Morris of The Ceramic Hobs, also an author of grotesque (and often touching), confessional brilliance on Philip Best's Amphetamine Sulphate imprint. As well as Holly Hero; some-time performer of Smell & Quim and responsible for the production of their most vital work.
VUKOVAR formed in 2014 in a crumbling placefiller town in the North West of England and set about creating their own world within an otherworld. In their short yet eternal time, they have been relentlessly productive; 'Cremator' being the 7th full LP after their highly well-received previous 6: ('Emperor', 'Voyeurism', 'Fornication', 'Puritan', 'Infinitum', 'Monument'). This is an essential release by a group at the peak of their creative powers moving on ever forward in increasingly surprising ways.