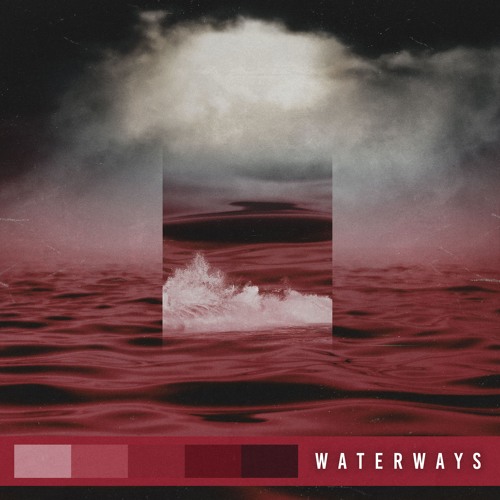 A while back I reviewed a single from Waterways 'More Human Than Human' and I was hugely impressed. However an album of instrumental progressive post rock runs the risk of becoming, lets say, a little same-y to the listener, even for me owning as I do several rather well worn albums of instrumental progressive rock.
So did 'Waterways' succeed in holding my interest, well yes and no if I'm honest. It didn't when I listened to it as eight different tracks all in a row. I found myself looking for a track with less of the loud in the quiet/loud thing. It did work, and work really well, when I listened to it more as one seamless piece of music with separate sections or dipped in and out over time. What I found is that when you listen to it as one piece with sections is that you are drawn in and taken on a musical journey.
So what's to draw you in? Well as an instrumental album unless the playing was way up there it just wouldn't work. The playing on this is hugely impressive. There's range of guitar styles and sounds that have you thinking what's coming next, although you're never that far away from a searing 'loud' bit, how it gets from the quiet to the loud is the thing that holds your interest.
Dipping in and out over time what I found was that I reacted differently to each of the different tracks, each track has an atmosphere or mood of it's own. Listened to as eight tracks in a row I found that difference being swamped.
The thing is that even though I might sound a little on the fence about this album, in the time that I've had the album on my review list I've actually found myself playing it while working away on my 'other jobs' rather a lot. So it must be working for me on some sort of level. It's just that when I sit down to try and work out why, it sounds as though I've not taken with it, whereas clearly I am. This isn't the first time this has happened, I actually own albums that for the life of me I can't explain why I like them when friends ask, I just have to say 'because I do'. One thing I can say in explanation is that I do really like hearing guitar being played really really well, perhaps that's key.
It may sound as though I don't recommend this, I do, I do highly recommend it, it's hugely impressive from a 'guitars being played really well' point of view, it's just that I can't define quite why I find it engaging on a level over and above that. Look try it, you may find yourself responding 'I like it because I do' like me.