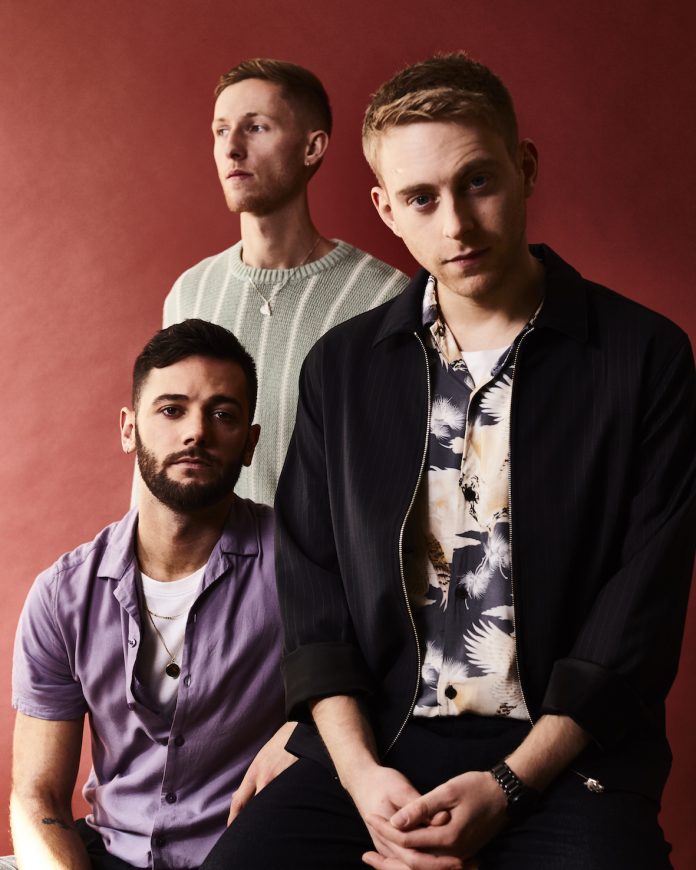 Indie-pop trio Flawes announce their debut album 'Highlights' – out on January 31. The announcement comes as the band release their new single, 'Ghost Town' featuring the critically acclaimed singer ROZES, on October 14, followed by their headline London show on October 15. The band will also play in their hometown of Huddersfield on October 18, before embarking on a European tour with US pop high-flyers AJR.
It's been an exciting 3 years for the London based band, having bolted before there was even a block to do so from, they were picked up by Radio 1 before ever having performed live. After the two years of incessant touring that followed (including shows with Ella Eyre, Maximo Park Francis and the lights, Chloe Howl and Safia), the band took a step back, re calibrated, and crafted the sound that would go on to define them.
Their debut album 'Highlights' is the musical embodiment of this; the band's sonic evolution over the years. The result is a collection of the very best of their bolder, sleeker and defiantly uplifting sound, tailor-made for both dancefloors and festival fields.
Speaking of the album, the band said: "Highlights' represents the journey we've taken as a band over the last three years. Our sound has naturally evolved, and we couldn't be happier with where it has ended up. These 12 songs are quite literally the highlights from the writing process."
On the themes of the album, JC says: "the album features a series of open letters to myself as well as a few songs about love and heartbreak. I like to let the listener attach their own sentiment to the music, so a lot of the lyrics are fairly ambiguous."
A prime example of this sentiment is Flawes' brand new single 'Ghost Town', which has just been revealed.
"Ghost Town is about being stuck in a relationship where convenience has been put ahead of love in terms of importance. All the excitement, passion and friendship has expired and the relationship itself left resembling a Ghost Town." says JC.
A duet with American singer/songwriter ROZES, 'Ghost Town' features a plethora of upbeat layers and textures that contradict yet compliment the lyrics' somber theme, giving the track a great energy whilst still retaining its sincerity.
On working with ROZES the band said: "We finished the song originally with no feature on it and then felt it needed the other person's perspective on the relationship too. As soon as we heard ROZES sing the second verse it made so much more sense and the song came alive! It was great working with her and on the music video shoot out in Philadelphia too. We can't wait to perform it live with her one day!"
On working with Flawes, ROZES said: "Ghost town is such a haunting and emotional song. I'm so excited to be collaborating with Flawes on this because it is the perfect mix of raw & real with vulnerable & energetic. I had so much fun working with and hanging out with Flawes during the creation of this song and music video. They have so much talent and passion going into their work, and I can't wait for the world to hear it"
'Ghost Town' will be released on 14th October, the day before Flawes are due to headline London's The Grace as part of their hometown headline shows. The trio will also headline The Parish, Huddersfield on 18th October.
Flawes' debut album 'Highlights' will release via Red Bull Records on 31st January 2020.
Headline Shows
15th October – Thousand Island, London
18th October – The Parish, Huddersfield
Live Dates supporting AJR:
03/12/19 – Warsaw, PO
04/12/19 – Berlin, DE
06/12/19 – Antwerp, BE
07/12/19 Paris, FR
08/12/19 – Amsterdam, NL
10/12/19 – London, UK
12/12/19 – Glasgow, UK
13/12/19 – Dublin, IE
14/12/19 – Manchester, UK