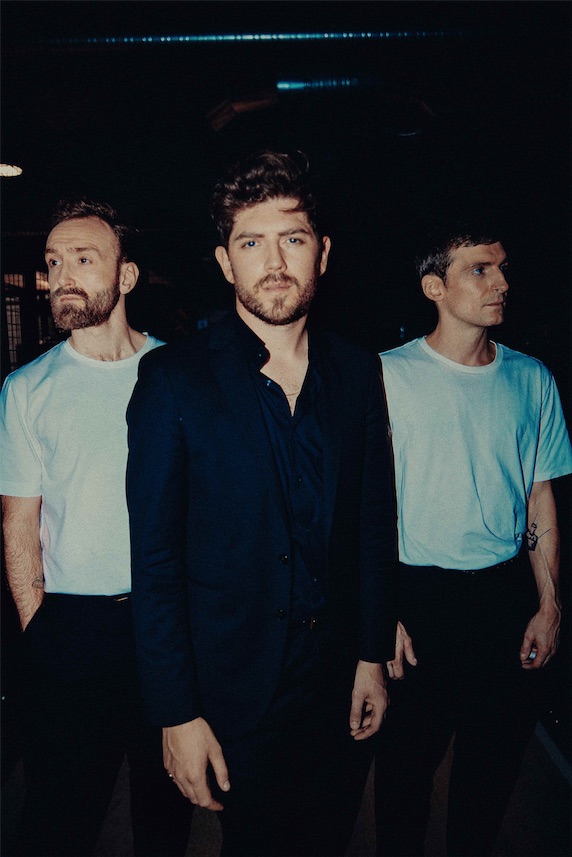 Twin Atlantic return with aplomb on new album 'POWER' – their scorching, charged-up fourth LP and their first release on Virgin EMI – out January 24th. The record's first taste arrives in the shape of the addictive 'Novocaine' – a racing, adrenalised synth-rock anthem.
Listen to 'Novocaine' HERE
Speaking of the single, McTrusty comments;"I wanted to force myself to be more honest and open. The song tells the story of the most intimate connection I've ever felt with someone else – when I first met my wife. That feeling of obsession taking over every thought and reason was almost like an addiction at the time. It embarasses us in some ways that we fell victim to such a cliched movie script love story, but equally amazes us that it ever happened."
Tapping into their LCD Soundsystem fandom, and acknowledging the influence of Depeche Mode, POWER is eight punchy tracks and two compelling interludes. No fat, no fuss, all fire, made by a band plugging in, turning it up and taking charge. The message: here are their new songs, take them – and the band – as you find them.
After ten years, Twin Atlantic got their Glasgow studio fully up-and-running. They gigged for thrills, and used the money to fund the album they wanted to make. They took charge of production. And only then, when all that was done and dusted, did they sign a new record deal. Yes, they had to do everything themselves – and they'd have had it no other way.
"There's not a single other thing we could have done to be back in control of our own futures,"states bassist Ross McNae of exactly the outcome they dreamt of two long years ago.
Diving into the themes of the record, McTrusty explains; "The album is inspired by colours, moods, memories. We just got into a room and started creating. The studio as its own instrument reached a new level – we created nothing outside those walls and it became a physical embodiment of the album itself. POWER is our own example that there's always a way forward when you are faced with limitations and red lights. It's reignited our ambition and drive for what we can achieve. Hearing these songs, that's what I feel and hear: power," concludes Sam McTrusty. "And that's what the last two years have made us feel as a band: totally empowered."
Following a blistering main stage performance at Reading & Leeds Festival, as well as supporting The 1975 in Glasgow, Twin make their full live return with the announcement of a March underplay tour, including an intimate night at London's Electric Ballroom.
The band will play the following UK shows:
March 2020
Tue 3rd Motherwell, Concert Hall
Wed 4th Aberdeen, Music Hall
Fri 6th Dundee, Fat Sams
Sat 7th Kilmarnock, Grand Hall
Mon 9th Newcastle, Riverside
Tue 10th Manchester, Academy 2
Wed 11th Sheffield, The Leadmill
Fri 13th Cardiff, The Tramshed
Sat 14th Oxford, O2 Academy Oxford
Sun 15th Leicester, O2 Academy Leicester
Tue 17th Bournemouth, The Old Firestation
Wed 18th Brighton, Concorde 2
Fri 20th London, Electric Ballroom