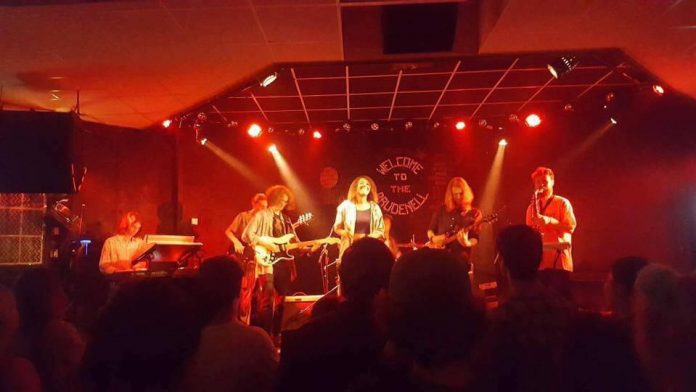 How did the band form?
We all go to Leeds College of Music and we just started jamming and it formed from there.
Where did the idea to play this type of music come from?
It just sort of happened. We all have a similar taste in music in some ways, we're all involved with the jazz side of things but individually we all have our own unique tastes. That works because we all share different artists with each other and bring in different influences to the band.
What kind of work goes into the recording process?
It was quite difficult recording over summer as there's seven of us and we were all off doing our own thing but we all did what we could to get our parts recorded. It involved quite a lot of meticulous practice as well.
Our wizard producer Toby was amazing at compiling it all together for us though.
We all made sure we practiced our set before summer as we'd been gigging as well but Toby was really good at organising us all separately and getting the rhythm down then adding all the different components in. It took all summer but he did his thing in the beautiful way he does.
It's difficult recording separately though when you're used to bouncing off each other. You've got to make sure you never get too comfortable and calculated within the band as well so it's good to work on your own thing.
Do you prefer playing live or recording music?
We love the recording side of things but with this band it is more about playing live and bouncing off each other.
It's great listening to what people have come up with as well. Like Chris will never play the same pattern twice, he'll play a pattern really well but then he'll go away and change it and make it better. That combination of everyone bringing something different every time makes playing live so interesting.
What vibe are your hoping your E.P will give off?
There are a few production tricks that make it different to how we play live but we still want to remain dynamic and give the listener that experience they get at a gig.
What's next for Nag Champa?
More gigs, possibly a little tour, record some music…
We've got a gig coming up on 24 November at the Library Pub supporting a really cool act called Bud Sugar.
We're basically going to gig as much as we can and just carry on making music.
The info
Maya Kally – vocals
Jasper Cole – saxophone, EWI, synth
Jasper Green – piano, organ, rhodes, synth
Joe Scott – arrangement, composition, pad synths
Toby Clarke – guitars, vocals, production, mastering, album cover
Kieran Halpin – bass guitar, double bass
Chris McIntyre – drums, percussion
Nag Champa on Facebook: https://www.facebook.com/nagchampaband/
The EP
Nag Champa's new E.P combines an eclectic mix of sounds which make even Stevie Wonder's 'Superstition' sound truly original to this seven piece collective.
The E.P opens with their original track 'Slow Me Down' which despite the name kicks straight off with a healthy dose of piano, drums and saxophone to raise the tempo and the listener's spirits. However there is far more to this track than just a lively concoction of instruments thrown together. Lead vocalist, Maya Kally, debuts with powerful jazz vocals that reflect an attitude towards this genre way beyond her years.
The hip hop influences can clearly be heard throughout and bring a variety to the tempo which makes the listening experience deeper than just surface enjoyment. Despite not having the freedom of playing live to shake up the track the combination of multiple different instruments layered over one another makes it so the individual tracks can be enjoyed on numerous levels.
The E.P includes covers of Stevie Wonder's 'Superstition' and Gene Wilder's 'Pure Imagination'. Nag Champa have managed to harness the beauty of these much adored tracks yet add their own original, modern influence. The huge amounts of time put into composing the elements can easily be understood and appreciated but the tight production of the tracks is what allows the audience to listen with such ease.
The bands second original song 'Daydreamer' follows a livelier theme than their first creating a rhythm impossible not to tap along to. Whereas the other tracks offer a lot of variety and allow room for the listeners own personal interpretation, 'Daydreamer', appears to simplify elements on the surface and leaves room for the different jazz elements to be enjoyed.
The outro track summarises the overall feel of the album better than words could. Jasper Green takes to the keys in a freestyle fashion which takes the listener in numerous different directions. If the E.P were to take us on a literal journey the outro would be the defining soundtrack. Nearing the end of the track drums and guitar are brought in to keep the momentum flowing and bring back the mix of different styles.
The separate elements of each track are composed so they fit perfectly into place yet still stand out from one another as highly skilled recordings. Nag Champa have combined their many individual talents and creativity to make an E.P which brings the past, present and future of jazz together to create a unique listening experience.
Their E.P is released 3 November and can be purchased here: http://nagchampaband.bandcamp.com/