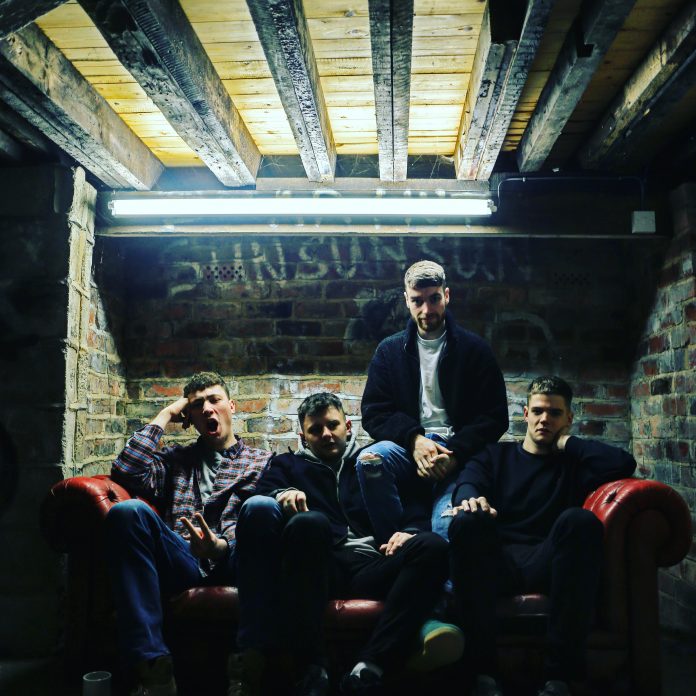 THE TOWN HALL SESSION EP is almost here and ready to bless your ear holes courtesy of FUDGE. It sees the fusion of three previously released singles and two additional 'wobblers' – as singer Cam eloquently puts it – 'Jekyll & Hide' and 'Pepsi Noggins', to create one phat record. Recorded and mixed by Leeds' very own Kane Whitelam and captured on camera by the great Hugh Roberts and Tim Wheeler, the EP is the culmination of talented people each making their mark on the Leeds scene in one way or another.
The EP goes out to all those who have helped and supported FUDGE. through their short and chaotic life so far and serves to bring more people together to experience the lifeblood that this band bring every time they play live. The record marks the end of an era. A time where things were simpler but, in retrospect, were in fact just as turbulent and impetuous as they are now. But it also marks the beginning of many things: a new age of FUDGE. which will see even phatter gigs across the country and new wobblers to boot; a new era of live music for everyone and an inevitable time of rejoicing as we move away from the shit-show that has ensued for the past two years; and the beginning of some semblance of normality, where we can be as abnormal as possible once again. The EP, therefore, should be a little – or big – celebration each time you listen to it; something to get you hyped for the future, and to say a big "fuck you" to anything that might taint that.
The band pride themselves on their live performance which, repeatedly, is eulogised by those who find themselves caught within the chaos of a FUDGE. gig. Their epic live performance has now met head on with the majestic and iconic venue in which they recorded THE TOWN HALL SESSION EP. Unfazed by the eminence of the building, the boys and the team captured their hectic performance in stark polarity to the splendour of the venue. You wouldn't think to pair the two, but it works.
THE TOWN HALL SESSION EP TRACK LISTING:
Jekyll & Hide (new release)
Money To Be Made
Your Fall From Grace
Pepsi Noggings (new release)
9/10
THE BAND'S RELECTIONS ON JEKYLL & HIDE:
CAM | vocals: "I was hesitant about writing and releasing this because of the subject matter it relates to, but it needs more attention, and the boys agreed so we kicked the EP off with it. Jekyll & Hide was written about drinks being spiked by dick head little low lives in clubs, pubs, and bars. Whatever sick satisfaction there is to be gained, potentially ruining a person's life by taking advantage of them or leaving them vulnerable, makes my blood boil. The song is fictional but influenced by many events I've experienced, been witness to or heard about. It happens so often. The tipping point was when a friend of mine was working behind a bar and spotted a lad put something into a girl's Hooch bottle which she was totally unaware of. Fortunately, my mate was quick to react, and the police got involved. Big up my G. Angus came up with the song title. The idea being that someone could be nice in the general face of the public but quickly changes after a drink and another side to them comes out."
OTTO | guitar: "Indulgence. Angus and I basically decided that we didn't care for structure when we wrote it. As a rule, I'll usually write to cater to a good live performance or to piss off a listener – which isn't working despite my best efforts – so that explains all the twists and turns. But it wasn't until Cam gave the song its subject matter that it properly worked. I think the juxtaposition of quiet and loud and big indie chords vs hard hitting riffs worked well to audibly represent the meaning of the song. PS We know we spelled 'Hyde' wrong … it's called artistic license."
ANGUS | drums: "This tune kind of snuck up on us and turned out to be a bit of banger. It was one of those nice ones where each section fell into the other as we were writing it. Cam is almost always the last one to put his stamp on a track within our writing process and his vocals and lyrics in this one really makes it what it is. The undulating power and erratic structure are accentuated with the message he's putting across, simultaneously telling the story both lyrically and musically. To all those guys who think it is at all acceptable to treat anyone, particularly women, with anything less than the utmost respect and compassion, this one is almost certainly for you. Please take it and shove it right up your arse."
THE BAND'S RELECTIONS ON PEPSI NOGGINS:
CAM | vocals: "A Pepsi-Noggin is a term we have derived for someone that gets a bit too mangled on a night out and makes themselves look like a bit of a silly sausage. Again, inspired by nights out in various places, the song follows a lad who gets up to antics on a night out. This could be trying to pull a girl and failing miserably, causing fights or being an arrogant knob. Then comes the anxiety over the next few days / weeks / months as people were there to witness this, and people like talking. We've all been on the giving and receiving end of this."
OTTO | guitar: "The O fucking G mate. With a name like Pepsi Noggins, it was always destined to be a banger. I favour this one as my playing style differs slightly to what I usually play, requiring a nice old loosey goosey right hand and I love it for that. I've heard that this is a fan favourite at gigs because it's just three and half minutes of being continuously punched in the head, and I'm not talking mosh pits."
ANGUS | drums: "This one gets us all revved up and gets a crowd bouncing if they weren't already. Unlike MTBM I feel like you sort of know what's coming, but that's OK, just make sure you're ready. This could be the soundtrack for anyone's night out, but … Please. Just. Don't. Be. A. Pepsi Noggin. It's not big or clever. Moderation is key."
The EP coincides with the band's biggest headline show to date at the NOTHING BUT NOISE one day festival at LEEDS BELGRAVE MUSIC HALL on 21 MAY 2022, which also includes – in alphabetical order: Allora, Dim Imagery, Flat Moon, Helle, Household Dogs and Infinite Corners.
TICKETS £10: https://www.skiddle.com/e/36030548
EVENT PAGE: https://www.fb.com/events/7136531523088757
TOUR
MAY
Sat 21 LEEDS Nothing But Noise Festival @ Belgrave Music Hall
Tue 24 LIVERPOOL Jacaranda
Sat 28 NEWCASTLE Little Buildings
JUNE
Mon 06 NOTTINGHAM Bodega
Thu 09 MANCHESTER 33 Oldham Street
Thu 16 LONDON Off The Cuff
Prior to the onset of Covid-19, FUDGE. had geared up for a busy 2020 by gigging with the likes of Strange Bones and Kid Kapichi, alongside countless sold-out headline shows. Their 2019 festival schedule, which saw them play Leeds and Reading and Bingley Weekender, was set to be enhanced with further festival appearances at Live at Leeds and The Great Escape, while their previous releases received huge critical acclaim and were showcased on BBC Introducing, BBC 6 Music and many more. Post-Covid, FUDGE. have again supported Kid Kapichi as well as up-and-coming animals Snayx and, with further dates and festivals to be announced, 2022 is set to be a killer comeback year for the band.