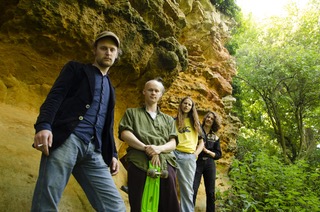 'Love Goo' is another example of Bull's ability to combine sweet pop melodies with a core of ramshackle jangle rock. Laced with spritely xaphoon lines (a kind of pocket saxophone), tin whistle, and piano it's a brilliant slice of indie maximalism.
"Love Goo is a song about getting along with people" Tom explains. "It looks at my relationship with my family as well as my own feelings of 'sticky love goo', when thinking about people in my life and from my childhood. It's about the difference between people, universal truth, gender fluidity, peace & love, understanding and all of that stuff"
The Love Goo EP comes at the end of a stellar year for the band and compiles the 3 singles they've released in 2020, alongside 'Love Goo'. Including the catchy as hell fuzz-rock of 'Disco Living', the Noisey pop of 'Bonzo Please' and the summery vibes of 'Green', it's a brilliant portrait of the band and their music.
Formed in 2011 by vocalist and songwriter Tom Beer and guitarist Dan Lucas, Bull's mission is simply to make the music they wanted to listen to, inspired by their 90's heroes such Pavement, Yo La Tengo and the Pixies. The rest of the band came together through a mix of friendships and happenstance. Drummer Tom Gabbatiss joined after he and Tom jammed together in bars while they were back-packing round Thailand, and Kai West had previously used to jump up on stage with the band and "Bez" (verb meaning to dance badly while intoxicated) before they eventually let him play bass.
A unique group within the city's already eclectic scene, the band's sound mixes together their alt-rock influences along with Tom's down-to-earth song writing and a particularly wry sense of humour that comes naturally to the four Yorkshiremen.
The band will also be played a special live streamed gig on the 16th December. The Snow Global tour will be a paid for stream coming from a special winter wonderland location. Each ticket not only guarantees access to the stream, but fans will also receive a special screen-printed t-shirt or poster to commemorate the occasion.