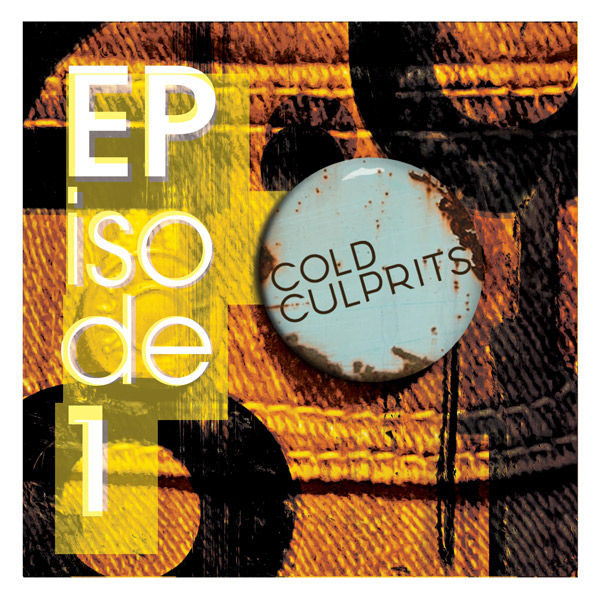 Seen what they've done there? That title I mean. I like that, I like that a lot.
I say 'they've' and this is somewhat misleading because Cold Culprits is a band of one person – namely Andy Watson, a musician (and also freelance writer) who lives in North Yorkshire. But the thing is that unless you knew that I'm betting you couldn't tell that the music is put together by one person. It sounds like a band. So I'm sticking with 'band'.
I've been following Cold Culprits since their first release; and frankly each release is great, they've been intriguingly different. Look I say different but that's within what I'm going to describe as 'a very broad framework'. So while different they always have something that says to me 'that's Cold Culprits'. Let's call that something a feel.
I said Cold Culprits mix it up, and the opening track 'Full Moon, Empty Promises' mixes it up big time. I want you to imagine something – take that funky slashing rolling sound of Talking Heads and mix that up with that sneering attitude, and guitar, of raw raucous NY Punk.This thing has a bass line that is funky people. It has out-there drumming, guitar that's fuzzy and raw. My helpful friend said it has something of the edge of The Clash, couldn't disagree.
'Ribcage Beats' is a total revision of a previous Cold Culprits' song 'Candy Thief' But it's taken out (and I mean completely) any sign of the electro sounds that had, and replaced them with absolutely raucous guitar. It reminds me of Hanoi Rocks – and that's high praise from me, Hanoi being one of my favourite bands back in the 80s. Look I say it gets rid of the electro but there's still a keyboard, a keyboard that could easily be the saxophone of Hanoi. It even does that dropout to harmonies they did. It's pure rawk n roll, a bloody joy, a manically danceable track that'll have you going mad.
A more laid back piano led song – 'Here Comes The Neighbourhood' – is up next. This is no ballad, it comes with an edge, an off-kiltered sound, lyrics that say it's not all good in the neighbourhood, all is not what it seems. If I was forced to say what it reminds me of – and maybe I am, people out there appear to want some sort of 'sounds like' – I'd say Steve Harley & Cockney Rebel, it has that 'sounds sweet but watch out there's something quite disturbing in there' feel that some of their songs had. Or even something of the oddness that Ian Hunter has in his solo stuff. What I'm saying here is that there's more to this song than meets the eye.
Up next is 'Sweet Apathy'. This was previously released as a single and this is what I said 'For this release Andy's in let it all hang out mode, it's raucous and raw. Guitars crash, keyboards roar. Production-wise this track is pure diy, there's a roughness around the edges that is way way exciting. It sounds live, Andy said that he was thinking gigging as he put this together and that comes through. It has something of a punk thing – that's original punk – going on. And this really comes through with the vocals which have an almost visible sneer. Of the four releases this has become a firm favourite, it's the rawness, the driving throw yourself around the room beat, the out-there-ness of the sound. Knowing that this was put together instrument by instrument it's hard not to be somewhat amazed, how does he make this sound like a band playing live?'
That comment about making it sound like a live band is something you can apply to all of the releases.
Closing track – 'World On A Wire' – is something else entirely. Yep, it's raw and gritty. Yep guitars scream but it's dense with a sort of tribal beat. It has something of a wild primal blues feel. It's a riot. It sounds better and better played louder and louder. It's a freakout baby.
I said Cold Culprits like to mix it up, give us something different and boy does this EP do that. New sides to them in every track. This is no collection of tracks that all sound the same. Each track brings a new feel, a new sound, a new facet to Andy's playing.
This EP continues in Cold Culprits' journey of each release getting better and better. It's five brilliant songs that intrigue, that compel the listener. If Cold Culprits are new to you, now's the time to take a listen.
Available as a limited edition signed CD (includes digital track bundle)
https://coldculprits.com
The info
Cold Culprits isn't a band, it's Andy Watson, a musician and freelance writer living in North Yorkshire.
Andy got into music as a young kid, when he found an old cassette tape in the street and took it home to play on his dad's tape player. The music on it blew his tiny head off. He had no idea at the time, but it was a band called The Skids. That cassette tape cemented Andy's love of guitar-driven punk rock.
Andy has been strumming guitars for years, but only decided to get organised and write original music in 2020. Before that he was gigging the regional pub circuit with a covers band and playing open mics.
As a solo musician, Andy learned how to play drums and keyboards to flesh out his guitar and voice and bring Cold Culprits to life. His debut single, We Will Bleed, was released in April 2020.
The name
Cold Culprits is a salute to The Germs, a 1970s LA punk rock band. It's a loose connection, along the lines that germs are the culprits behind the common cold, or 'cold culprits'. The Germs were unstable, self-destructive and incoherent. They also wrote some awesome lyrics, setting the words to completely unintelligible songs in the few short years before they imploded.