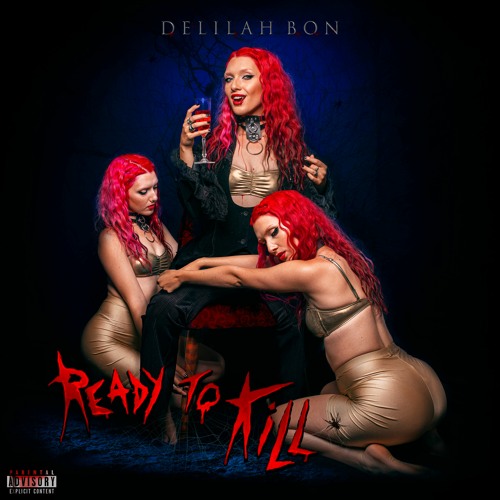 A super scary Halloween EP release from Delilah Bon (AKA Lauren Tate of Hands Off Gretel). Delilah Bon's style is a hip-hop/rap/rock mix. It's fierce people.
Opening with scary doomy sounds 'Coffin' features waking from the dead, a dead woman's scorn. And the words, the words are so cool. The feel is hip hop rock with a huge Goth edge. It's scary, it's fierce, you can dance to it. Need anything more.
More atmospheric sounds and spoken word bring the short interlude 'Ready To Kill'. 'Voices In My Head' continues the story. The tale – unless I'm mistaken – of a woman ready to kill. Chainsaws are a feature here. Bursts of heaviness thrill. The bloodlust drips from this track.
'Cannibal Summer' where the girl leads a boy to a perfect spot for the cannibal act. Delilah spits the words, the great words, You'll be on repeat to get them. It's kind of California Rap twisted to a horrible end. 'Clown' is about killer clowns. This is no laugh show. Guitars grind out the horror. 'Rat Boy' takes that hip hop rock feel and takes it more into rock, heavy loud rock. Boy oh boy.
The temptation is to think of this as a Halloween thrill. It is but there's more to these tracks than that. They'd be a serious part of any spooky night's playlist. But there's more to them than this. These are tracks where the words matter, the words are fantastic, scary fun yes, but really well written. And musically the Halloween theme, the scare is there but it doesn't go over the top. Right to the edge, even hanging over it, but not over the top into parody. The music is really well put together. And hey this is dance music, so dance to it.
Get your scary on, people.