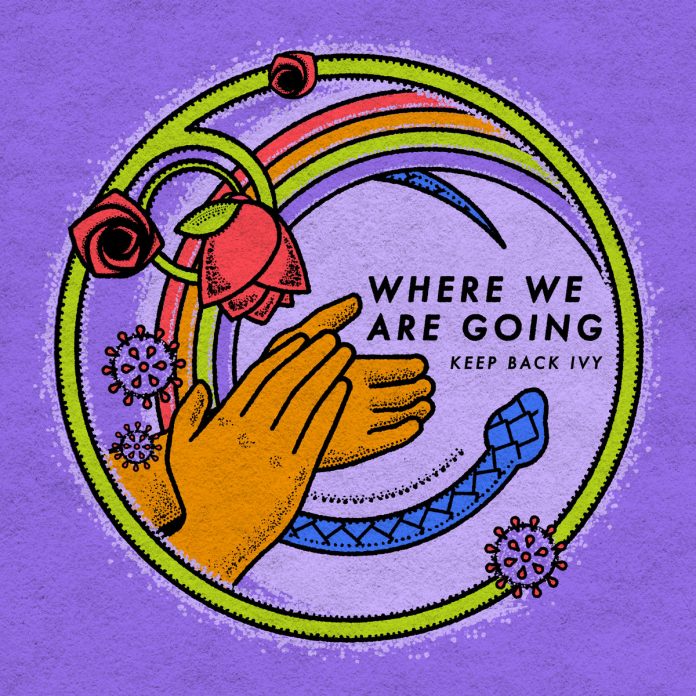 What I love about Keep Back Ivy's music is that it's really hard to pigeonhole it. Even in one song you'll think 'OK so I've got it now' but then, suddenly, it changes and you have to start thinking all over again. This is of course my reviewer head talking where such things are important. My music lover head just loves it because it's great. And because they write songs about things, important things.
EP opener 'Won't Forget You' is a song that is actually about the opposite of what you'd expect a song called that to be about. It's actually about somebody or something who won't let you forget about them however hard you try. Emma says that it's about the Labour Party, and more particularly about her relationship with it.
It sounds like a cross between Spanish guitar music, arch art-rock and grunge played on something like a cello. Look I did warn you. It alternates between skittering sparse sections and huge swirling, twisting sections.
And to the almost claustrophobic 'Endless Cycle'. Here the music is overwhelming, dense with then sparse. There is a darkness in the sound of this track. That darkness is carried through to a guitar solo that almost sits apart from the rest of the track. The song, as Emma explains, is 'largely about the Tories using the pandemic to syphon money off to their mates'.
With 'You Don't Know Me' there is something of 80s' electro-pop in the sound. But that's only part of it. Listen closely and you'll hear that there's a skittering sad bass pad that sits under the sometimes brittle brightness. And there's a slow section that is somehow mourningfully sad. This is music that's telling a story. The story it tells is one about the lives of people we think we know about but don't.
'Where We Are Going' sounds more like a sad question, and not the end of a journey. But musically it's lovely in a sad way.
The middle two tracks show the duo's commitment to highlighting societal issues. It reflects the time of the pandemic and things that happened during it. But it doesn't do that in a 'boot in the head' sort of way. The duo's approach is one of taking the quiet way of centering the songs on people.
Musically the songs sound how I would expect Keep Back Ivy's songs to sound. Chock full of a wonderful mixture of sounds, put together and played beautifully. It has moments of unexpected juxtaposition that surprise and thrill. Emma's vocals are wonderfully full of emotion. And Andy's guitar shines.
This is a wonderful EP. The songs are beautifully put together and the words compel closer listening. It has a quiet mesmirising beauty that casts its spell over you. And yes I know that's unexpected given what the songs are about, but that's what Keep Back Ivy do.
Links to socials, streaming and more: https://linktr.ee/keepbackivy
Buy CD, downloads, and CD and merch bundles: https://keepbackivy.bandcamp.com/album/where-we-are-going