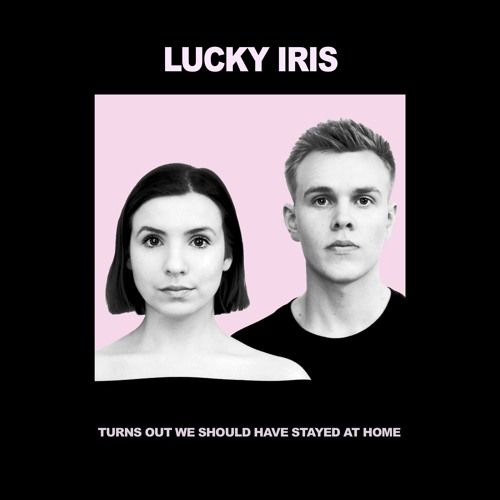 Lucky Iris may be a new band to you but its members shouldn't be. Lucky Iris is Maeve – on vocals – and Jasper – on everything else – previously of Everyday People. If, like me, you had a particular fondness for Everyday People, you may be saddened to hear of the passing of the band. However you shouldn't be too sad, because this EP is belter.
The title of the EP may be leading you to the idea that the songs in some way relate to the present coronavirus situation but, as the duo say 'the name was decided on long before this virus became headline news. The EP is actually a concept EP based around a night on the town, and how sometimes they don't go to plan and it may be better to stay home'.
Maeve and Jasper describe Lucky Iris's sound as alt-pop, I might describe it as really classy pop, pop with depth. However to be honest I'm really struggling with labelling these (apart from perhaps the opening song) as pop really. The songs feel too big, too classic, to be labelled as pop.
The EP opener – 'Get Ready With Me' – is a boppy song, the sort of thing you might listen to before going out – as might be obvious, natch. It has that 'it's going to be great night' vibe, it has that sneaky pre-drink thing going on. It alternates between these bright boppy sections and slower soulful sections. These slower sections hint at what is to come. Vocally Maeve's voice is upfront and, as you'd expect, great. The music is really cleverly arranged, those transitions between faster and slower sections are seamless. But this opening song only gives you some idea of the musical riches to come.
'Take 5 (Why Can't You See Me?)' is a big voice and piano ballad. Hints of soul, hints of jazz. Maeve's vocal bewiches and mesmerises. It's intimate, it's emotional. And as the song progresses, layers of intertwining voices are introduced. It manages to be both musically sparse and rich at the same time. I have fallen musically in love with this song.
'Glitter Vision' is poppier again, it has hints of a big synth pop song. But Maeve's voice brings a hint of soul, and the music brings a hint of funk. This is until it dramatically slows, almost to a grind. This reflects the words, things are going wrong on that night out.
And now we come to 'I Fell Backwards'. My favourite track on the EP, and one that brought more than a small tear to my eye, and a lump to my throat as Maeve sings quietly 'and alone' at the end of the song. This thing is so bloody good, it's so huge. It's another voice and (mainly) piano ballad – but I think describing this as a torch song would be better – but what a voice. Maeve produces a vocal that somehow I knew she was capable of, a vocal performance that comes from deep within her. She's not just singing the words, she's performing the song. Her voice goes from intimate, to pleading, to deeply sad.
I've resisted gushing until now, but I can't stop myself. THis EP is stunningly beautiful. The songs are really well written musically and lyrically. The balance between voice and instruments is perfect. It enables Maeve to stretch herself vocally, to showcase her voice – and it's a voice that deserves showcased without reducing the music to mere backing.
This is Lucky Iris's first release, and it's truly brilliant. These songs are beautiful, they deserve to be considered classics. You may think I'm exaggerating but I'm not. I am in fact almost unable to express quite how good this EP is.
Look what you need to do is to listen to this EP – sit down, turn the lights down low, and immerse yourself in them, drown yourself in them. I challenge you not to be emotionally moved by these songs as they unfold the story of that night out.
Everyday People are dead, long live Lucky Iris!
Stream/Download/Listen: https://luckyirisband.hearnow.com