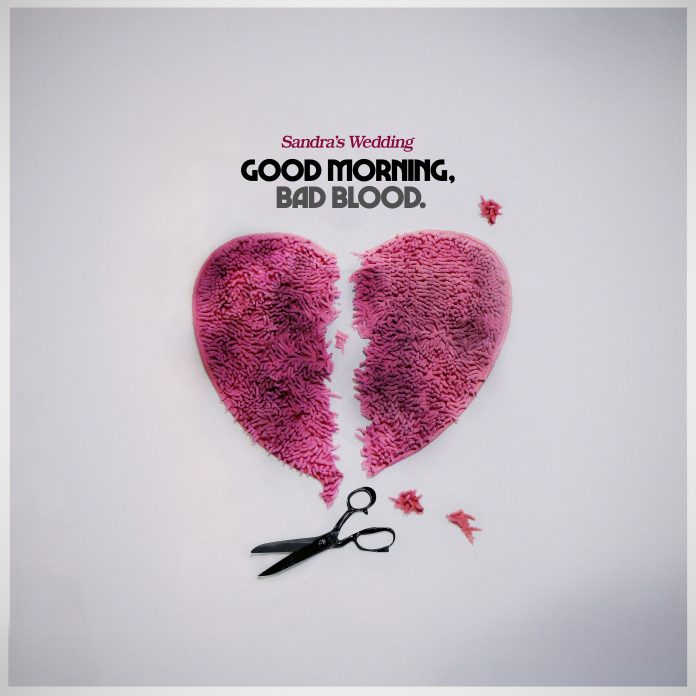 I reviewed Sandra's Wedding's album 'Northern Powerhouse' back in April last year and was really taken with the band so I was keen to take the chance of reviewing a new EP from them. And boy was I glad I did.
I'm not going to be reviewing these tracks in the order they come in, this is because I want to save the best until last.
So first up we have 'Good Morning, Bad Blood'. This track kinda reminds me slightly of The Beautiful South. It has that rather plaintive vocal thing going on. Then at others I get hints of all sorts of 80s' guitar led singer/songwriter bands. The thing about this song is that it's restrained, it's quietly effective. It just worms its way into your head, and by the third listen you're finding yourself singing along.
So what do we make of a song that counts in in German, for this is what 'Saturday Night Television' does. Actually I rather expected it to break into some sort of Kraftwerk type thing but it, of course, doesn't. What it does is to introduce a rather sad sounding song with some quite beautiful trumpet on it. Quite what this song is about I haven't been able to get an exact fix on but it seems to be about a couple who watch television instead of talking, and when that isn't there their relationship just isn't the same.
And oh bloody hell I thought as 'Run, Rabbit, Run' burst into my listening room with this huge Love-esque horn led swirl. It doesn't continue the same but that feel keeps coming back. It's fast, it's insistent, it has these bits where it suddenly becomes all sparse. It is in fact incredibly cleverly put together and horribly addictive. And that guitar break, boy that's good.
And now we are at the point where I have to review my favourite track from the EP 'Titanic', forgive me while I listen to this say three or four times in a row and I'll be back.
'Titanic' is huge people, it's this incredibly moving piano led ballad. And there is just voice, piano, and these lovely strings. And those strings swell in the most heart-wrenching way.
It is the story of a failing relationship likened to the sinking of the Titanic. This sounds corny, it isn't, lyrically it's so so effective. And the way this song is put together. Look I challenge anyone, it doesn't matter what sort of music you say you like, not to be singing the chorus by the second listen around. I'll help, it goes
'And if this was the Titanic, we'd be hearing violins by now, by now, by now'
And the by the end it goes
'And if this was the Titanic, we'd be hearing violins by now, by now
And if this was the Titanic, we be slipping down down down, down, down down, down down
And if this was the Titanic, we'd be hearing violins by now, by now, by now, by now'
And this is all so moving. So meant, so full of emotion. I keep seeing this picture of a huge crowd at a gig singing the chorus when I hear this. It has that huge gig highlight thing going for it. Look, you can accuse me of being a big softy who likes really sad songs, and I admit I do, I love a sad song, but it isn't just the fact that it's sad that makes me love this track, it's the way it's played, the way it's arranged.
With the album I found it crept on me, with this EP I was immediately impressed, hugely impressed. These are engaging songs emotionally, lyrically and musically. The song writing on this EP is just up there, the playing is spot on, and the feel of the tracks is just right. If say 'Titanic wasn't there, this would be a really fantastic EP, but with that, it's a must listen people.
The EP is available digitally on iTunes, Spotify, Amazon and Google Play plus a limited run on vinyl and CD.
The info
"Good Morning, Bad Blood" is the new EP from Sandra's Wedding. The Goole based four piece released their debut album "Northern Powerhouse" in February 2017, which was well received by reviewers.
"Good Morning, Bad Blood" deals with similar themes to its' predecessor with love, the complexities of relationships and the mundane side of romance all running strongly through the four tracks. Produced by Dan Foster at Hull's Element Studios and mastered by Pete Maher, it.
Sandra's Wedding are:
Joe Hodgson – Vocals, Acoustic Guitar, Piano
Jonny Hughes – Electric guitar, Mandolin
Tom Hill – Bass Guitar
Luke Harrison – The Drums, Percussion
Facebook: https://www.facebook.com/sandraswedding/